Marvel's new Carnage comic is scarier than the publisher thought, and it's now warning retailers
Retailers have been advised that Carnage are no longer suitable for pre-teens
Looks like Spider-Man isn't the only character so spooky that Marvel has had to up the age rating on a comic before it arrives in stores; just weeks after Spine-Tingling Spider-Man #1 jumped from a T+ rating to a 'Parental Advisory' notice, the same fate has befallen one of his villains.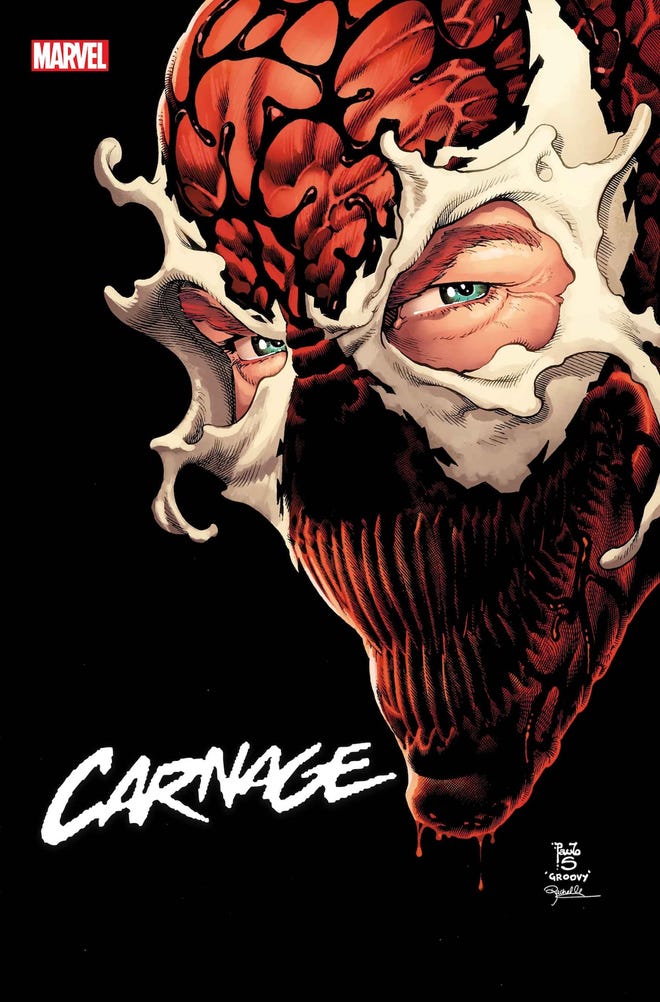 A notification sent to comic book stores Thursday advised that the first two issues of the upcoming Carnage series by Torunn Grønbekk and Pere Pérez will now carry Parental Advisory ratings, as opposed to the T+ Teens & Up ratings that they were initially announced as. According to Marvel, T+ Teens & Up is defined as material "appropriate for most readers 12 & up, [but] parents are advised they may want to read before or with younger children." Parental Advisory, in contrast, is defined as "similar to T+ but featuring more mature themes and/or more graphic imagery. Recommended for teen and adult readers."
Given that the horror-themed Spine-Tingling Spider-Man issue has already gone through a similar re-evaluation, it's not entirely surprising that the age rating for Carnage — a series centering around a psychopathic killer that teased its first issue as being "shocking and unexpected" — is being upped. In fact, all things considered, it might actually have been more harmful for its target audience if it hadn't been; after all, imagine a world in which Spider-Man of all people had turned out to be scarier than one of Venom's more creepy offspring?
Even better: Carnage fans can now spend the next few weeks between now and the release of Carnage #1 — that's on November 15, if you're curious — working out just what happens in the comic to make the age rating change, and just how bad (by which I mean gory) it might be. Take a look at the main cover for the issue from Paolo Siqueira below, and see if it prompts any particularly… parental advisory-esque thoughts.
---
Did you know that this was the summer of symbiotes? Venom, Carnage, and more: it was all happening, as long as it was parasitic and had some big teeth.