Marvel's Fall of X launches seven new series this summer, and here's what you need to know
There's a new Spider-Man, a new team of X-Men, and some other big changes on their way...
Marvel Entertainment has been teasing something called "Fall of X" since 2022's New York Comic-Con, and now it's finally here — well, almost. The event officially launches with July's X-Men: Hellfire Gala #1, before spilling out across the X-line and the Marvel Universe in existing titles like X-Men Red, Wolverine, and Immortal X-Men — as well as Invincible Iron Man, of all places — as well as no less than six new series. Want to know what to expect? That's why we're here.
What is Fall of X?
Exactky what Fall of X actually is is being kept secret for now. All that we really know is that something bad happens during this year's Hellfire Gala — according to the advance description of X-Men: Hellfire Gala #1, "What is meant to be mutant kind's biggest night becomes their biggest nightmare," adding, "All your favorite X-Men are going to be left reeling after this one — shocking revelations, stunning betrayals, horrifying tragedy, impossible deaths… and of course the most glamorous looks of the year" — and the fallout is going to redefine the X-Men line, at least in the short term.
How widespread is the redefinition? Well, Marvel has revealed that only one member of the Quiet Council will remain after the Gala, with promotional text for Immortal X-Men #14 reading, "Xavier had a dream. Now he has nothing. He fell. He fell furthest." Meanwhile, X-Men Red #14 sees Arakko fall to war, with the publisher teasing that the conflict "will remake the Red Planet."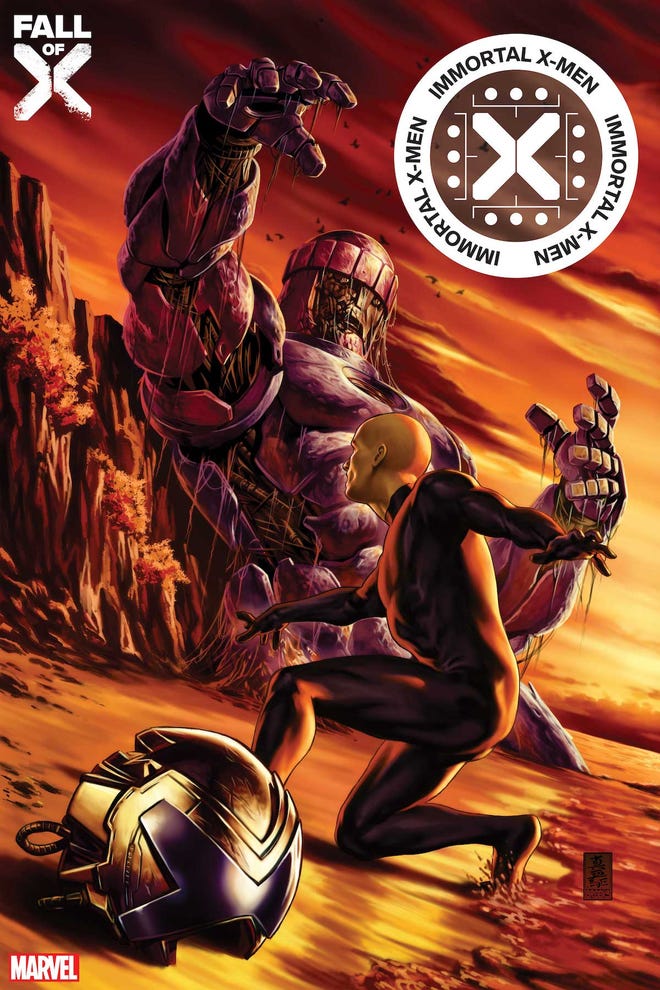 But, wait, you want to know about the new series spinning out of the event, don't you? We've already seen the titles revealed, but here are the details you've been waiting for.
Astonishing Iceman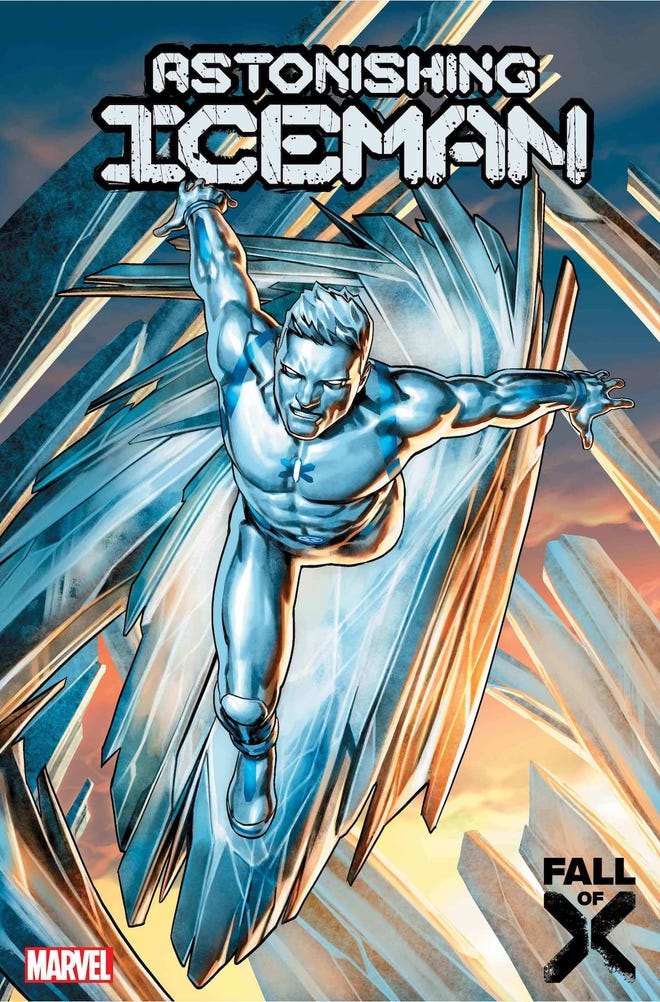 Steve Orlando and Vincenzo Carratù (Mary Jane & Black Cat) are the creative team as Bobby Drake decides to step up his game as a bona fide superhero, with a new base of operations, some new bad guys, and a new approach to the gig. It's not all good news, however, with Marvel promising "a dark side effect of his new mission" that is going to lead to problems down the line.
Marvel's official description of the series runs, "After the events of this year's can't-miss Hellfire Gala, Bobby Drake, aka Iceman, sets his sights on heroic deeds like never before. But as a new situation develops that links Iceman to his Antarctic ice palace, he'll have to be slicker than ever to accomplish his mission before ORCHIS knows what hit them! See the Omega-level mutant as you've never seen him before in a new saga that'll push Iceman to the limits of his powers…and beyond!"
Dark X-Men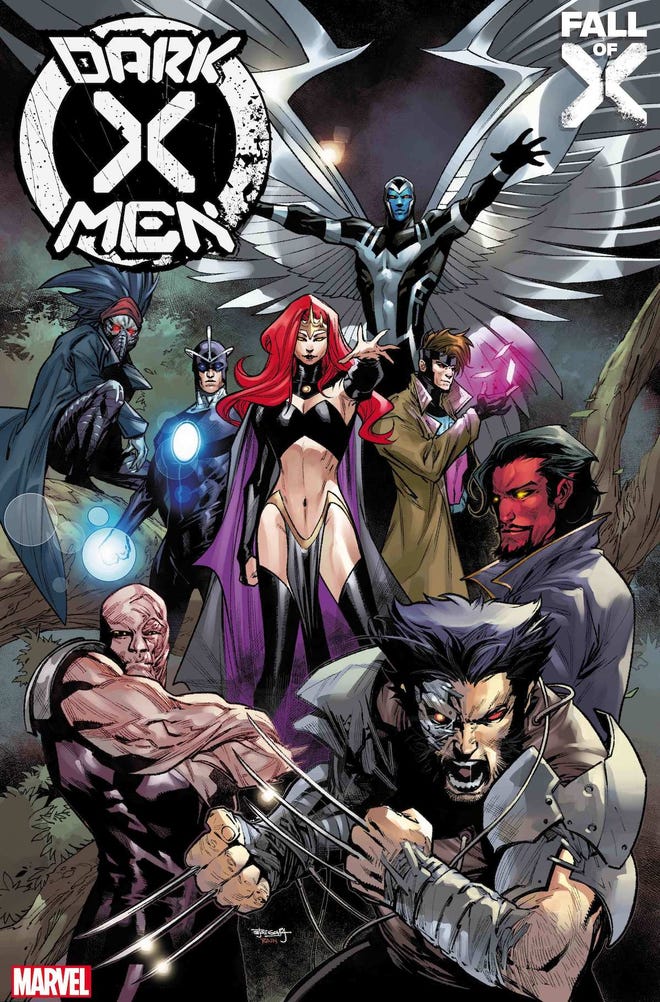 A new team of Madelyne Pryor, Havok, Archangel, Gambit, Azazel, Zero, Albert, and Emplate come together to "fill the void left by the X-Men," according to Marvel in Steve Foxe and Jonas Scharf's new series. Operating out of Limbo — because of Madelyne Pryor, obviously — there's the obvious question of, 'Why is there a void left by the X-Men?' hanging over this series… as well as the secondary question, 'Who thought it was a good idea to put Madelyne Pryor in charge of an X-Men team?'
Marvel's description of the series in early promotional material is, "Following the explosive events of the Hellfire Gala, Madelyne Pryor realizes the world needs the X-Men now more than ever. Havok, Archangel, and Gambit have served on teams before…but never one that looks like this! And how does Gimmick, breakout star of Children of the Atom and 2023's Marvel's Voices: Pride, fall under the Goblin Queen's sway? Find out in the most horrific installment of the X-Men saga yet!"
Realm of X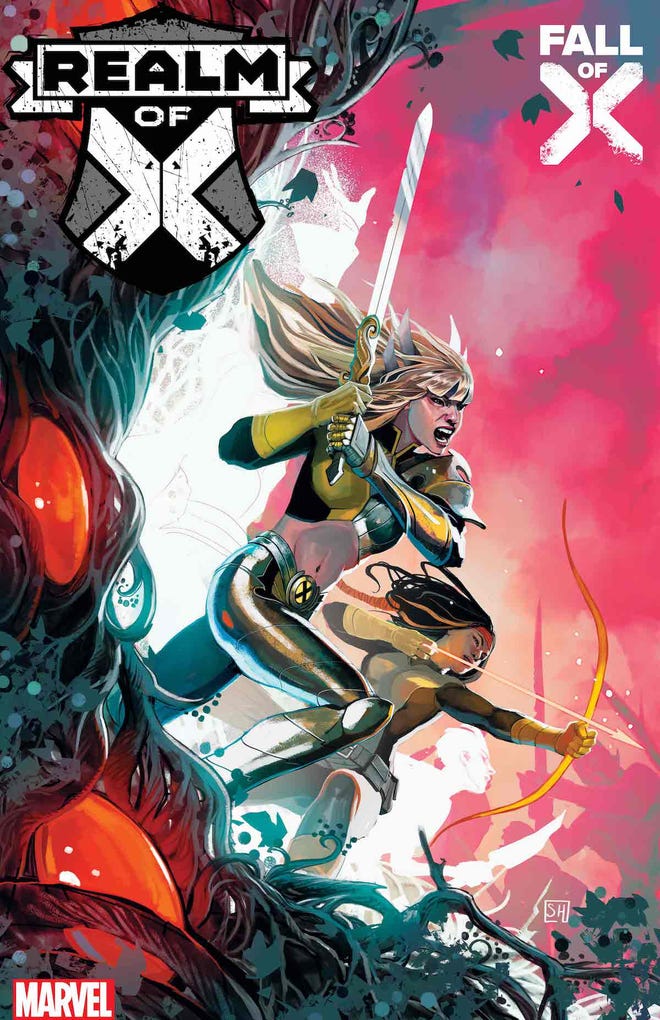 If you're wondering what's happened to the New Mutants in this new era of X-Books, they're here… well, some of them are. Magik and Dani Moonstar are two of the leads in this new series by Torunn Grønbekk and Diógenes Neves, alongside Dust, Curse, and Typhoid Mary, of all people, as each becomes embroiled in a mystical war across the Ten Realms of the Marvel Universe — one that has the potential to redefine mutantkind's destiny for all time. So, you know, no pressure.
"Leaping straight from the astonishing events of this year's Hellfire Gala, an unlikely group of mutants find themselves stranded in...Vanaheim? And whats even more confusing, the locals seem to believe that they hold the key to fulfilling a prophecy that can either raise the realm to riches – or cause it to fall to ruin," explains Marvel's official description of the series. "With Magik's powers malfunctioning and a mysterious figure amassing power on the outskirts of the realm, these X-Men are going to going to have to band together if they want to stay alive long enough to find their way home!"
Children of the Vault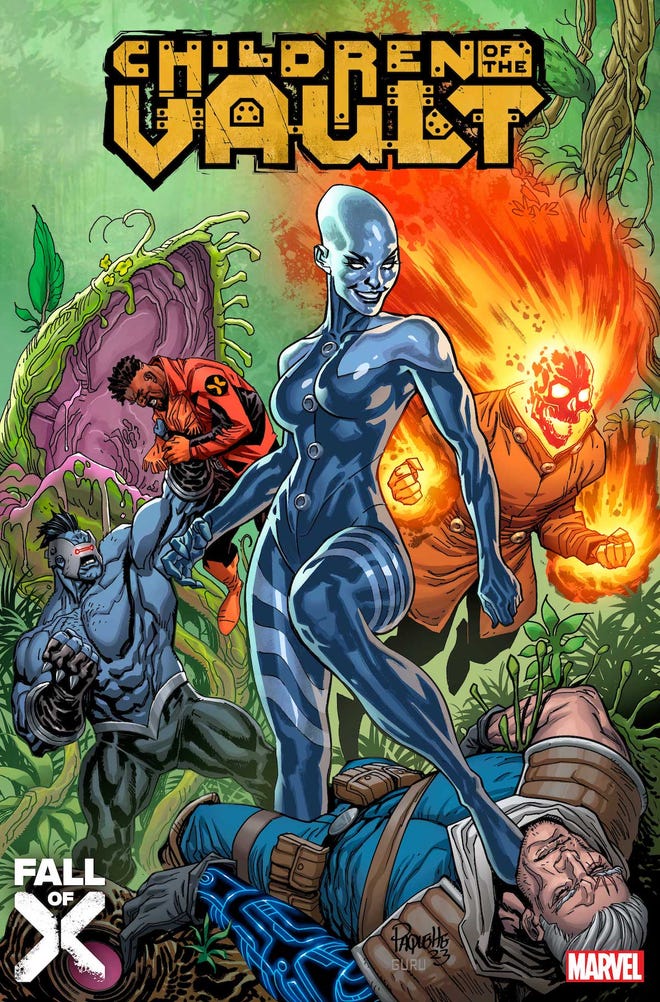 20th Century Men writer Deniz Camp makes his Marvel debut on this four-issue miniseries in which the next stage of evolution gets out of its prison, thanks to events in X-Men: Hellfire Gala #1, and it's up to the team of Bishop and Cable to hunt them down… Photon: Monica Rambeau's Luca Maresca provides art for this one.
Marvel's description of the series goes like this: "The Children of the Vault are back, and they are determined to be humanity's salvation! But not everything is as it seems, and every utopia has its costs. What is the motivation behind these highly evolved beings gifting the world with their advanced technology? And how do Bishop and a now-ORCHIS-captured Cable figure into their plans?"
Alpha Flight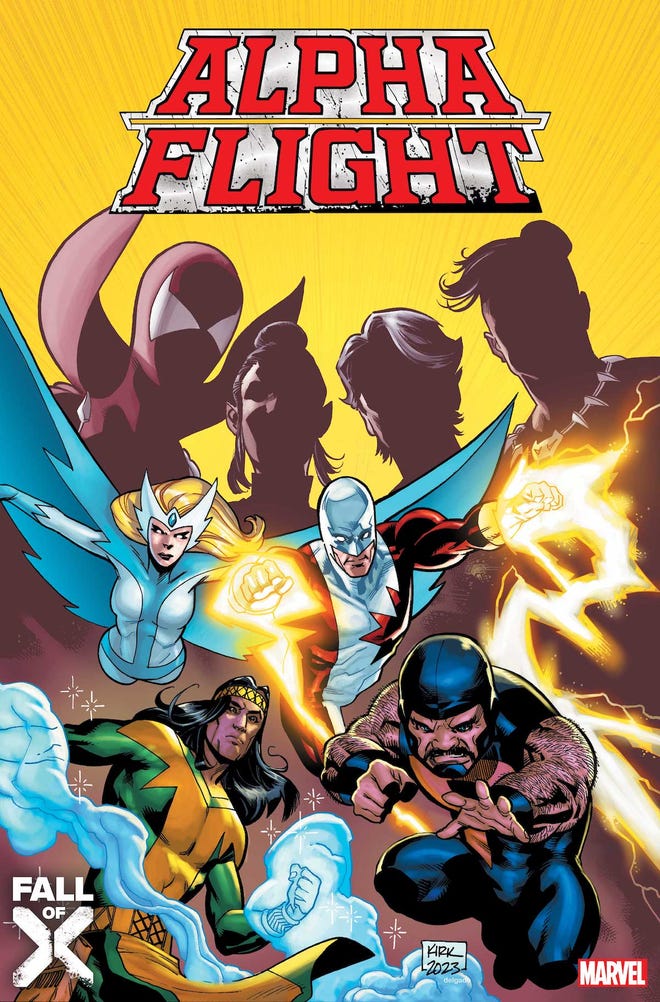 We've been waiting a long time for the return of Canada's greatest superteam, and now it's finally here… times two, as Ed Brisson and Scott Godlewski sees two separate teams of Alpha Flight show up to the fifth as Canada finds itself very, very nervous about the mutant situation. So nervous, in fact, that they're thinking about their own line of Canadian Sentinels. (Insert joke about how polite they would be here.)
The official publisher description of the series, reads like this: Saving Canada… from the mutant menace?! Guardian, Puck, Snowbird, and Shaman return, as a terrestrial Alpha Flight bursts onto the scene! But what schism will pit these heroes against their former teammates Aurora, Northstar, and Nemesis, as well as Aurora's beau, Fang? The Fall of X has changed the game. Will Alpha Flight soar to new heights… or be crushed under the weight of an impossible mission?"
Uncanny Spider-Man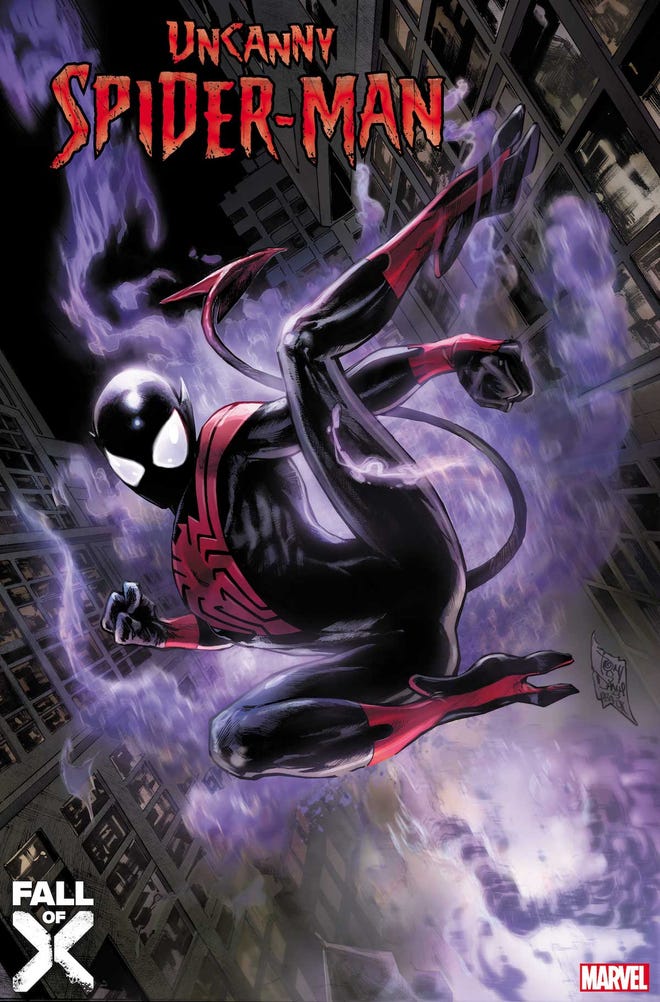 Fans who saw the MegaCon teaser image for Fall of X might have had two specific questions: 'Where's Legion of X gone?' And 'Why is there a Spider-Man book in the line-up?' No-one guessed they'd have the same answer, with Si Spurrier and Lee Garrett teaming for a new series where Nightcrawler has taken on the mantle of Spider-Man… but why?!?
"Escaping the turmoil of Fall of X in a flash of smoke and brimstone, it's time for Nightcrawler to play the swashbuckling, devil-may-care hero he was always destined to be!" says Marvel's description of the series. "Meeting a potential new lover, battling some of the most iconic members of Spidey's rogues gallery, and saving civilians, mutant and human alike—Kurt is having the time of his life! But it's not all fun and games… Nightcrawler will also be a lone soldier on the frontlines of mutantkind's upcoming war with ORCHIS. Throughout the saga, he'll also confront a long-simmering mystery surrounding his mother, Mystique, as Spurrier's bold transformation of the character approaches a startling climax!"
Jean Grey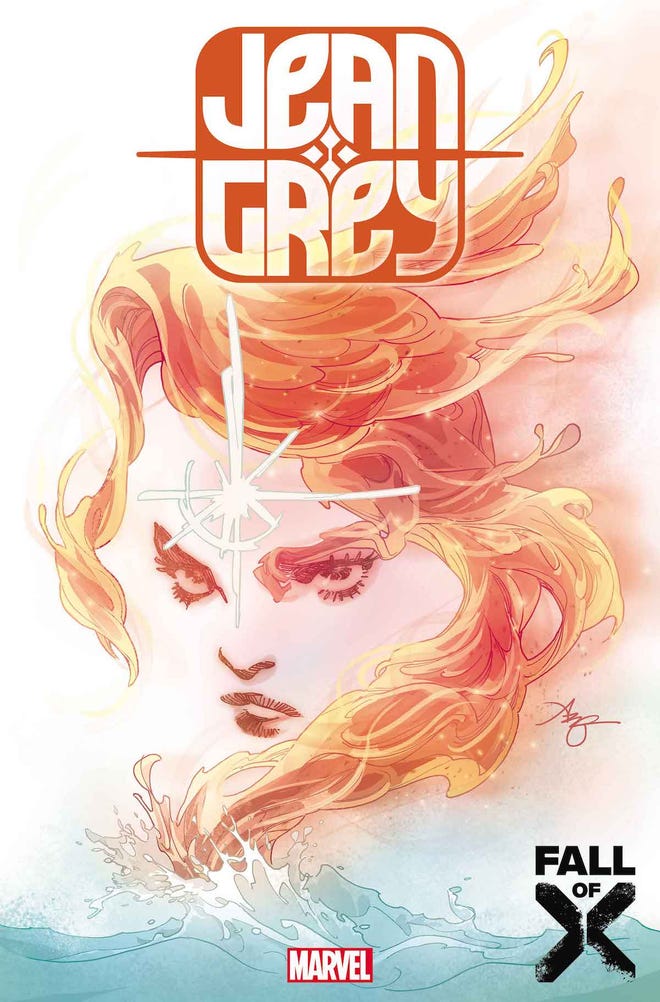 Announced weeks after the other Fall of X titles, the four-issue Jean Grey series by Louise Simonson and Bernard Chang sees the founding member of the X-Men revisit her past in order to find the information she needs to save the future... but that is going to mean going back to some dark periods of her life.
Marvel's official description of the series runs, "After the events of the Hellfire Gala, Jean's life is in shambles. Mutantkind is in dire straits – and there's nothing this founding X-Man can do. She'll have to save herself first. And that means looking into her past – for the moment when it all went wrong – in a desperate attempt to save her and all Krakoa's future!"
When is all of this happening?
X-Men: Hellfire Gala 2023 #1 will be released July 26; the new series will begin in August.
What comes after the Fall of X?
At time of writing, it's not clear how long Fall of X is intended to last; only two of the new titles have an announced length — both Jean Grey and Children of the Vault run four issues — so it's safe to assume that Fall will last until November 2023. But beyond that… it's anyone's guess. What happens after a fall, anyway…?
---
If there's one thing we can only hope gets fixed in Fall of X, it's the idea that the Beast has turned into a bad guy now. Oh, my stars and garters, that just doesn't make any sense.