Marvel just made a major change to the God of Mischief ahead of Loki season 2
Loki has just gone through a big change, and the ramifications could rock the Marvel Universe to its core.
When it comes to reinvention, Loki puts every other Marvel character to shame. While some heroes and villains might change their costumes, or restyle their hair, when Loki reinvents himself, he becomes a completely different person.
Loki season 2 premieres on October 5, which means lots of eyeballs will be on his comic counterpart. This means it's the perfect time for a makeover, but this isn't any ordinary makeover. During Immortal Thor #2 (written by Al Ewing and penciled by Martin Coccolo) the God of Mischief becomes a completely new person. Why did Loki make this change, and what does this mean for the Marvel Universe? When it comes to the God of Mischief, expect trickery and deception at every corner.
Warning: Spoilers ahead for Immortal Thor #2!
Loki goes full Doctor Who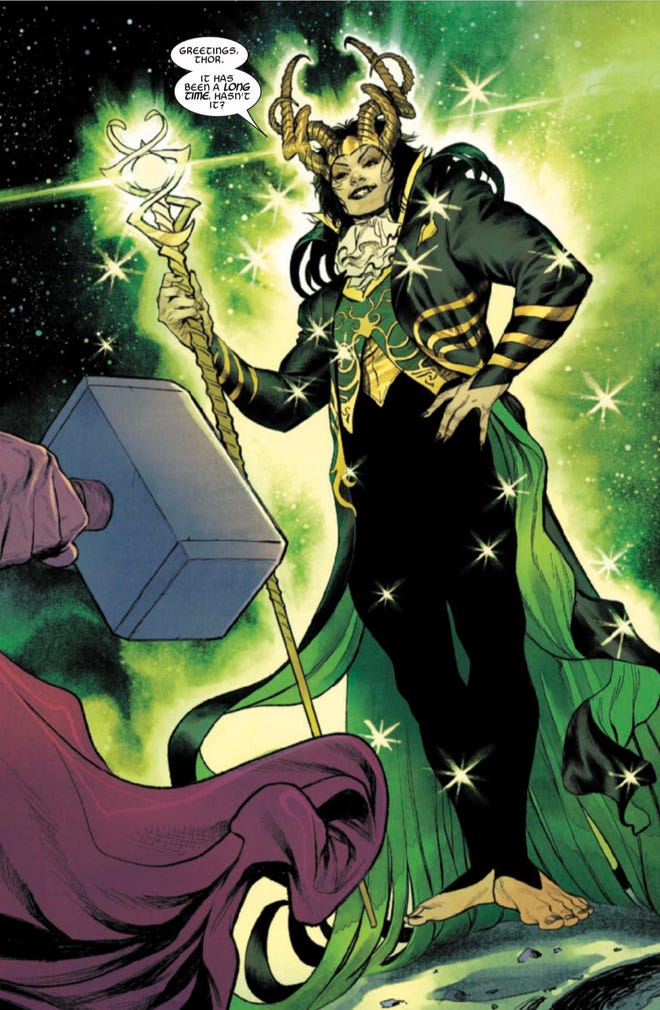 Thor is up against one of the greatest threats he's ever faced. The God of Thunder is being targeted by Toranos, the Utgard-Thor, a giant Elder God whose powers dwarf Thor's. Their first battle was intense, with Thor barely surviving. In fact, the only reason Thor still lives is because he tricked Toranos into being sucked into a portal. This didn't stop Toranos, but it slowed him down and bought Thor some time.
Exhausted and running out of time, Thor is delighted to see his brother Loki. "Thor. You have to answer the question. Will you trust me," Loki asks. The God of Mischief continues with more questions, asking if Thor trusts him as a loyal subject of Asgard, and as a sibling who loves him. "The wounds between us left scars. But they healed long ago. Yes, I trust your loyalty," Thor answers.
"Will you trust me even as your enemy," Loki asks. This question gives Thor pause. After a moment of pondering, Thor answers. "Even as my enemy, I trust you. So be what thou must be. And do what thou must do," Thor says.
Then, Loki transforms - into a completely different person. Think of it like regeneration in Doctor Who. Loki's outfit is given a new design, which looks like a cross between British nobility and a circus ringmaster. Their iconic horned helmet twists into a new shape. This new Loki doesn't have any footwear and appears to have an entirely new face.
"Is this a wise course," Thor asks his sibling. "We'll find out," Loki answers, before flying off into parts unknown.
What does this mean?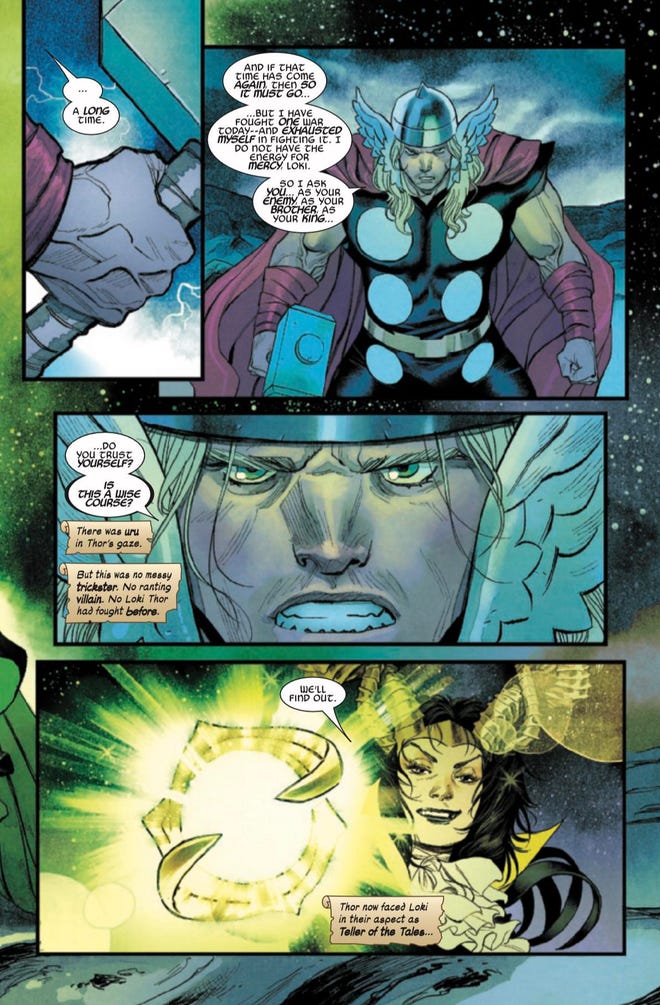 (Note: The new version of Loki hasn't revealed their gender yet. In the past Loki has switched genders, and their current appearance looks like it can be either male, female, or non-binary. With that in mind, until their gender is clarified, I will be using they/them pronouns when speaking about post-transformation Loki.)
This is where we ask ourselves the same question that Thor has been asking since 1962 – what the heck is Loki up to? While we don't know why Loki asked Thor those questions, and why they transformed, the implication is it has something to do with stopping Toranos. Perhaps this new persona has a power or ability that can repel the Elder God.
Or maybe Loki needs to unlock the villainous part of their mind to outsmart Toranos. Since Loki has been an anti-hero for so long, it's possible the only way to do this was to completely reinvent themselves. In other words, regeneration a la Doctor Who. It's clear from the conversation with Thor that this play is a gambit, but with no other options left, it could be the only path to victory.
The conversation between Loki and Thor makes it clear that the siblings have some hidden context that we don't have as readers. Don't forget, Loki has changed genders and even species in the past. But Thor's reaction indicates that this transformation is far more sinister.
Could this tie-in to Loki season 2?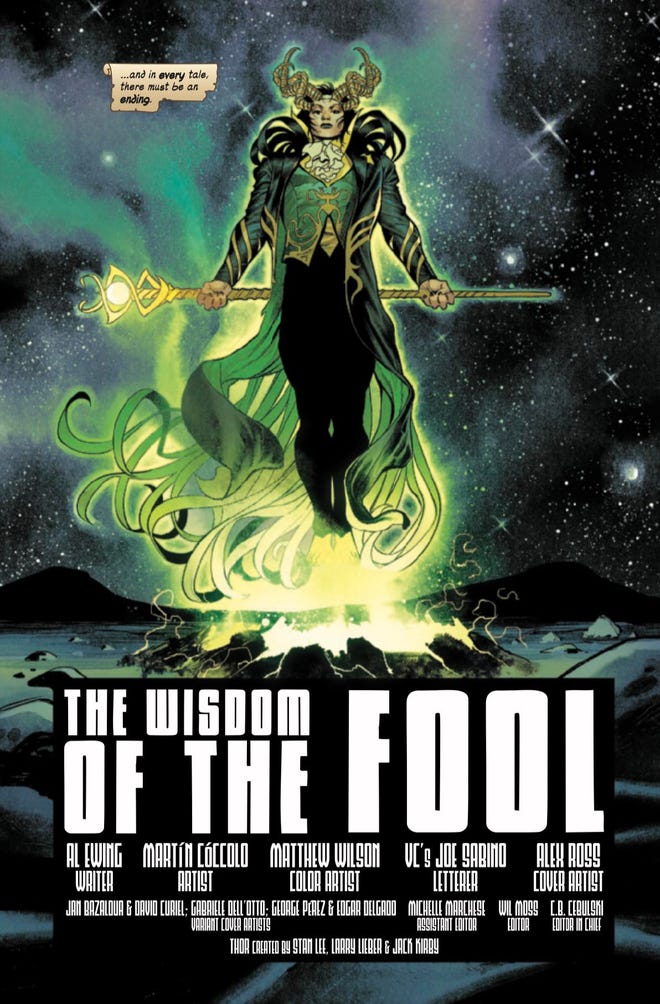 This might be a farfetched theory, but I wonder if this transformation has anything to do with Loki season 2. The second season of the Marvel Studios streaming series will premiere on Disney+ on October 5, while this storyline is still being published. The first season featured many fun Loki variants, including Kid Loki and Alligator Loki. Is Immortal Thor #2 giving us a preview of a Loki variant that we'll be seeing in the upcoming season?
Marvel Studios and Marvel Comics produce their projects in separate silos, and many times the comic creators have no idea what's coming next in the MCU. However, Marvel editor Tom Brevoort wrote a blog post after the release of Spider-Man: No Way Home, where he shed some light on the relationship between the separate Marvel divisions. According to Brevoort, Marvel's senior publishers regularly meet with the senior staff at Marvel Studios to compare notes on future projects.
Brevoort went on to explain that these meetings ensure that they can coordinate and synergize their efforts. If you pay attention to the new comics that are released around the same time as the MCU films, then this begins to make sense. With all of this in mind, it's not crazy to think that we might see this new version of the God of Mischief in Loki season 2.
Or maybe Al Ewing and Martin Coccolo just wanted to give Loki a new look. Either way, Fall 2023 is going to be a busy season for Loki.
---
Immortal Thor #2 is written by Al Ewing with art by Martin Coccolo.
---
Can't wait to watch Loki season 2 next month? Here's everything we know about the upcoming season so far.