Is Marvel planning something big with Miracleman after all this time?
A new digital-only release suggests that something might be up with the classic superhero
Marvel Entertainment is continuing its series of Who Is…? digital comics with an unexpected choice of subject: Miracleman, the British comics character known for runs written by Alan Moore and Neil Gaiman in the 1980s and '90s.
Who Is…? Miracleman Infinity Comic #1 debuts on the Marvel Unlimited app February 8, 2023, written by Ram V with art by Leonard Kirk and colors by Edgar Delgado. The publisher description of the issue runs, "It is an Age of Miracles, and above this Utopian world hovers MIRACLEMAN! Unlock the power of the key harmonic of the universe, and learn the origins of one of the most renowned characters in comic history. KIMOTA!"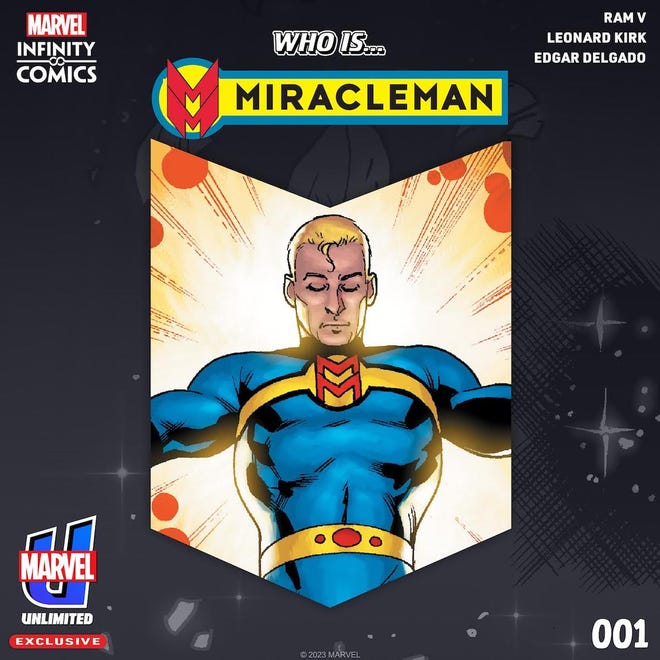 Miracleman's inclusion in the series is a curious one; to date, the Who Is…? treatment has been given solely to characters not only inside the Marvel Universe, but those with appearances in the Marvel Cinematic Universe or some form of media adaptation: Kang, the Scarlet Witch, Namor, Ironheart, Daredevil, She-Hulk, Jane Foster's Thor, and America Chavez. (Accompanying the Miracleman issue, Marvel is also releasing a Who Is…? Moon Girl issue; while she does not exist in the MCU, the character is getting her own Disney Channel series launching February 10.) Miracleman, however… isn't either of those things, to the best of our knowledge.
For the uninitiated, Miracleman debuted as an independent British comic character called Marvelman in 1954, and remained as such through his 1982 revival as written by Alan Moore. The Miracleman monicker was given to him in 1985, when American publisher Eclipse started to reprint Moore's work with artists Garry Leach and Alan Davis, before expanding and eventually concluding that run with a number of U.S. artists including Moore's Swamp Thing collaborator John Totleben. Upon the conclusion of Moore's time with the character, Neil Gaiman and Mark Buckingham took over the creative reins, before Eclipse went bust and left the character in publishing limbo until Marvel announced that it has purchased the rights to Miracleman (and Marvelman) in 2009. (You can read more about the complicated publishing background of Miracleman here.)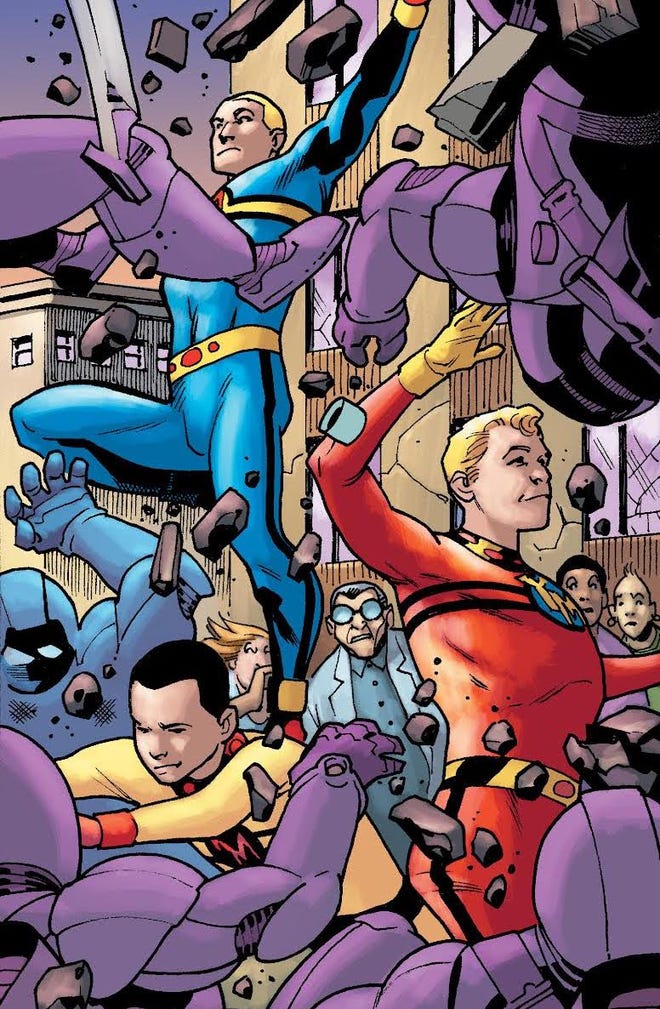 In 2022, Marvel started publishing the concluding chapters of Gaiman and Buckingham's planned storyline, after a delay of just three decades… but, even in that new material, Miracleman exists in its own reality, outside of the Marvel Universe. Except… well, here's where things get slightly complicated.
In December 2021, Marvel published Timeless #1, a one-shot issue promoted as giving "portents as to what is to come in the Marvel Universe over the next twelve months" — and the issue ended with a character looking at Miracleman's insignia. As it happened, the character didn't actually show up in the Marvel Universe at any point throughout 2022, but October 2022 saw the publication of Miracleman #0, an anthology issue featuring multiple stories of alternate versions of the character, including one story written by outgoing Avengers author Jason Aaron that explicitly referenced a multiverse of different Miraclemen — arguably giving a fictional framework to bring the character into the Marvel Universe proper, following the Timeless tease.
So, with the publication of Who Is…? Miracleman Infinity Comic #1, the following possibilities are raised:
Marvel is expanding the scope of the Who Is…? series to include non-Marvel Universe characters who have no media adaptations planned and Miracleman is simply the first character to enjoy this new status quo.
Marvel is preparing to bring Miracleman into the Marvel Universe properly at some point in the near future, perhaps via a project written by Ram V, who's responsible for the script to this digital one shot. Could we expect a Miracleman appearance in Venom at some point in the near future? Stranger things have happened; some of us can remember when former Spawn supporting character Angela joined the Marvel Universe via a cameo in Age of Ultra a decade ago, after all.
Marvel Studios is preparing to bring Miracleman to the screen, either as a part of the MCU or a standalone project. It feels almost too unlikely for the character to make a cameo in Ant-Man and the Wasp: Quantumania without it having leaked somewhere, but… would it be that crazy to wonder if the character's origin as Marvelman makes him a candidate to show up in The Marvels this summer…? I mean, surely not… but still…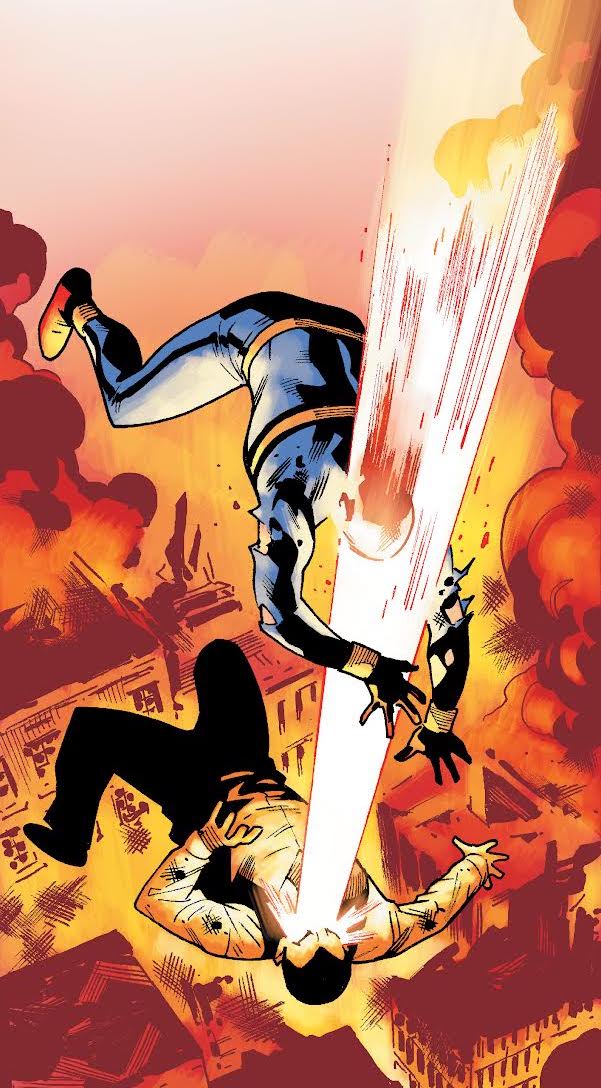 Separately, there's the question of whether the character's appearance in a comic created exclusively for Marvel Unlimited means that readers should expect more Miracleman content on the subscription service. As things currently stand, none of the classic Moore or Gaiman-written material is available on the service due to Marvel Unlimited's limit of only including material suitable for readers younger than 18. Currently, outside of October 2022's Miracleman #0, the only other Miracleman-related material on Marvel Unlimited are 10 issues of Marvelman from the 1950s. Does Who Is…? Miracleman Infinity Comic #1 mean that this is going to change at some point in the near future…?
Popverse has reached out to Marvel for more information, with no response at time of writing.
Who Is…? Miracleman Infinity Comic #1 is available to read on Marvel Unlimited now.
---
No, really, the real world backstory of Miracleman's publishing history is a thing to behold.