Inside Marvel's Moon Girl and Devil Dinosaur show coming to Disney Channel and Disney+ this month
Moon Girl and Devil Dinosaur is Marvel's next animated show, and it's going to make a difference in many people's lives.
You don't need phenomenal cosmic powers to save New York's Lower East Side. You just need a good brain and a dinosaur pal. Moon Girl and Devil Dinosaur is the latest animated series set in the Marvel Universe. Based on the critically acclaimed Marvel comic book series, the cartoon follows the adventures of Lunella Lafayette, a 13-year-old genius who protects the Lower East Side, along with her Tyrannosaurus buddy named Devil.
The animated series will premiere on the Disney Channel on February 10, followed by a February 15 premiere on Disney+. Popverse recently had a chance to attend a press session with the cast and crew behind the series. From musical numbers, to honest conversations about hair, and obscure Marvel Easter eggs, here is what we can expect from Moon Girl and Devil Dinosaur.
The tone and animation style of Moon Girl & Devil Dinosaur

One of the first things you'll notice about the series is the stylized animation. Executive producer Steve Loter worked hard to make sure the series captured the look and feel of New York's Lower East Side. "I've seen New York misrepresented in a lot of animated properties, so I had to make sure it was accurate," Loter says. "We relied on a lot of New York's artistic benchmarks—the Andy Warhol silk screening process, Basquiat graffiti art, street art murals—to kind of find the flavor of New York we wanted to capture."
Loter credits executive producer Laurence Fishburne with bringing old school comic book flavor to the animation. "Laurence (Fishburne) is a huge comic book fan, so we used that as kind of a springboard for the visual styling, particularly the linework on the characters and the overall look of the show." The 2018 film Spider-Man: Into the Spider-Verse was also credited as a heavy inspiration for their animated style.
Loter and Fishburne worked hard to make sure the animated series was authentic in how it dealt with the trials and tribulations of a teenage black girl. "We currently have an all-female writing room, a very diverse writing room," Loter shares. "So a lot of Lunella's stories in this are based on real-life experiences that our writers have experienced and have put it now through the lens of Lunella."
One episode titled 'Hair Today, Gone Tomorrow' begins with Lunella being bullied because of her hair. The episode contains some important conversations about the relationship African-American girls have with their hair. Diamond White (Lunella's voice actress) appreciates the way the series tackled the topic. "I've experienced someone calling my hair frizzy or messy and that's why it was important for me to see the episode where Lunella gets her hair straightened, the perm episode. That touched my soul in a place where it was like, yeah, I've been through this," White says.
Laurence Fishburne wants the show to change the way young people stigmatize being smart. "I've always thought that it was really cool to be smart," Fishburne says. "I think it's important for us to have this kind of representation because you can't be what you can't see. If more young girls of color get to see the experience of a person like Lunella, then perhaps, they won't be afraid to show their intelligence and to lead with their intelligence."
The series will be airing on the Disney Channel, but that doesn't mean it's strictly for kids. "Animation is for everybody," Loter says. "We wanted to make sure that this show was four quadrant. That's an industry term which basically means it's for everybody. It's for parents, and kids, and grownup kids that may not have kids."
The cast and characters of Moon Girl & Devil Dinosaur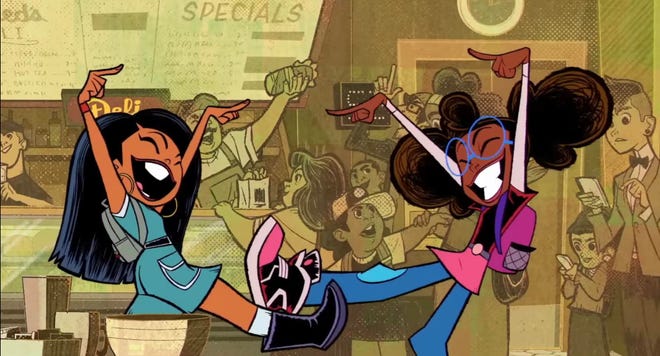 Lunella Lafayette doesn't have a tragic backstory or a convoluted origin. She's simply a teenage girl with a gifted mind, a pair of roller skates, and a dinosaur sidekick. By night Lunella suits up as Moon Girl, protecting New York City, and having fun doing it. "We made history being Marvel's first teenage Black girl superhero," Diamond White mused.
Prior to playing Moon Girl, White rose to fame after appearing as a contestant on the reality competition series The X Factor. This led to a series of voiceover roles, live action gigs, and a busy singing career. "It's important to see that kind of representation. It's a show that I needed growing up and I feel like it really does make a difference. Like the show says, one girl can make a difference. This show is going to make a difference in a lot of people's lives, so I'm just excited to be a part of it."
Luna's dinosaur pal Devil is voiced by Fred Tatasciore, a voice actor who specializes in behemoths and brutes. "We wanted to try to figure out what's the language of his heart and articulation with Lunella. So we had to really work together to find it without going to the other direction," Tatasciore shares. The talented voice actor then demonstrated various inflections of Devil's roar, each one representing a different emotion or message. "I'm of course aided with great animation and emojis to illustrate some points"
Lunella will also be assisted by her classmate Casey, who sees herself as Moon Girl's manager. Casey is voiced by Libe Barer, an actress known for her role as Carly Bowman in the series Sneaky Pete. The role of Casey is a dream job for Barer, who wishes there were more people like her on television while she was growing up. "Why was smart ever not cool," Barer asked. "Casey speaks Spanish and is cool. I would have loved to see that as a little girl and I love getting to bring that to life."
Gary Anthony Williams, known for his role as Uncle Ruckus on the Boondocks, portrays Pops, Lunella's grandfather. In addition to being the family patriarch, Pops operates the local skating rink, which is an important part of their neighborhood. "That skate rink that he owns, he could have sold that out but he kept it for the community," Williams says. "I grew up in a huge family. I have six sisters, two brothers, mom and dad and then my grandmother was always there. My cousins were always there. So I get to show that whole family unit, literally the way that I grew up."
Moon Girl & Devil Dinosaur's connections to the deeper Marvel Universe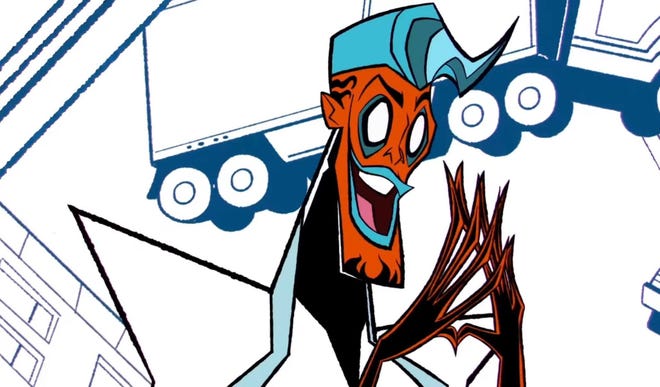 Moon Girl and Devil Dinosaur takes place in its own world, away from the Marvel Cinematic Universe. "We aren't really connected to the MCU officially," Fishburne says. "Our show is really a family show. Maybe we're not going to save the world, but we are going to save the Lower East Side."
"I always like to say complementary to the MCU because you'll see a couple of MCU characters in the show," Loter adds. "You'll see that some of the characters we have in there are really deep cuts in Marvel Comics, like you really got to dive in to actually find. There's a lot of easter eggs, not just in backgrounds like you noticed, there's all over the place, even in some dialogue, and in some other places. Just stay tuned. Make a list, because there's quite a few, because we're big fans too."
The series will feature the Beyonder, a cosmic entity with omnipotent powers. The Beyonder was first introduced in Marvel Super-Heroes Secret Wars (1984) and has gone on to become a major player in the Marvel Universe. The version seen in Moon Girl and Devil Dinosaur will be voiced by executive producer Laurence Fishburne. . "Laurence took that character to places we couldn't even dream of," Loter said. "It was an animator's dream to be able to animate to all the peaks and valleys, the highs and lows that Laurence provided for the Beyonder. He's one of my favorite characters, for sure."
The Beyonder even gets his own musical number. "We were really fortunate to be able to get Raphael Saadiq onboard as our executive music producer. And Steve (Loter) just went above and beyond and was able to convince him in 30 seconds to join us," Fishburne says.
The future of the Moon Girl & Devil Dinosaur series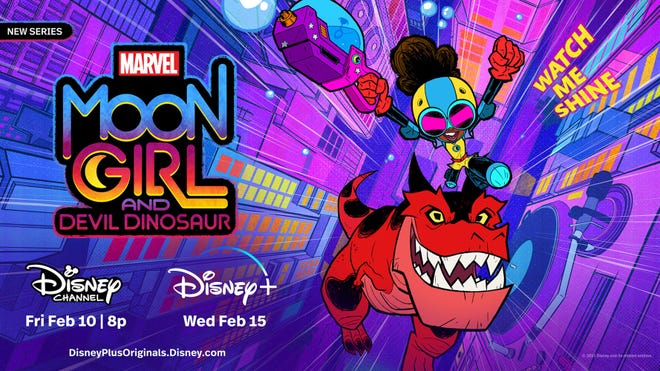 While speaking about the upcoming premiere of the series, Fishburne couldn't help but appreciate how fortuitous had been. "It just so happened that I got to meet Moon Girl at the right time and I got to meet Steve at the right time," Fishburne muses. "We've all gotten together and here we are in this place where we can bring Moon Girl and Devil Dinosaur to an audience that's hungry for it."
Although the series hasn't premiered yet, positive reception from Marvel and Disney executives have resulted in an early season two renewal. "It was a great feeling because we knew we had more stories to tell," Loter says. "As Season 1 goes on, the story gets more serialized. You see an antagonist kind of rise up from the background. We just felt like there was so much story to tell. I mean, we're hoping for past Season 2 because we feel like Lunella Lafayette has a lot more stories to tell."
Moon Girl and Devil Dinosaur premieres on February 10 on Disney Channel, and February 15 on Disney+.
---
Keep track of this and all the upcoming superhero TV shows on the horizon.