Marvel teases NYCC announcement for something called "The Sins of Sinister"
What are the sins of Sinister and why does Captain America have a goatee? Find out next week, it seems
We're less than a week out from New York Comic Con 2022, and Marvel is already teasing one of its big announcements at the show. In a new teaser image, the publisher is suggesting that the entire Marvel Universe is going to have to deal with the machinations of X-Men arch-villain — well, he's certainly arch; whether or not he's a villain is something that he might argue with — Mister Sinister in something called The Sins of Sinister.
The promotional image by Geoff Shaw appears to show alternate versions of the X-Men crossed with other Marvel properties, including a Thor-esque Storm, a Captain America wearing Sinister's trademark diamond on his forehead — as well as a fetching goatee, and what might be an all-new version of Odin — as well as Cable and the Beast in space, and a curious mash-up of Wolverine and Nightcrawler.
Text accompanying the release of the image from the publisher reads, simply, "Enter an entire universe cursed by… The Sins of Sinister! All will be revealed Saturday, October 8, at New York Comic Con's Marvel Comics: Next Big Thing panel!"
A date on the image suggests that the storyline — or series, or event, whatever it might end up being — will begin January 2023.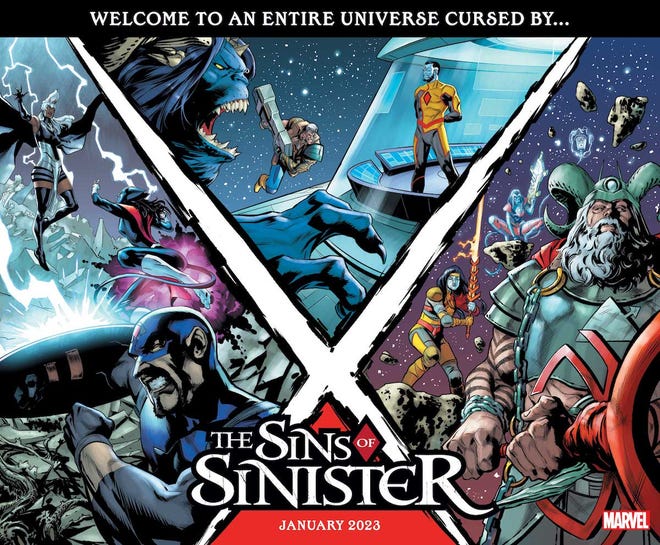 The idea that the untrustworthy Sinister might be creating alternate versions of familiar X-Men characters is one that's been a recurring theme in the X-Books as of late, and Sinister's also found himself surrounded by the wider Marvel Universe as part of the current A.X.E.: Judgment Day event, which he's proven surprisingly central to. (Not entirely a surprise, as Judgment Day writer Kieron Gillen has proven to be particularly adept at writing Sinister during his times with the X-Men franchise.) Could The Sins of Sinister be something growing out of both of these elements, or something entirely different…?
We'll find out a week on Saturday, it seems. Popverse will be bringing you the latest from New York Comic Con as it happens all through the entire convention, including the Marvel Comics: Next Big Thing panel, and you'll be able to follow along with all of our coverage right here.
---
Need to catch up on what's been happening in A.X.E. Judgment Day so far? We've got you covered, along with a little bit of speculation about what's to come, as well.