Plush Darth Vader and a remote control Grogu coming to Star Wars fans from Mattel
The Force is strong (if your remote control batteries are strong) in these new Star Wars/Mattel products
Thank you to Mattel for sponsoring this article and video. Popverse was paid for our time in creating this.
Mattel has a lot to love for Star Wars fans this summer, and Popverse got a sneak peek (and a hands-on demonstration!) at the recent Star Wars Celebration 2022 in Anaheim, California. From plushes to remote control figures, highly-detailed figures, card games, and even a Star Wars-themed Pictionary - there's something here for everyone.
Take a look at the great things at Mattel's Star Wars Celebration 2022 booth:
Mattel's Star Wars Celebration 2022 booth
The centerpiece of Mattel's Star Wars Celebration 2022 booth is the Hologram Darth Vader limited edition premium plush.
This 11-inch plush is created with a shimmering blue holographic material that is a nod to Darth Vader's holographic transmissions to the Emperor and the Empire in the Star Wars films (and TV shows). The Hologram Darth Vader plush comes embedded with a chest button that, when pushed, plays the iconic breathing sounds from the movies.
Even the box for the Hologram Darth Vader is special - it is created in the shape of the Sith lord's meditation chamber from Empire Strikes Back, and comes complete with a blue light-up base.
"It is something you can take out, and play with it like you normally would with any other plush, or you can display it in your home," says Gordon Hallman, Mattel's senior marketing manager.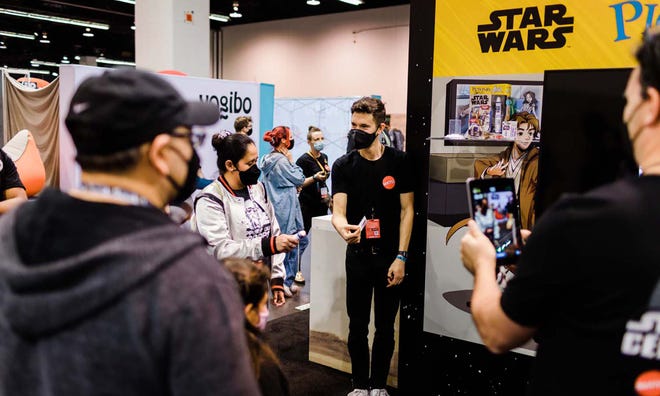 Also on display at Star Wars Celebration 2022 was a new Grogu piece - The Child Real Moves plush. Measuring in at 12 inches, This is a rubberized figure with painted detailing, wrapped in a Burlap coat with faux fur trim coat.
We're burying the big story on this however, as this Baby Yoda piece that actually moves (using a remote control). You can move the Child around, make his head and ears move, and even raise his right arm up and down like he's using the Force. There's also several programmatic features including 'Hide and Seek,' 'Curious,' and 'Follow' which will set the little Grogu off and wandering around your room.
---
Get up to speed on all the big moments from Star Wars Celebration 2022 in Anaheim, California.