A cosplayer's guide to MCM Comic Con
Wanting to cosplay at MCM London? Here's our helpful guide
London's biggest convention is approaching with MCM Comic Con happening at the ExCel Centre once again at the end of October. Something that has become a big feature at conventions over the years is cosplay. Whether is it dressing up as your favourite character for the first time, being a cosplay seasoned veteran, or being one of the super talented competitors, there is always something for everyone cosplay wise at MCM. And like all other ReedPop comic shows, MCM Comic Con has a dedicated cosplay area titled Cosplay Central.
MCM has a lot to offer cosplay-wearing attendees, but also ways for those that don't cosplay to appreciate the talent and skills that go into each and every costume. Fandom meets have always been a big part of the MCM scene. Be it a DC v Marvel photoshoot, anime dance-off or another group meet, fans have the chance to submit official meets at the various locations around the convention centre. A lot of meets occur outside, giving ticket holders the chance to take photos of their favourite characters coming together. Big stars have also been known to previously surprise cosplayers at meets, with Tom Hiddleston himself photobombing the giant Loki cosplay meet in 2021, so you never know who will turn up! Celebrities are quite often impressed with the cosplays on display, and really appreciate the effort that fans make for the characters they play.
Prepping to cosplay at MCM Comic Con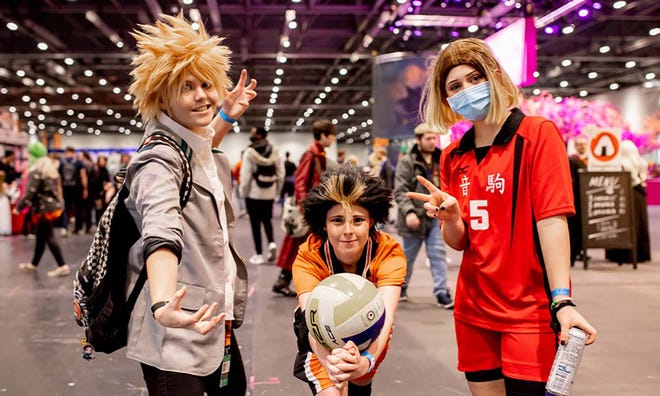 As a cosplayer, there is a lot of planning and preparation that goes into a weekend of fun. Preparing for a convention as a cosplayer can be quite stressful, especially when things start to go wrong. 'Con crunch' is a well-known phenomenon amongst cosplayers, where no matter how long we leave for a project, we will still always be working right down until the last minute to get that cosplay looking picture perfect. To help plan for an upcoming con, there are a few useful apps out there. A popular app is Cosplanner. It allows you to break down each element of your cosplay, sort out the budget and also help with the con crunch time constraints.
Cosplays can be bought as a whole outfit from many different websites, sourced as bits and pieces from various stores, or crafted together with many materials. Some of the most popular websites are based in China and require advanced planning for tailer made or custom fitted outfits, but costumes that require no adjustments and are ready to ship arrive a lot faster. Common choices of websites for store bought cosplays include EZCosplay, Miccostumes, Procosplay, HerosTime, Sim Cosplay, Cosplay Sky, and even Amazon. As well as complete outfits, Amazon is a great place to source individual components, as well as cheaper shops such as Primark and second-hand places like eBay. Materials are often bought from local stores, but for crafting supplies, UK cosplayers use stores such as Poly-Props and Coscraft, who are often seen with stands in or around Cosplay Central.
As well as the more complicated and extravagant cosplays people put together, there is a whole other more casual side to cosplay. You don't have to shell out big bucks to become one of your favourite heroes or villains, and can quite often put together easy and comfortable cosplays from your own wardrobe. It's quite common that attendees want to cosplay every day of the convention, but a simpler outfit is needed for a shopping day or to travel home in. Films and tv shows frequently have the more regular outfits that help the characters blend in, so there is always a lot to choose from.
Cosplay help at MCM Comic Con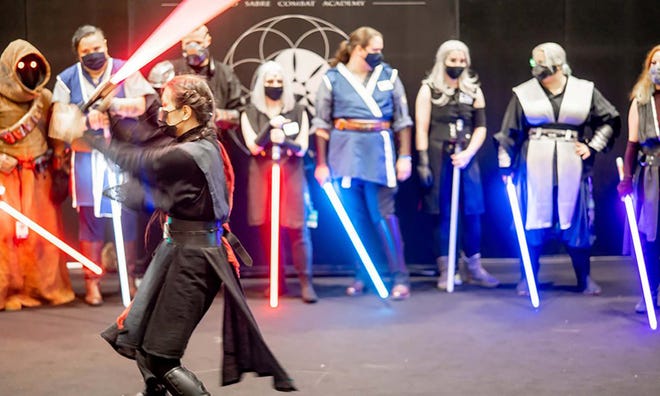 There are many things that a cosplayer requires on the day of the convention. Be it your first time in a costume of your favourite character, or you're someone that has been cosplaying for many years, every cosplayer has the same problems. No matter how carefully you craft a cosplay, it can get damaged in transit or get bashed and need a fix up during the convention. One of the great things about MCM is that it has a dedicated cosplay zone - the aforementioned Cosplay Central. Cosplay Central has everything that you will ever need to repair your costume at the Cosplay Hospital so it's back to looking brand new. From glue and tape, to paints and sewing kits, Cosplay Central has everything you need to put your mind at ease at no extra cost.
Cosplay Central also has many other attractions and elements on offer for convention attendees. It can be quite nerve-wracking wearing a cosplay in public, and although some ticket holders have no problem with boarding the tube dressed as Batman or Captain Marvel, others only feel at home once they hit convention grounds. As well as a repair zone, Cosplay Central has changing rooms available, so you can arrive in disguise in your civvies, and step out from the curtain as a hero. There is no luggage storage available in the cosplay zone anymore, but MCM has plenty of space to keep your belongings all day long in their cloakrooms, so it is easy enough to be Clark Kent one minute and Superman the next.
Visiting the Cosplay Central stage at MCM Comic Con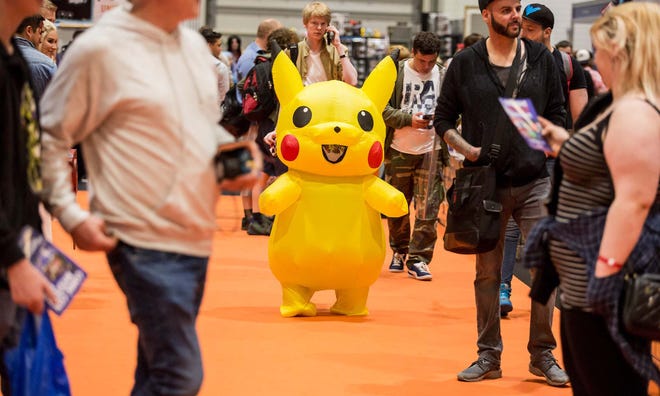 Another draw to the dedicated cosplay area is that it has its own stage purely for talks all about cosplay. Previous talks have ranged from crafting talks from well known cosplayers, to talks on cosplay photography and fan films starring cosplayers. As well as panels, the cosplay stage hosts the casual cosplay showcase, which gives cosplayers a chance to have a chilled catwalk in costume to a smaller and less daunting crowd than the main cosplay competitions. There is also a kid's specific showcase for children to strut their stuff as their favourite hero or princess. The cosplay showcases are open to everyone, and do not need to have the handmade element that some of the other competitions require.
Over on the main stage, there is not one but three competitions for cosplayers, so there really is something for everyone. The cosplay masquerade happens on both the Saturday and Sunday, and is open to any handmade cosplays. The cosplay variety show happens only on the Sunday, and has a focus on skits and performances instead of the crafting side of cosplay. The biggest cosplay competition of the weekend is the impressive global Crown Championships. Competitors are selected at regional events from all over the world, with the UK champion having been chosen at MCM London back in May. In October, London will actually be hosting the finale of the Cosplay Central Crown Championship, so it will be a chance for people to watch the top cosplayers from all over the world compete on the London stage.
The wide range of attractions and helpful areas such as the repair zone and changing rooms shows how big a part cosplay has at MCM. From a first-time cosplayer to someone that has decades of experience, there is something to suit and entertain cosplayers of all ages and skill levels.
---
Cosplay and conventions: how being a fan helped me rediscover myself.