Monica Rambeau finally gets to shine in her first solo comic book series this December
Monica Rambeau: Photon sees the longtime Avenger have her first miniseries in 40 years
It's been a long time coming, but Marvel hero Monica Rambeau — who first came on the scene as Captain Marvel in the '80s, and has since been known as both Spectrum and her current nom-de-heroing Photon — is finally getting her first solo comic book series this December.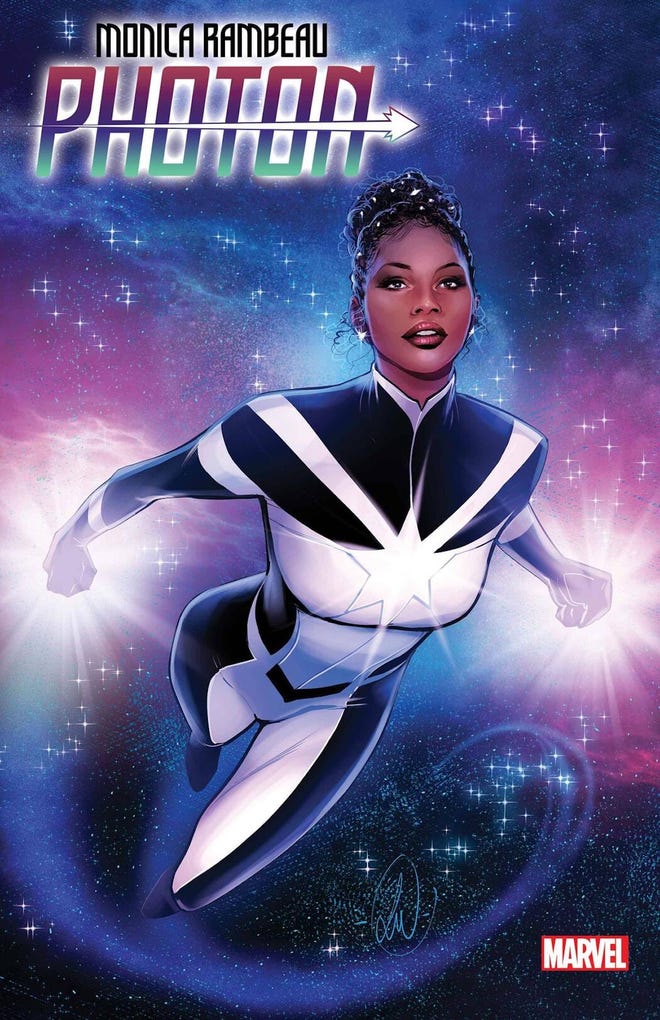 The character, who first appeared 40 years ago in 1982's The Amazing Spider-Man Annual #16, has been a consistent presence in the Marvel Comic Book Universe since her debut; beyond being a mainstay of the Avengers, she has also been a member of both Nextwave and the Ultimates, and a central cast member of Marvel Divas and Heralds in the early '00s. Despite that, she's only headlined her own title twice, with both being '80s one-shot specials by the creative team of Dwayne McDuffie and Mark Bright.
The creative team for the new five-issue series Monica Rambeau: Photon will be Eve L. Ewing (Ironheart) and new artist Michael Sta. Maria, with the two telling a story where Monica has to deal with what the publisher is calling a "reality-shattering crisis" that will push her to the limits of her abilities, and beyond.
"Monica's character has a long history in the Marvel Universe, but she's way overdue for getting her own story told," Ewing said in a statement provided by the publisher. "It's a privilege and I'm excited to tell the story in a way that both highlights her incredible cosmic abilities as well as her everyday, relatable struggles. I hope this will be a title that has something equal to offer to veteran readers and folks who may be brand new to comics."
That mention of "folks who may be brand new to comics" is an important one; Monica made her MCU debut in 2019's Captain Marvel movie as a child, and in last year's WandaVision series on Disney+ as an adult, played by Teyonah Parris. In the latter series, she gained super powers that she'll be using in her next onscreen appearance, next year's The Marvels.
The first issue of Monica Rambeau: Photon is scheduled for a December 7 release, featuring a cover by Lucas Werneck.
---
Monica might have been Marvel's second comic book Captain Marvel, but the current holder of that title is about to face an unexpected family reunion, and Popverse has some details.