Ms. Marvel: What to watch and read before (and after) the MCU TV Show
Catch up on everything important before watching Ms. Marvel on Disney+
With a new Ms. Marvel Disney+ show airing now, many of us are asking - how do I dive into Ms. Marvel's source material to prepare for the new show? Well don't worry, we here at Popverse have the run down on how to catch up on all things Ms. Marvel and become a Kamala Khan expert before or after you watch the show.
Make sure you read Popverse's review of Ms. Marvel's first two episodes - to get you prepared, but also to highlight some things you might've missed.
What to watch before Disney+'s Ms. Marvel?
Before we jump into the source material, let's talk about what Marvel properties you should watch to prepare for the upcoming Disney+ television show, as Ms. Marvel makes her MCU debut.
But don't worry, the MCU is famous for its connectivity - so set up your queue for some Marvel content! Ms. Marvel is a legacy character, and in the comic books the first Ms. Marvel was actually Carol Danvers. In the MCU, Carol starts her superhero career as Captain Marvel, making her first appearance in the 2019 Captain Marvel movie. She also makes appearances in Avengers: Endgame and a small cameo in Shang Chi's after credit scene.
Kamala took on the mantle of Ms. Marvel because she idolized Carol Danvers. Her powers were connected to the Inhumans, but the MCU will be ditching the Inhumans connection and instead will take a 'cosmic' approach. This could be because the studio wants to make a stronger connection between Ms. Marvel and Carol Danvers, especially considering Kamala will be one of the three Marvels making an appearance in the Captain Marvel sequel – The Marvels.
What to read before Disney+'s Ms. Marvel?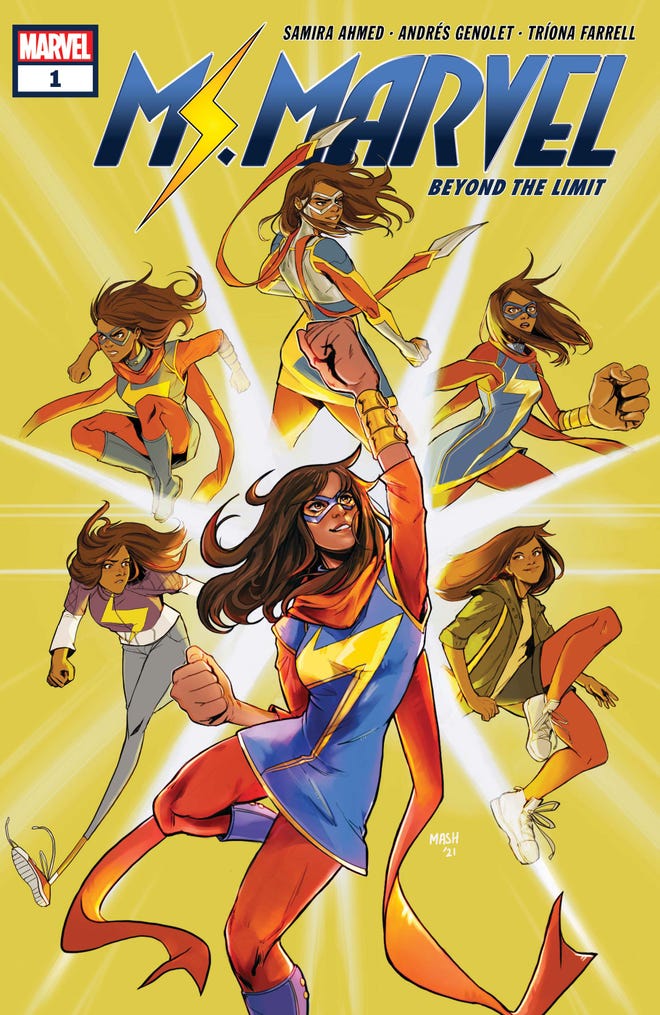 If you're an MCU aficionado and want to dip your toes into Marvel Comics, Ms. Marvel is a great gateway character. In the modern landscape of comics, longer runs with the same writer have become scarce, but G. Willow Wilson, Kamala's co-creator, stayed with the character for 60 issues spanning across a few volumes. This is where plenty of Kamala's lore had been introduced: including her major villains, the development of her friendships, that kiss with Red Dagger (!!), Zoe Zimmer's surprising transformation, and Kamala growing relationship with her family - all while she balances life as a superhero.
Following G. Willow Wilson's run, Saladin Ahmed took over the book with a retitled and renumbered Magnificent Ms. Marvel. The run focused on Ms. Marvel getting a new costume – a Kree Stormranger Nanosuit. The arc allowed Ms. Marvel to connect to her namesake's cosmic background, but not without a cost. The suit leveled her powers up, but much like Spider-Man's Venom symbiote, it controlled her. This led to many of the title's conflicts!
Ms. Marvel's most recent title was released to coincide with the Disney+ television show. Both the comic and the show were delayed, leading to the release of the show and the book not quite lining up. Ms. Marvel: Beyond the Limit is a 5-issue mini-series written by Samira Ahmed and illustrated by Andrés Genolet that brought the character back to basics. It throws Kamala's friends Zoe, Bruno, and Nakia into the action as Kamala deals with a doppelgänger in the mix of Jersey City becoming a real-life Bollywood movie.
Alongside her solo titles, Ms. Marvel has made plenty of appearances in other books, most notably, as part of Marvel's newest young team of heroes, Champions. She teamed up with the likes of Sam Alexander (Nova), Amadeus Cho (Hulk), Viv Vision, Ironheart, Miles Morales (Spider-Man), and even a younger Cyclops, who eventually went back to his original timeline. There are a few volumes of Champions including runs by the likes of Humberto Ramos and Mark Waid, Jim Zub, and Danny Lore.
What's Coming Up for Ms. Marvel in Marvel Comics?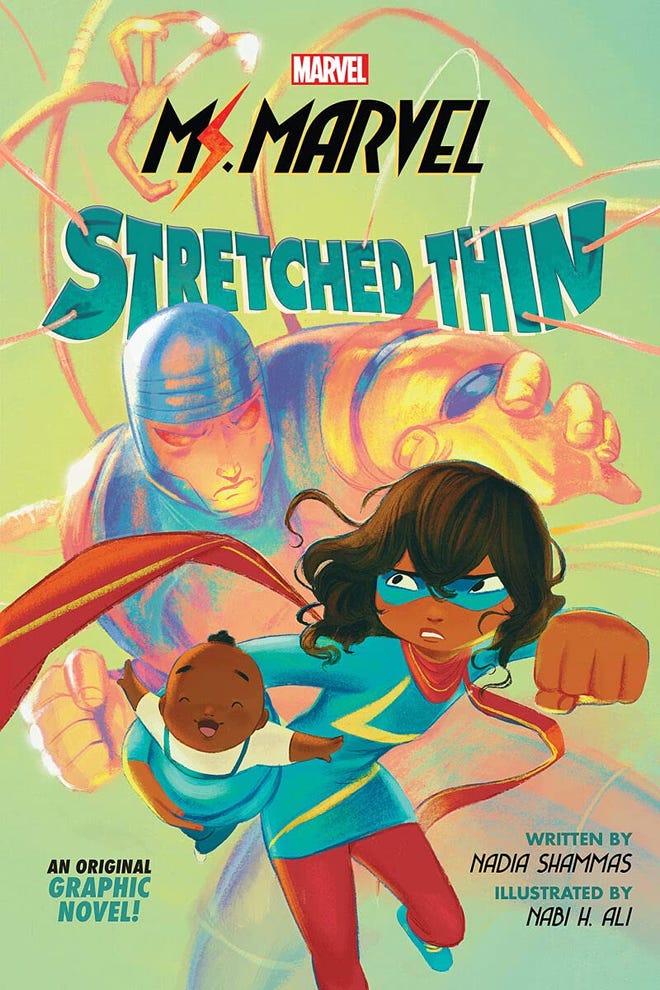 Ms. Marvel's largest appearance, outside of her own books, has been in Captain Marvel's 'The Last of the Marvels' - where Carol teams up with all the heroes attached to the Captain Marvel moniker.
What kids can read/watch for Disney+'s Ms. Marvel?
The Ms. Marvel ongoing titles are perfect for the YA crowd, but if you are looking for something for your younger children to read, there are plenty of options. Marvel has dipped their toes into making plenty of all-ages stories throughout the years including comic book adaptations for their children television shows, Marvel Rising and Marvel Superhero Adventures.
Marvel Superhero Adventures ran for four seasons with scattered appearances from Ms. Marvel. Jim McCann and Dario Brizuela penned Marvel Super Hero Adventures: Ms. Marvel and the Teleporting Dog #1 where Kamala teams up with Lockjaw, an Inhuman dog with the power of teleportation (it says it right in the title).
Ms. Marvel made even more appearances in Marvel Rising's comic book and film/shorts. She was a main character in the made-for-TV movie in which the likes of Squirrel Girl, Spider-Gwen, Quake, Patriot, America Cahvez, Inferno, Exile, and Ms. Marvel herself created the Secret Warriors. She has also appeared in many of the shorts! The comic book tie in received two volumes, which both starred Ms. Marvel, including an arc that focused on a team-up with Squirrel Girl.
Kamala's first appearance on the silver screen was in Disney XD's Avengers Assemble. She had a major role in Season 3-5 as a teenager who idolizes Captain Marvel and took over the mantle of Ms. Marvel after discovering she was an Inhuman. There was no comic book tie in for the show, but Scholastic used the name sake for a set of middle school books titled Avengers Assembly starring Miles Morales, Ms. Marvel, and Squirrel Girl.
If your kids are looking for more middle school reading they can also pick up Ms. Marvel: Stretched Thin, an original graphic novel made specifically for kids in mind. It's written by Nadia Shammas and illustrated by Nabi H. Ali an focuses on Kamala's balancing act as both a teen and a superhero.
---
Follow Ms. Marvel's current adventures with her latest comic book mini-series Ms. Marvel: Beyond the Limit by Andrés Genolet and best-selling author Samira Ahmed and watch the beginning of her MCU journey with her Disney+ television premiering June 8.