Finally, the My Favorite Thing is Monsters sequel has a release date
Yes, My Favorite Thing is Monsters Book 2 is on its way
In 2017, Emil Ferris' graphic novel My Favorite Thing is Monsters Book One blew comics fans away with gorgeous pages of ballpoint pen illustrations taking the form of the diary of a young girl playing detective in the case of the murder of her upstairs neighbor in '60s Chicago. For her work creating My Favorite Thing is Monsters, Ferris went on to win Eisner Awards for Best Graphic Album, Best Writer/Artist, and Best Coloring as well as Outstanding Graphic Novel and Outstanding Artist.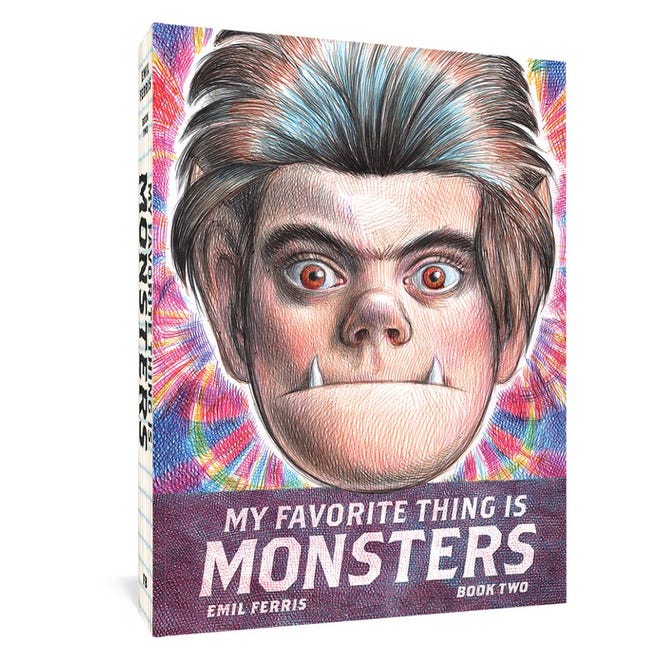 The many fans of the first installment of the horror-mystery (including us) have been waiting for news of the publication of the second installment to no avail... until today. Fantagraphics has just announced that My Favorite Thing is Monsters Book Two will be published April 9, 2024. And it's already available for pre-order now.
Here is Fantagraphic's official description for My Favorite Thing is Monsters Book Two: "Set against the tumultuous political backdrop of late '60s Chicago, My Favorite Thing Is Monsters Book Two is the eagerly awaited conclusion to the most acclaimed graphic novels of the past decade. Presented as the fictional graphic diary of 10-year-old Karen Reyes as she tries to solve the murder of her beloved and enigmatic upstairs neighbor, Anka Silverberg, a holocaust survivor, while the interconnected stories of those around her unfold.
"In Book Two, dark mysteries past and present continue to abound in the tumultuous and violent Chicago summer of 1968. Young Karen attends the Yippie-organized Festival of Life in Grant Park and finds herself swept up in a police stomping. Privately, she continues to investigate Anka's recent death and discovers one last cassette tape that sheds light upon Anka's heroic activities in Nazi Germany. She wrestles with her own sexual identity, the death of her mother, and the secrets she suspects her brother Deez of hiding. Ferris's exhilarating cast of characters experience revelations and epiphanies that both resolve and deepen the mysteries visited upon them eariler. Visually, the story is told in Ferris' inimitable style that breathtakingly and seamlessly combines panel-to-panel storytelling and cartoon montages, filled with B-movie horror and pulp monster mag iconography."
My Favorite Thing is Monsters Book 2 will be published April 9, 2024. It is available for pre-order now from Fantagraphics.
---
Artist Gabriele Dell'Otto is taking over DC's variant covers in October .