Napoleon director Ridley Scott is doing a wild press tour, and the Internet loves it
A funnier-than-average Ridley Scott press tour.
Ridley Scott has often been called one of Hollywood's greatest interviewees, and the Napoleon press tour is reminding us why. He swears, expresses genuine anger, and is brutally honest. That's just Ridley Scott. But during the promotion of his next movie, produced by Apple Studios and Scott Free Productions, the hilarious replies and wonderfully harsh comments are reaching new heights.
The most recent golden lines come from a BBC interview, starting with his "bum ache" comments about movies and their length: "When you start to go 'oh my God' and then you say 'Christ, we can't eat for another hour', it's too long." This has been a hot topic in recent times, but directors like Martin Scorsese and James Cameron have simply told audiences to grow up and pretend they are binging streaming shows. Scott, meanwhile, appears to prefer shorter trips to the cinema. That isn't stopping him from doubling down on humongous director cuts for home releases though; Napoleon will hit Apple TV later with a much longer cut which reportedly runs for more than 4 hours. With many critics saying the theatrical cut does indeed feel like a truncated historical epic, we're quite curious about his full vision.
Back to his interview for the BBC, his answer to the French critics, who have been less positive, is as fulminating as you'd expect if you've been following his press tours for years: "The French don't even like themselves... The audience that I showed it to in Paris, they loved it." He might single-handedly restart the UK-France conflict of old with his movie and retorts like these, and we can't stop laughing. Up next for him is the sequel to Gladiator (2000), and we hope he returns to do the press for that one with the same kind of energy.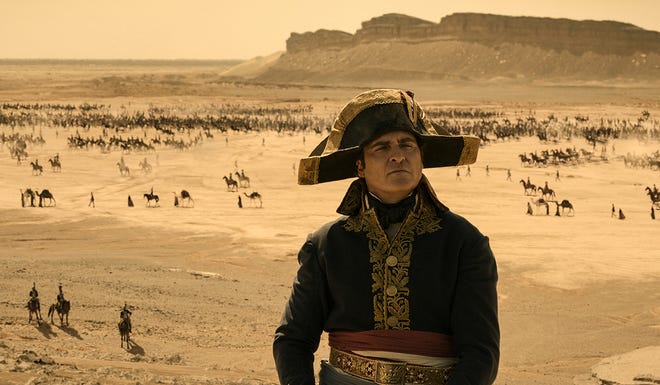 Perhaps the quotes that surfaced over the last weekend have become even more popular on the Internet. While talking to The Times, Scott admitted he doesn't really care about sticking close to the "confirmed" history behind the famous French figure. When faced with the criticisms of historians, he was quick to point out none of us were really there: "When I have issues with historians, I ask: 'Excuse me, mate, were you there? No? Well, shut the fuck up then.'" We can't argue with that, especially if he's never sold his historical epics as more than dramatic takes on real-world events and characters. In fact, we can confirm he normally follows the "rule of cool" used by directors like Michael Bay. On the matter of Napoleon firing cannons at the Pyramids in Egypt, he simply stated: "I don't know if he did that, but it was a fast way of saying he took Egypt." It's all about the clarity of the narrative!
We're sure these aren't the last funny (or maybe outrageous if you're more intense about movies and history) quotes coming from the almost-86-year-old director, and we're quite excited to check Napoleon out either in cinemas or at home whenever it drops on Apple TV. It's the second big-budget release backed by the company this year in order to make a strong push in the awards space, with the first being Martin Scorsese's Killers of the Flower Moon.
---
Want to know what's coming up next in pop culture? Check out our guides to upcoming movies, upcoming TV shows, upcoming comics, and upcoming comic conventions. If you're looking for specific franchises or genres, we have all the upcoming MCU, upcoming Star Wars, upcoming Star Trek, and upcoming DC movies & TV for you. If you're a fan of superheroes and not specific to just Marvel or DC, we have overall guides to all the upcoming superhero movies and upcoming superhero TV shows (and new seasons) as well.