New Daughter of Blade comic announced at New York Comic Con
Bloodline: Daughter of Blade will debut in February 2023
New York Comic Con is usually a pretty big hot spot for new comics announcements, and this year is no different. At Saturday's Marvel's Voices: The World Outside Your Window, it was announced that there will be several new series coming to that titular world outside your window, including a previously teased title called Bloodline: Daughter of Blade.
Bloodline: Daughter of Blade will be a five issue mini-series launching February 2023 and written by Danny Lore (Teen Justice, Transformers: Shattered Glass), with art and cover by Karen S. Darboe (Crypt of Shadows).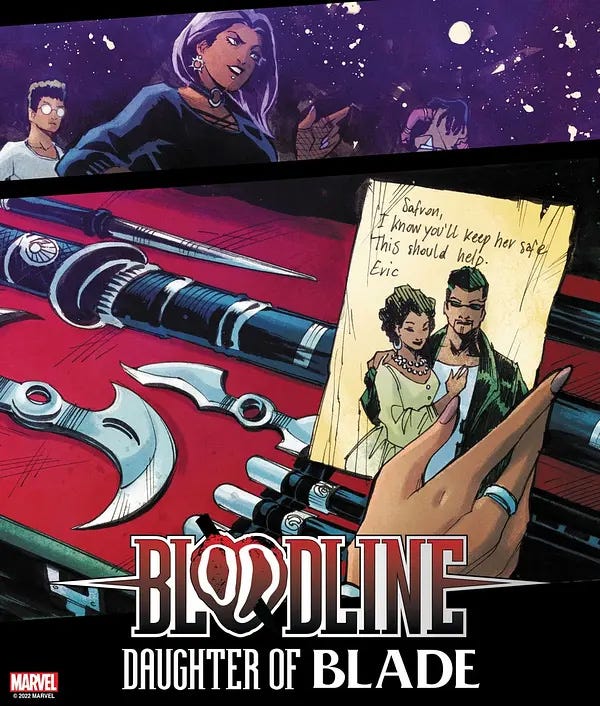 According to the teaser language provided by Marvel: IT'S IN HER BLOOD… Brielle Brooks is a good kid, no matter what her teachers say--it's not her fault she's developing vampiric super powers and the undead want to brawl! And as if problems at school aren't enough, Bri's got a wild ride ahead of her… she's about to discover she's the daughter of the infamous vampire hunter and Daywalker known as BLADE!
Looks like Brielle Brooks will have a complicated sort of coming of age, and we can't wait to read about it (especially with all of the buzz surrounding the upcoming Blade movie!). So keep your eyes and vampire-senses (if that's a thing) peeled for this new adventure!
---
Bloodline: Daughter of Blade will debut in February 2023 from Marvel Comics
---
Get fully immersed in NYCC with Popverse's wall-to-wall coverage of the event. From filmed panels to backstage interviews, on-the-floor coverage, news, cosplay galleries, and more - we're tracking it all in Popverse's New York Comic Con 2022 round-up.