Nick Fury (and his son Nick Fury) are getting their own comic coinciding with Marvel Studios' Secret Invasion
Marvel celebrates the 60th anniversary of the most Howlin' of all the Commandos
He's been the secret backbone of the Marvel Universe for more than half a century, and later this year, Marvel Entertainment, writer Al Ewing, and a veritable Howling Commandos unit of artists are making sure that Nick Fury is finally going to get the Wahoo he's long deserved.
The plot of Fury #1 — a one-shot special issue to be released May 24, 2023 — brings the original comic book Nick Fury and his son (also called Nick Fury, because comics) together when it emerges that both heroes are being targeted by a mysterious new threat that just so happens to share a name with Nick Snr's villainous brother, Scorpio. A team of artists including Scot Eaton, Tom Reilly, Adam Kubert, and Ramon Rosanas will each take on a chapter set in a different time period as the mystery gets revolved across six decades.
Kubert also provides the cover for the issue, which can be seen below.
"Nick Fury is an entire history of comics in one character," Ewing said in a statement about the project. "Shifting from a tough-talking WWII Sergeant specializing in impossible missions, to an U.N.C.L.E.-esque secret agent beating James Bond at his own game, to a machiavellian man in the shadows making the grey moral choices we've come to associate with the evolving espionage genre. And when the original Fury went cosmic, his son followed in those same footsteps, doing all that with a modern spin and an eye on the silver screen portrayal of our favorite sci-fi spy-guy. So how to celebrate sixty years of Nick Fury? With 40 story pages of twists, turns, action, gadgets and old-school thrills - pitting the Fury family against a new menace with a mysterious connection to the earliest days of the Howling Commandos and setting both Nicks up for the adventures of a lifetime! Don't yield, true believer - back S.H.I.E.L.D.!"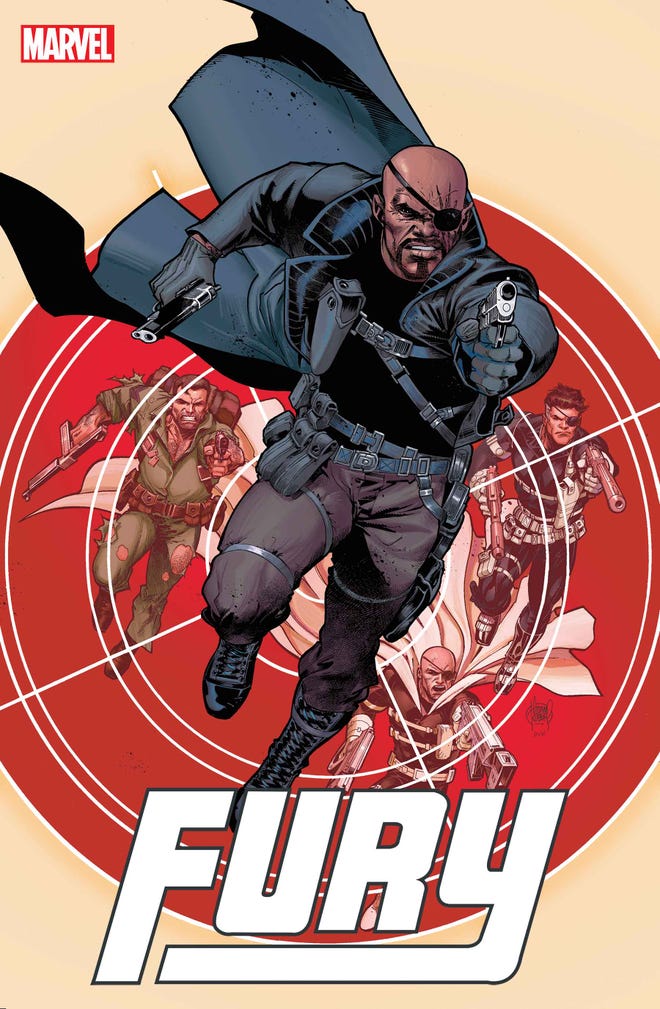 This isn't the only thing Marvel is doing to celebrate the 60th anniversary of Nick Fury — he debuted in 1963's Sgt. Fury and his Howling Commandos #1, by Stan Lee and Jack Kirby — with the character's MCU incarnation anchoring the upcoming Disney+ miniseries Secret Invasion, as well as showing up in this summer's The Marvels in movie theaters. No matter where you go, it seems, everything is coming up Fury in 2023… just like he would want it.
---
Even before this round of Fury Worship, Nick's been at the heart of the MCU, a fact that only gets underscored if you follow our MCU Watch Order.