NYCC 2022 Cosplay is Starting Strong
Talking to Cosplayers at NYCC 2022
NYCC 2022 has begun, and straight out of the gate we've had some fantastic cosplay, including dozens of people dressed as characters from Owl House for the panel yesterday. (Owl Lady, you stole our hearts!)
It doesn't matter whether it's your first con or your 37th, or whether you're a fan of a particular character or have an original vision of your own, it's all happening here at New York this weekend. Here's just a few of NYCC's great opening day cosplayers.
Scarlet Witch & the Vision: Winter & Thai
How long have you been cosplaying?
Winter: It's pretty recent. It's not my first time, it's like my third. But at a convention it's our first time. We've done it on our streams.
Thai: We have a twitch.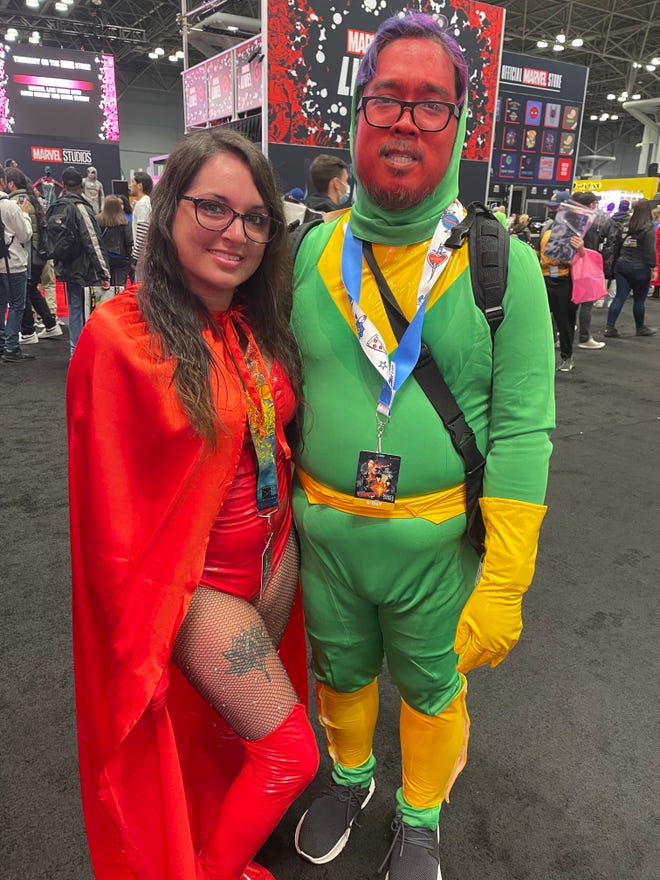 Why these characters?
T: It's something we can do together.
W: Yeah it was something where we could complement each other.
What's cosplaying like for you?
W: I feel like it's very freeing. You don't have to put on jeans and a T-shirt,
T: I like to be a different character.
Kitty and Magik: Veronica and Gabriella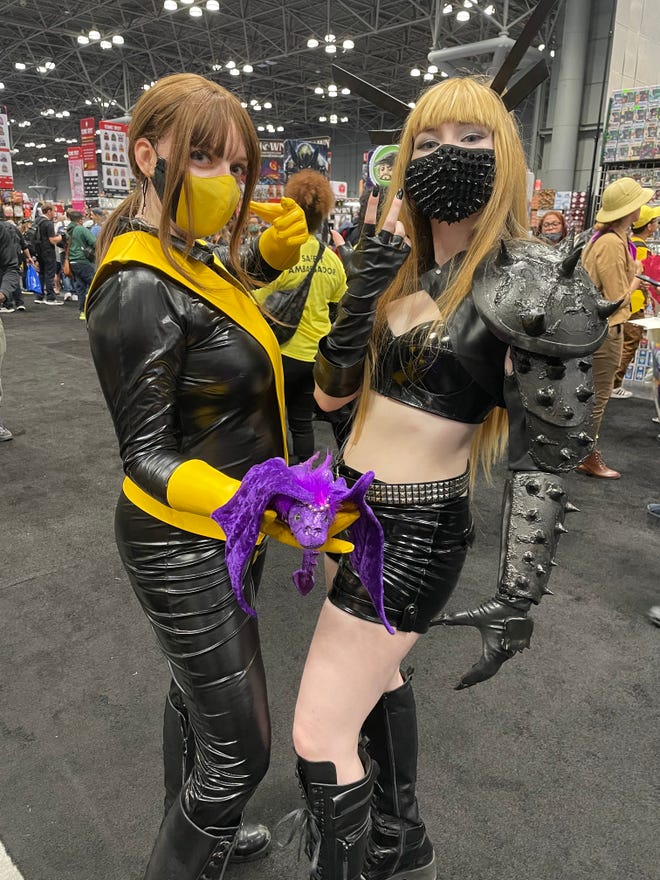 How long have you been cosplaying?
Veronica: [As Kitty and Magik] We just did it this year early this year.
Gabriella: At Midtown Comics we did an event for the Leukemia Society. So that's when we made it.
V: But we've been wanting to for a long time. And I have cosplayed [as other characters] since 2008.
G: I started in 2016. I started later.
Why these characters?
V: Well I really love Magik.
G: And I love Kitty, but mostly I love Elliot Page, the actor. He's one of my favorite actors. I love them so much, as Kitty.
What's cosplaying like for you?
G: I grew up loving Marvel and X-Men was my favorite. And I really liked Storm so doing Magik was as close as I could get to doing Storm.
V: Her cats are named after Storm. I love Storm, too, and Kitty is like her surrogate daughter.
G: I really want to find a Storm. She's my favorite Marvel character.
A Mushroom: Michele (and friend!)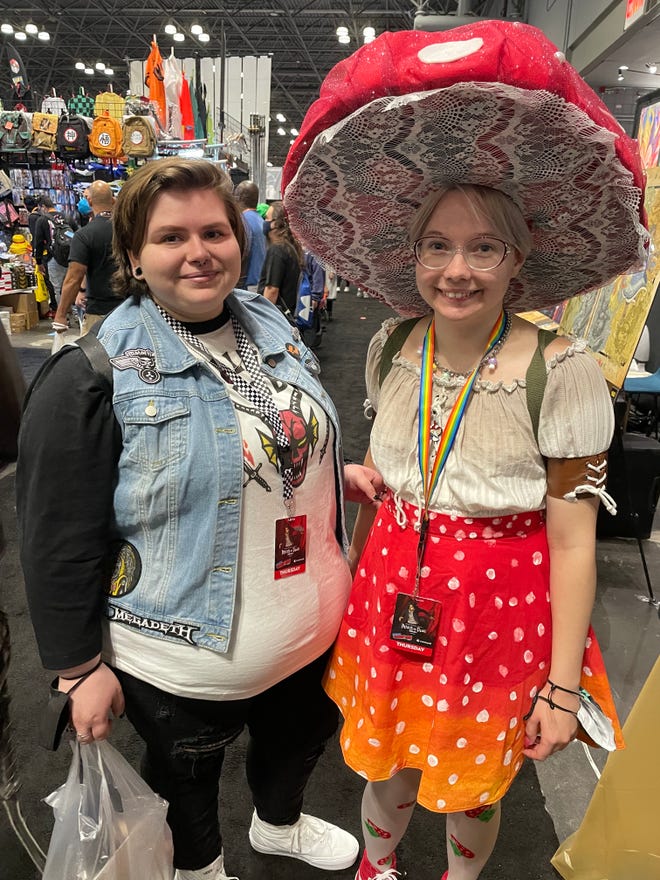 How long have you been cosplaying?
I just started this year. This is my first time and my first time at Comic-Con too. My sibling comes every year.
Why this character?
I just said why not. I don't want to look boring, I want to be cute And I just felt like being a mushroom, because I think it's adorable.
What's cosplaying like for you?
It's cute. I'm fine. I wear weirder things normally, so I'm used to all the comments and everything. This is just a brighter look.
Han Solo: Jeff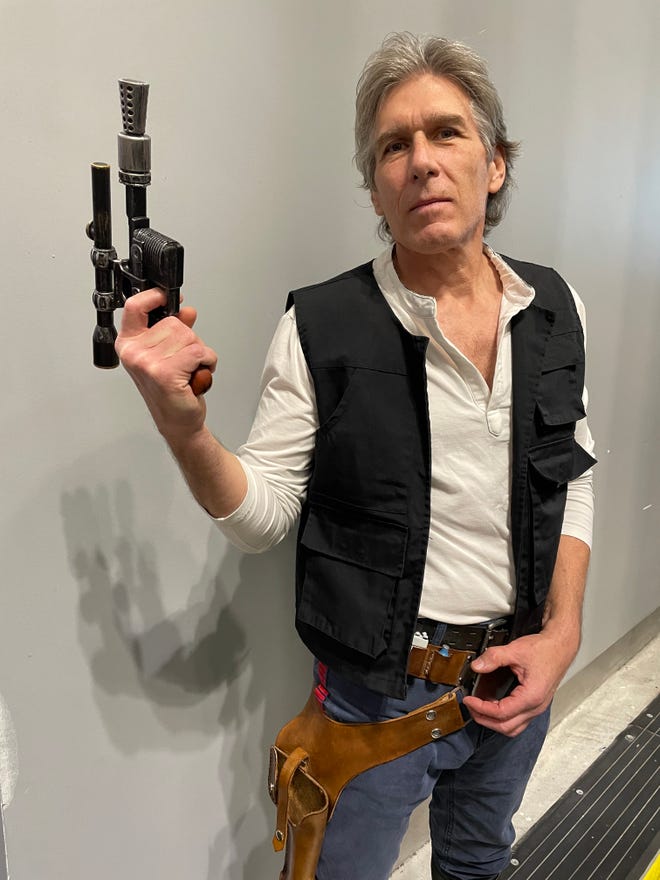 How long have you been cosplaying?
The last three years here, always variants of Han.
Why this character?
You get enough people saying you look like Harriosn Ford, you fall into it and you think why not. It's the coolest character in fiction I think.
What's cosplaying like for you?
It's fun. A little bit of an ego boost.
The Disney Carousel: Abel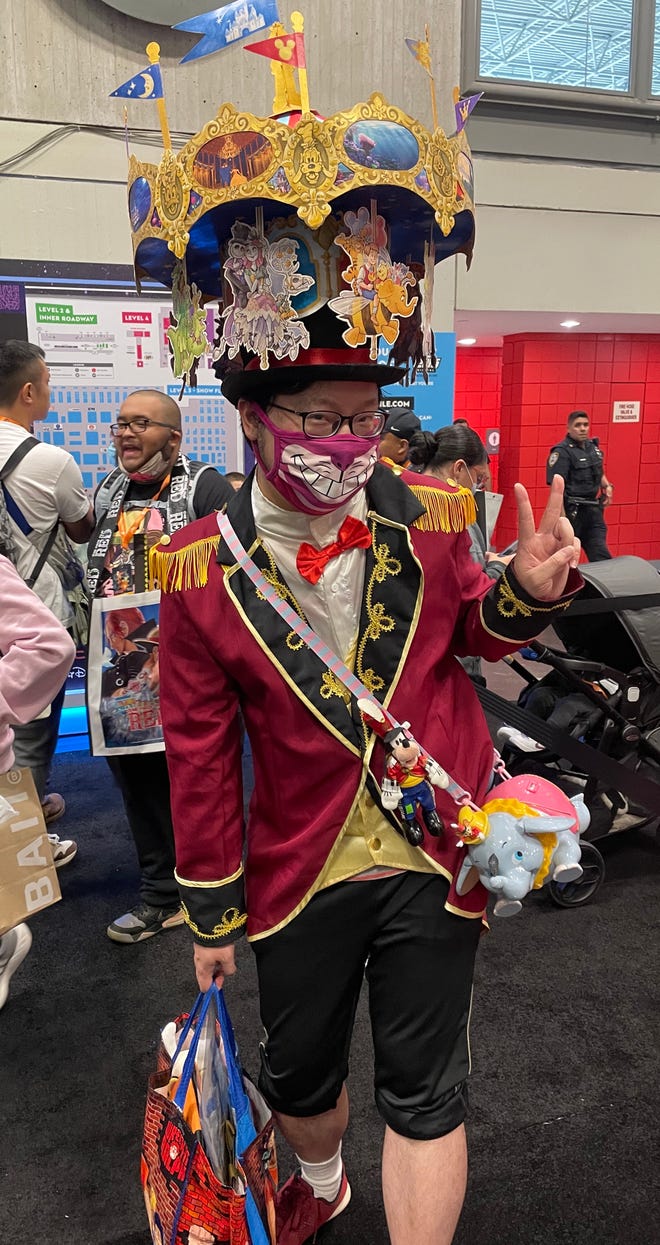 How long have you been cosplaying?
I don't really consider myself a cosplayer even though I do consider what I do cosplay. I just started out with little things like wearing a mask or a nice hat and well, this is basically the second hat that I've ever made.
Why this character?
It's the Disney carousel. I just really love carousels, and a few years ago I had my first ever Disney trip, and the parade there was carousel-themed. And so when I came back home I was so surprised I made a Disney Carousel hat. And it spins too.
[Writer's Note: It really does. It is very, very cool.]
What's cosplaying like for you?
It's definitely a nice feeling. Especially the last year, the first year I started wearing this [new coat]. It might have been a coincidence, but last year was the first time I actually got professional press attenetion. So it was definitely a nice, wonderful feeling being appreciated by people.
Spider-Man and Doc Ock: Spidey-Mom and Spidey-Kid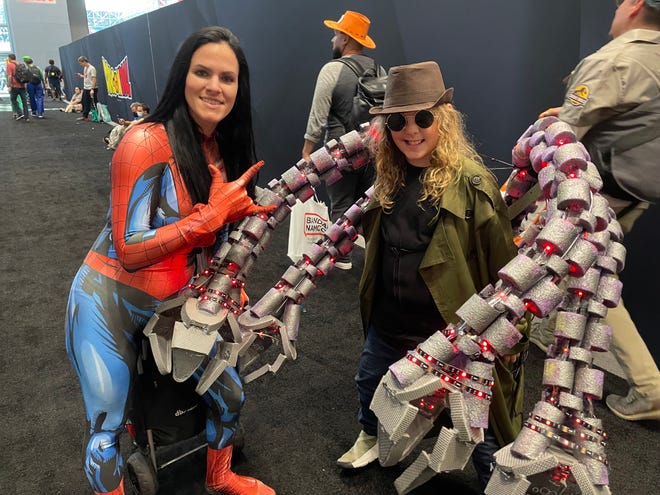 How long have you been cosplaying?
Spider-Mom: Since you were 4. Now he's 10.
Spidey-Kid: I saw an ad on TV about a comic con and mom and me dressed up. I dressed up as Captain America, and I've been doing it ever since.
Why this character?
SK: I really like the structure of Doc Ock, and how it looks so cool.
SM: It's funny, he used to never want to be a bad guy, but then he learned that Doc Ock is actually good, so it's one of the only bad guys that he'll be. He's super like I'm the good guy, I'm always the good guy. He's Spider-Man usually. But yeah this is the one, he was like, I can do this.
What's cosplaying like for you?
SK: It's fun, cosplay. It's cool how everybody takes pictures of you.
SM: But to be fair, this is his every day. At home, he is always in a costume, and fighting with us and swordfighting and helping people out. It's pretty much his life.
---
Get fully immersed in NYCC with Popverse's wall-to-wall coverage of the event. From filmed panels to backstage interviews, on-the-floor coverage, news, cosplay galleries, and more - we're tracking it all in Popverse's New York Comic Con 2022 round-up.