Broadway is Back at NYCC, and it is hilarious
Playbill's Booth features Great Parodies and Mashups of Broadway Shows with Other Pop Culture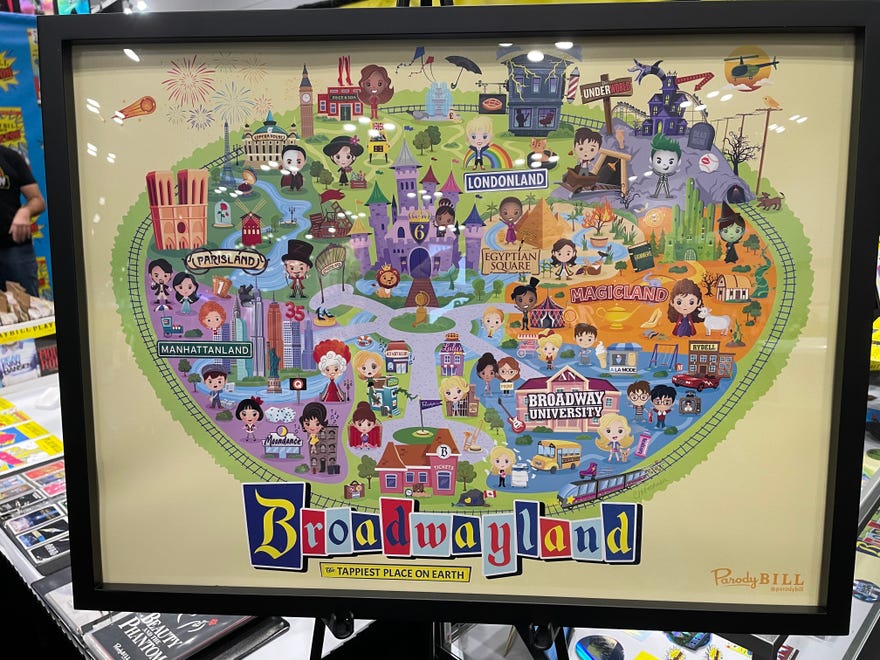 From the outside, a theatergoer website might seem like an unexpected booth to find at a comic book/pop culture convention. But this is New York, the home of Broadway. And Craig Feldman, who works at the Playbill Booth at NYCC (Booth #4219), finds a lot of overlap between theater and comic book fans. "Total crossover. I feel like there's a Venn diagram between the pop culture fan and the Broadway fan. Certain shows lend themselves to this environment: you think of Beetleejuice, Little Shop of Horrors, Hadestown or Six—those opulent style of shows lend themselves to cosplay."
Feldman is the creator of Parodybill, which creates clever mashups of musicals and pop culture, like a mashup of the shows Dear Evan Hansen and Legally Blonde called "Dear Elle Woods," with the hashtag #youwillbeblonde; or a remake of the poster for Alien, with Audrey II in place of the iconic opening egg. The caption reads, "On Skid Row no one can hear you scream."
The key to a good parody, Feldman says, is that "it has to be specific enough that you get it by looking at it but it has to make you think." The goal he says, is "that internal a-ha" moment, like looking at a mashup of Dear Evan Hansen and Legally Blonde called "Dear Elle Woods" and seeing their send-up of Hansen's classic "you will be found" hashtag, #youwillbeblonde.
Sometimes, Feldman notes, "the idea comes like lightning." He recalls the first time he saw Six, and noted as the queens first come out and describe their fate, the two queens beheaded by Henry VIII were dressed in pink and green, the colors of the main characters in Wicked. Immediately he saw the Wicked poster with Galinda whispering in Elphaba's ear, with those queens in their places and a new title: Beheaded. "It's like a gift from the gods when that happens."
Other times the joke is much more niche, like A Gentleman's Guide to Love and Murder/Heathers mash-up "A Teenager's Guide to Slush and Murder": "You really have to know Heathers to get the nuances behind that, but that's what makes it so fun," Craig says.
"We like to believe there's a little something for everybody."
Playbill is hosting events with Broadway actors throughout the con, as well as selling cards, stickers and posters of its parodies at its booth, and a convention-special Broadway-as-Disneyland poster. And if you can't make it to NYCC this year you can also find lots of great Parodybill posters, cups, T-shirts at their website.
---
Get fully immersed in NYCC with Popverse's wall-to-wall coverage of the event. From filmed panels to backstage interviews, on-the-floor coverage, news, cosplay galleries, and more - we're tracking it all in Popverse's New York Comic Con 2022 round-up.