How to watch NYCC 2023 panels
Popverse is streaming a lot of panels from this year's massive pop culture event; here's how to watch them
What's that? You want to be part of New York Comic Con 2023, but you're unable to make it to the Javits Center in New York City in person? That's absolutely no problem, as Popverse is preparing to bring some of the biggest panels from the show live and direct to wherever you're ready this, with streams across the entire run of the October 12 through October 15 event.
Is there a stream to watch the NYCC panels?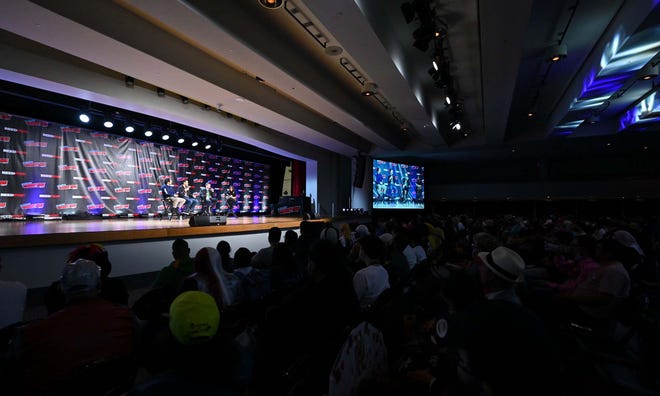 Popverse will be filming most of the major panels at New York Comic Con 2023, which you'll be able to livestream for free thanks to our sponsors, or latr via VOD by becoming a paid Popverse member or a NYCC 2023 digital ticket holder.
There isn't one stream, but instead a number of streams, all of which you can find at this link, which also includes times (EST, of course) and guest details where available. Importantly, that link also lists whether or not the panels will be available for viewing after the livestream, because maybe you need to do something that isn't just watching the livestream all weekend. (We're not judging.)
The NYCC 2023 Empire Stage panel livestreams are brought to you by Tumblr. Welcome back.
The NYCC 2023 Main Stage panel livestreams are brought to you by DoorDash.
Which New York Comic Con panels will be available to watch?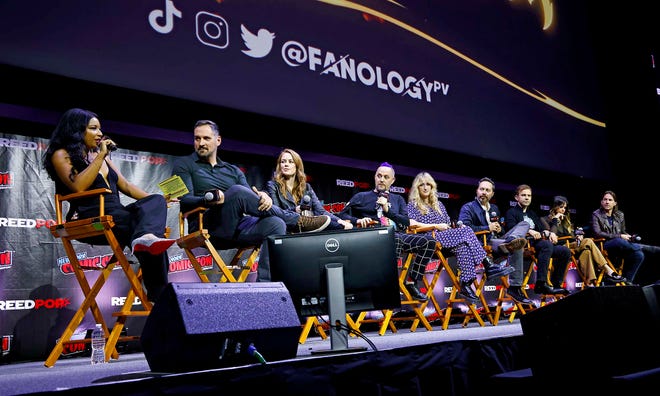 We have a lot of panels that we're livestreaming across the four-day event, with something for everyone on offer. We'll be bringing you the Critical Role panel, the Ewan McGregor spotlight (moderated by Popverse's very own Ashley Victoria Robinson!), and Jason Blum holding court for the Blumhouse's Blumfest 2023 panel, and that's just Thursday alone! (That's not even mentioning panels for Dragon Ball, The Walking Dead: Daryl Dixon, Futurama, and Adult Swim on the same day.)
Friday brings Eli Roth and Thanksgiving, no little amount of horror from both Shudder and Disney+'s Goosebumps, and Apple TV+'s big Godzilla vs. Kong spin-off show, Monarch: Legacy of Monsters, to name just some of the livestreams, while Saturday is the big one, with Chris Evans, Karen Gillan, Michael Rooker, Sean Gunn, Chukwudi Iwuji, and Pom Klementieff, not to mention Rhys Darby, Con O'Neill, Nathan Foad, Vico Ortiz, Kristian Nairn, and Matthew Maher. Oh, wait, it's even bigger than that, because we're also livestreaming the voice cast of Final Fantasy VII Rebirth, director Matthew Vaughn talking about Argylle, and much, much more.
Sunday doesn't let up, either, with Disney+'s Percy Jackson and the Olympians, the Cosplay Central Costume Showcase, and more.
A full list of what we're streaming and when — complete with links — can be found here. Bookmark it for the best weekend experience, and come back as often as possible to keep up with what's happening as it happens.
Where can I get the latest NYCC news?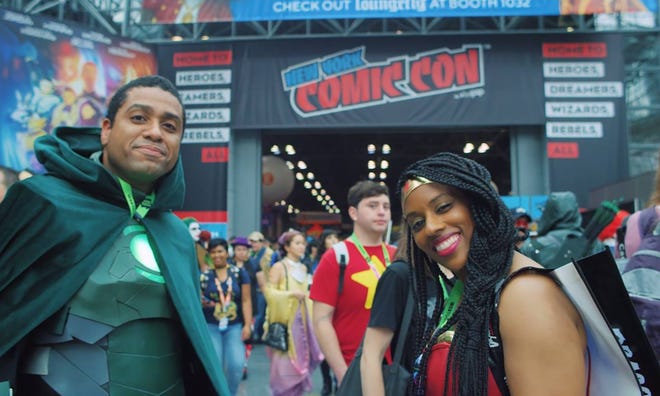 If you're looking for the ideal place to keep up with everything happening at NYCC 2023, there's an obvious answer: right here on Popverse. The entire team — Chris Arrant (Editor-in-Chief), Tiffany Babb (Deputy Editor), Veronica Valencia (Video Producer), Ashley V. Robinson (Video Producer), and Graeme McMillan (Staff Writer) — and amazing friends Jeremy Ross (ReedPop marketing manager), Illianna Gonzalez-Soto (ReedPop marketing coordinator), as well as Grant DeArmitt, Vito Scutti, Josh Bertone, Jim McDermott, Pierce Lydonm ad Kevin Wood, will be on site keeping you up to date with everything that's happening all four days of the show. We've already shared what we're excited about, but rest assured that we're going to be at all the big panels, on the show floor, and anywhere and everywhere things are happening to keep you up to date with what's breaking as soon as possible.
---
Popverse will be providing wall-to-wall coverage of New York Comic Con 2023, with an all-star crew of writers, editors, and video producers there all four days (and nights), as well as in advance of the show. You can follow along to this coverage as well as the panels we're streaming with our
NYCC Popverse coverage guide
.