Scott Snyder and Jock Talk About Their New Book 'Book of Evil'
The dynamic duo discuss the nature of their collaboration and evil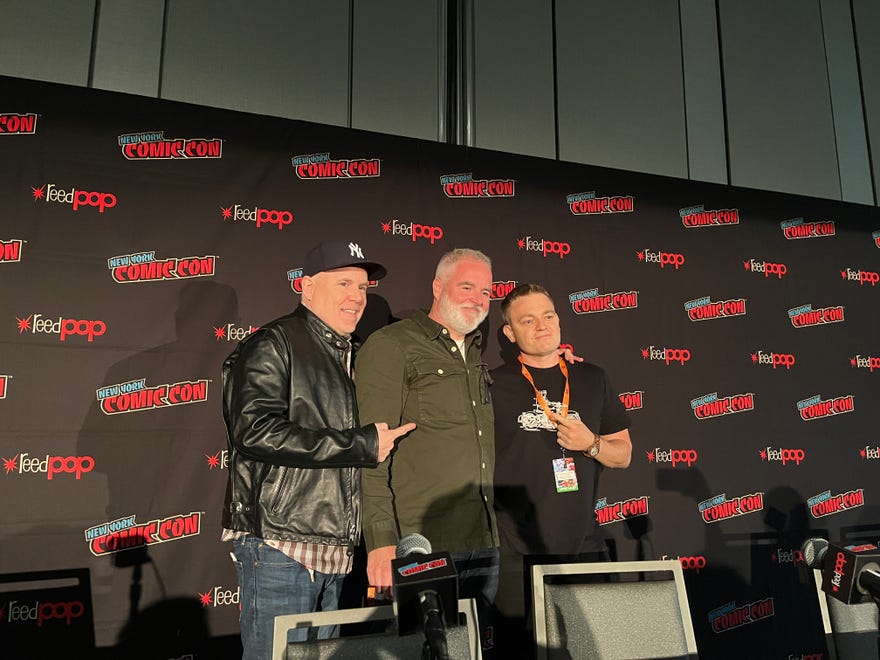 Hosted by Will Dennis, Scott Snyder and Jock sat down at New York Comic Con to talk about their new comic for Comixology called Book of Evil. The comic follows a group of kids as they look to find a safe haven before they reach the age at which they become full blown psychopaths. The story is told in a prose-meets-comics style featuring great design work from Emma Price along with spot illustrations by Jock.
The team had been talking about Book of Evil for more than a few years. It had been on the backburner but they wanted to see if they could change up the format. "It's been a long time in the making but it's been really great... it's more prose with spot illustrations but the hope is that it makes it a more engrossing reading experience," said Jock.
Dennis explains that this comic's format is a little different from a traditional comic book. The book is written like a child's journal so you get bits and pieces that illuminate the world as the children come to understand it better.
Jock shares that when he first reads through a script, he reads with a pencil in hand so he can sketch things as he goes along and gets ideas. He was instantly impressed with the first script that Scott Snyder sent over. Snyder says that there is always a bit of trepidation when creating something new like Book of Evil.
"Everything that we've been trying to do at Best Jackett has been scary. Stepping away from a safe space like DC... is terrifying but to get out there and do your own stuff with people who inspire you as friends and creators is unlike anything else," says Snyder.
Snyder adds that his ideas start with a fear he has and then it takes him a number of pages to explore those ideas. Batman started as a fear of the history and legacy of Batman itself. But his work took on a different bent around 2015/2016 about the nature of good and evil in the world.
Book of Evil is about everything that's been on his mind about the role that good and evil play in our lives and how children can grow up in a world where only 8% of the world are still capable of empathy and compassion. How do you grow up in a world where it might be more natural to be a psychopath?
Snyder says that he definitely silos this book from his other work. He figures out the heart of his idea first before thinking about what the visuals will be. In this case, he wanted to communicate a level of paranoia to readers, a sort of claustrophobia akin to how children understand the world. He knew that Jock would be a perfect fit.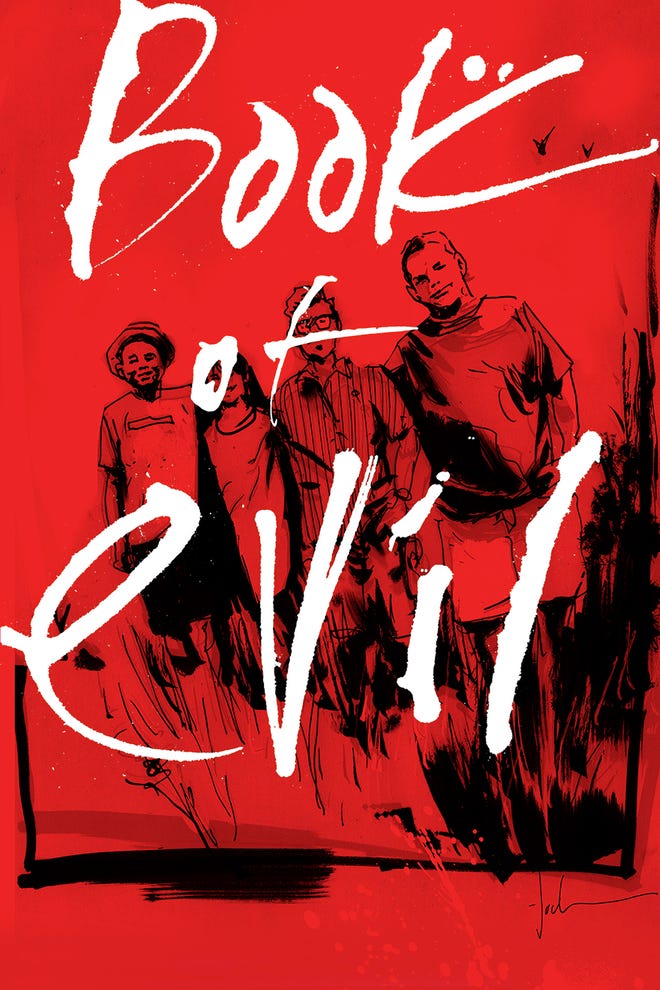 "It's like seeing the real world through an emotional lens," says Snyder with regards to Jock's art.
Snyder's goal was to create something that really makes you feel like it's coming from this children's point of view. He thought it would be tougher to write but it's a really immersive experience for him and despite it being darker than so many things he's written, it's been a great experience to work on. He feels that the work he is doing now is the best that he's done in his career and that even though it's a digital book, he still feels like it can be really immersive.
Dennis and Snyder shout out Emma Price's design work as being part of that experience as well. "She's having a real impact on the pace and the beats that she wants to hit or we want to hit," says Dennis.
Snyder says that Emma has really created a visual language that is in concert with the themes and plot of the story. Elements in the story provide focus on different colors (mainly yellow) that help signal safety and danger to the characters themselves but Price used those details to communicate certain things to the reader as well.
"You turn the page and you don't really know what's coming," shares Snyder.
One of the challenges of putting the book together was creating the comic strip that the children in the book are using to gather clues. It was done on a fairly quick timeline and Jock found it very difficult to draw in a different style from his regular, more organic approach. Despite all the violence and gore they have done over the years, Snyder knew before he sent it that this little comic strip piece would be toughest for Jock.
"The strip is something that I want you to see like a kid like 'are there clues?' 'Is there something that he's trying to communicate?' Or is it a trick? Is it created by people in power to trick everyone? It's definitely one of the scariest books I've ever worked on," shares Snyder.
Dennis asks why a comic strip rather than an iPad or something, and Snyder responds that it harkens back to a nostalgic era where the world seemingly runs very well and you go to work and read the paper - a sort of picture perfect ideal of the world but with a sinister undercurrent beneath it.
The panel comes to a close with a quick Q&A
The first fan question is about how the process between creating AD: After Death and Book of Evil is different.
"With AD, it was a different kind of prose, it was very much the opposite. It was someone who thought they knew and were an expert. It was a very maximalist way to write. It was like writing a book. This is much more oratory... In this, I'm telling you the absolute minimum. So it's almost the inverse of AD," answers Snyder.
The next question is about whether Snyder feels that exploring fatalism has made him more nihilistic or more hopeful.
"I love horror because it is the purest form of conflict. It's an absolute extreme of you going against your worst fears. Horror is a safe way to deal with things and come out on the other side," responds Snyder.
The next question is a bit of a humorous one for Jock: who writes the best scripts: Andy Diggle, Jeff Lemire or Snyder?
"I love them all in different ways. But there are people that you click with and I love working with Scott - I read him well, I get it, I can see it. When you have those people, 80% of the work is done," responds Jock.
He is also asked if he has felt pressure to go more traditional with his style.
"I've been incredibly lucky that my first work at DC, with Will as the editor, I got to just go off. So no is the answer," answers Jock. "You can't help but think 'what will work best?" But if you twist yourself to fit in, it never works. You also surround yourself with people that inspire you be more you. That's what's so good about comics. You are increasingly told to fit in but comics still feel pure."
Book of Evil is available from Comixology now.
---
Get fully immersed in NYCC with Popverse's wall-to-wall coverage of the event. From filmed panels to backstage interviews, on-the-floor coverage, news, cosplay galleries, and more - we're tracking it all in Popverse's New York Comic Con 2022 round-up.