Go full New York Comic Con with the first-ever NYCC tracksuit
The first ever official NYCC tracksuit, logo t-shirt, and hat, coming soon!
You're getting ready for New York Comic Con, but the question becomes 'what to wear?' While cosplay is always an option, what if you want something more low-key while still showing some pride. Well, the geniuses at ReedPop merch have just the thing for you.
ReedPop, the organizers of New York Comic Con (and Popvrse's owners!), are coming out with the first-of-its-kind NYCC tracksuit. This limited edition NYCC tracksuit covers you up from wrist to ankle (and everything inbetween), and is ideal for those walks to the Javits and the catwalk that is the Crystal Palace.
The first-ever NYCC tracksuit, along with an NYCC logo t-shirt and hat are going onsale over the next few weeks, and will be available only to those who buy a NYCC 2023 digital ticket as part of ReedPop's first ever Digital Drops.
(Remember, Popverse is a part of ReedPop's larger family of companies, websites, and events. Consider NYCC our older brother, and Popverse as the purple-haired child prodigy of the family!)
What is a NYCC digital ticket?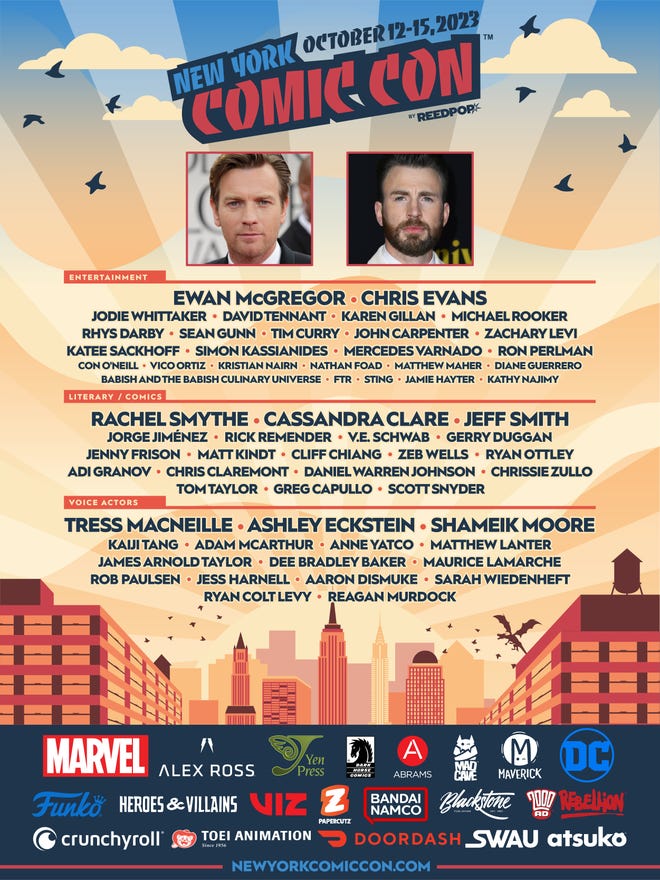 The New York Comic Con 2023 digital ticket grants you guaranteed video-on-demand access to panels filmed at NYCC 2023, the Popverse video archive including panels from past conventions, and all members-only articles, videos, and other bits and bobs on Popverse for up to 30 days after the beginning of NYCC 2023.
What panels from NYCC will we be airing? The panels haven't been announced yet, but presumably most all of the people announced as NYCC guests already would be a likely guess as to having a panel. Here's all the NYCC 2022 panels we filmed last year (awww, Popverse's first NYCC!)
Consider this a special, one-month Popverse membership - normally only available in our yearly Superfan and Fan tiers.
... but how to I get the NYCC t-shirt, hat, and tracksuit?
The New York Comic Con logo t-shirt, baseball hat, and tracksuit are available as part of packages that includes a NYCC digital ticket, while supplies last.
The first package is the NYCC Digital Ticket: Director's Cut,' which includes the NYCC logo baseball hat, the NYCC logo t-shirt, and one NYCC 2023 digital ticket. This is available while supplies last, now through the beginning of NYCC 2023 on October 12. But you'll want to buy early so you can get your shirt and hat in the mail - pickup at the event isn't an option.
The second package is the 'Digital Ticket Drop: Cult Classic', and this one is limited to 500 pieces. This gets you our new, snazzy NYCC 2023 windbreaker tracksuit and one NYCC 2023 digital ticket.
When does the NYCC digital ticket, t-shirt, hat, and tracksuit go on sale?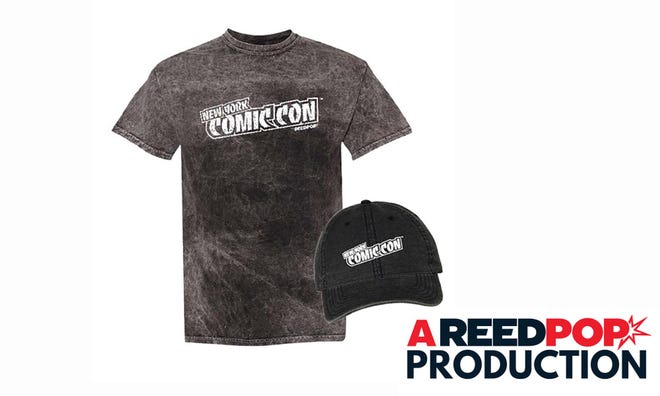 NYCC tickets are available now! Those who purchased a NYCC VIP ticket in 2022 will be able to buy tickets beginning on Wednesday, May 31 at 10:00 AM Eastern time.
Our very own Popverse Superfan members will be able to purchase NYCC 2023 tickets (and the hat, t-shirt, and tracksuit) beginning on Friday, June 2 at 12:00 PM Eastern. As a Popverse Superfan, you get guaranteed access to purchase two (2) tickets per type; however, quantities of special tickets are limited, including VIP tickets.
The general on-sale for NYCC 2023 tickets is Wednesday, June 21 at 12:00 PM Eastern - but if you completed and submitted the Fan Verification forms you can buy NYCC 2023 (and this newly-unveiled NYCC merch) beginning on Sunday, June 11 at 10:00 AM Eastern.
For more info on tickets including pricing and several exclusive NYCC merchandise opportunities, visit the NewYorkComicCon.com website.