Our Flag Means Death leans into bolder aesthetic in teaser trailer for season 2
OFMD seems to be changing its visual tack for its second season
Our Flag Means Death season one certainly wasn't a traditional-looking show. With bright colors, iconic period-inspired costumes, and an almost laughably CGI-ed ocean, it played into a very specific fun comedic look. But now, things are changing, as we can clearly see in the new teaser trailer for Our Flag Means Death season 2.
We already knew that the new season of Our Flag Means Death was going to look somewhat different. Instead of filming on a studio lot, the production moved their set all the way across the world to film on location in New Zealand. (Hello, real oceans!) We also knew that they were bringing on new costume designer Gypsy Taylor to bring a "Mad Max, Streets of New York feel," as Taylor shared with Vanity Fair. But it is different to see the changes on screen.
The change in the show's look comes through most clearly in the new costume designs, especially in a clip featuring crew members Jim, Fang, and Frenchie in pretty wild looking outfits (you can certainly spot the 'Mad Max' influence in the designs) and a later clip featuring Wee John decked out in drag makeup and a sparkly blue gown.
The bolder aesthetic doesn't stay there, though. In fact, it's even reached the teaser art. Look below at the first season's poster compared to the most recently released teaser art. In a way (beyond that great hot pink typeface), it doesn't even seem like the same show. But that's not necessarily a bad thing: sometimes, success leads to bigger creative risks. And risks often come with rewards. Either way, it's pretty obvious that fans are in for some aesthetic and visual surprises in this new season only a month or so away.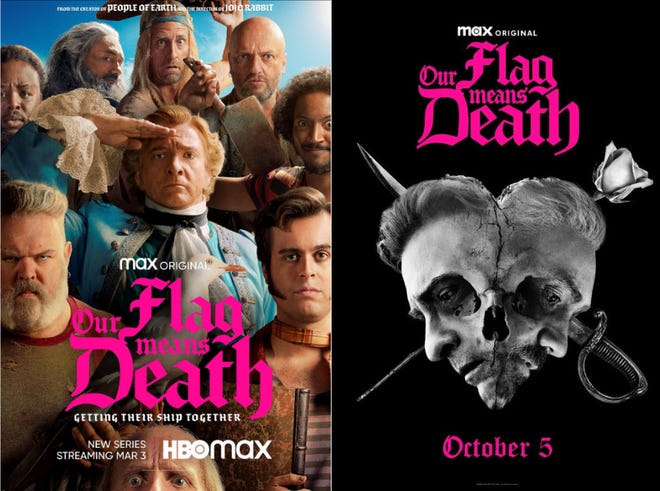 Our Flag Means Death season 2 will be hitting Max on October 5.
---
To catch up on everything we know about Our Flag Means Death season 2, check out our guide.
Or, catch this highlight reel from the Our Flag Means Death panel at this year's Emerald City Comic Con.