Our Flag Means Death: An appreciation of slow, floundering romance
Sometimes "happily ever after" takes a while
Spoilers for Our Flag Means Death season 2 episodes 1-7 below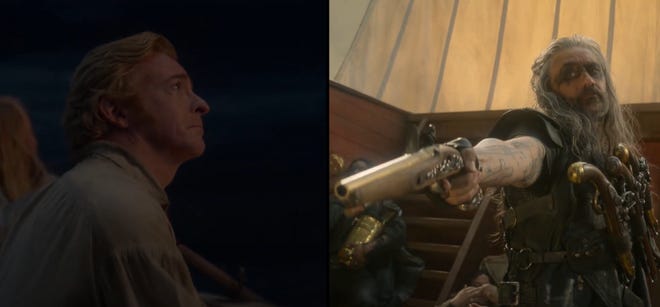 Sure, we all love simple romances that go from Point A (they meet) to Point B (happily ever after), but sometimes romance doesn't work out that way. In fact, sometimes life - and we - get in the way. That's why it's so great to see Our Flag Means Death take its time with the central romance of Stede Bonnet and Blackbeard.
Of course, it'd be fun if Stede and Ed got together ASAP and spent the rest of the show sailing the seas in a happy perfect relationship, but I think it's a good thing that Our Flag Means Death is showing us the more mundane ups and downs of their dynamic. Last season, after a nice slow build, we finally got our kiss. But then we got a very realistic retreat from Stede to his old life. And it was only through facing the life he left behind and the guilt his desertion caused that he was able to finally decide what he wanted and face who he loved. Until then, Stede just wasn't ready yet.
Now, in the second season, Stede is ready, but is Blackbeard? Not quite. Though it's great to see Ed and Stede reunite in season 2, it's clear fairly quickly that Ed is still working through his own thing and that maybe the timing is still not quite right. And while that could be frustrating in a way (let these pirates get together!), it also feels realistic and honest to the characters.
Life and love don't always work out the first time round, especially when you're a queer pirate of the sea. Sometimes you're marooned. Sometimes you're tired of the spotlight. And sometimes you're just not in the right place yet, even if the right person is in front of you.
---
Five shows to watch after you've finished watching Our Flag Means Death