Morning tea with the Outlander cast proves fandom is still thirsty and alive at NYCC 2022
Fandom is alive and well for those in the time traveling Scotsman business.
In the year 2022, specifically, however, those needs were met by some of the cast, as well as the author, of novel-turned-Starz-series time-traveling historical fiction drama Outlander on the Sunday morning of New York Comic Con on a massive Empire Stage panel simply called 'Morning Tea with Two Highlanders and a Lord'.
While the panel itself was, in this writer's humble opinion, something of a bust – with many of the generic questions handled gracefully by the seemingly underwhelmed panel of stars – the audience clearly was lapping it up; delighted in the presence of their favorite writer and her on-screen troublemakers and brogue-wielding hunks as many audiences had apparently been before.
"We were naive to the expectations of the fandom at the beginning," remarked Jamie Fraser actor Sam Huegan. "We didn't know the vast scope and investment people had until we went on social media. We did an event really early-on in the show and thousands of people showed up. It blew us away to see all of the fans. It gives us a thrill, of course, but it did start to make us think about how we owe it to them to make sure we did things right."
Author Diana Gabaldon, whose praises were loudly sung by the cast throughout the panel, echoed the sentiment of authenticity to her work in explaining some of her involvement with the show's creation. "I had been writing the books for 20 years before the show began, but seeing it for the first time was quite interesting," said Gabaldon. "I get to see all of the filming and it's absolutely fascinating. Sometimes it takes forty-seven takes of the same single scene!"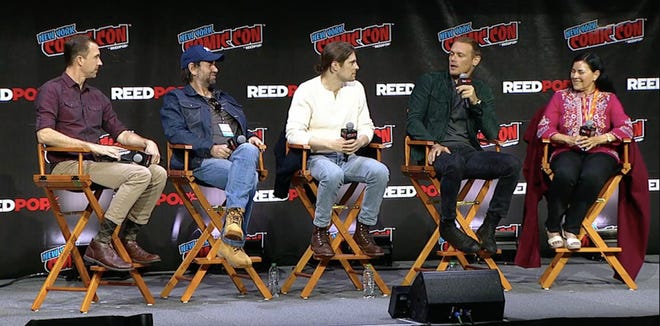 As is customary for conventions, but particularly those involving the big names, the end of the panel involved a Q&A session with many of the questions revolving around acting tips and the actor's personal connections to their characters and their history. More interestingly than anything else, however, was a willingness to say anything in the moment of fandom bliss; with one questioner starting her query for Gabaldon by admitting that her romance scenes made her "want to have fun with her husband".
Above everything else this Outlander panel, for all its faults, renewed a belief that there is a large, welcoming, and eager fandom for everything. We should all be so lucky to feel the way about anything as this massive and very full room felt about time-traveling Scottish men.
---
Throughout all of New York Comic Con 2022, Popverse is going to be keeping up with everything that happens, from panels and breaking news to interviews and the best cosplay on the show floor. We'll be sharing everything as it happens — including exclusive livestreams from the biggest panels at the show — so let us keep you in the loop all weekend.
If you've enjoyed this coverage, please give Popverse a shoutout by tagging us on @PopverseSays on Twitter, Instagram, or Facebook, or linking to us at www.thepopverse.com.