Amazon Prime's Paper Girls TV show is too loyal to the source material
Amazon Prime has adapted Brian K. Vaughan and Cliff Chiang's Image Comic – Paper Girls. Is it worth the watch?
Paper Girls has taken over San Diego Comic Con with the pilot premiering at their official panel, and Popverse is here to tell you if it matches the caliber of Amazon's other comic book adaptations.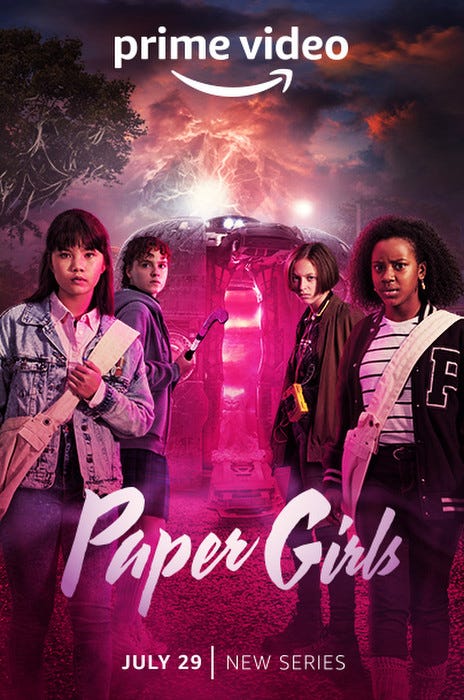 Comic book adaptations are tricky beasts. We all want our favorite stories to retain the magic that was captured during our first read. Sometimes adaptations take such creative liberty that it's hard to recognize what we once loved. But there's also an opposite effect. Sometimes adaptions take no creative liberty, and, for fans of the comic, the show becomes a boring retelling of a story you already know. So, where does Paper Girls lie on this spectrum?
The Paper Girls pilot fails at the delicate balance between loyalty to the source material and creativity, and instead retells a rushed version of the comic's first arc. This is a weird choice since a TV show has more time to deepen the characters than a 22-page comic book could have in its original form.
Erin is a new paper girl on her small town's route. She meets up with the other Paper Girls (Tiffany, KJ, and Mac) as they deal with the struggles of their job the night after Halloween. The four girls aren't best friends. They aren't from the same walks of life – they're co-workers. And sadly, before we even get a chance to truly connect with the girls, this rich dynamic is quickly glanced over as they are thrown into the unusual circumstance of time travel. I wish we stayed with the girls a little longer before they started their high tale time traveling adventure. This would allow us to feel truly invested in what they're about to encounter. The pilot does a decent job at showcasing their differences with quick looks at their homelife, but with a less than 40-minute run time there are too few standout moments to make this a 'great' debut.
One of the biggest obstacles to adapting a comic into a television show is how to portray the artists' original vision. The Paper Girls TV show has a few bumps in the road when it comes to pacing and character development, but the show's visuals are its biggest road block. The show feels low budget, going out of its way to avoid overtop visuals with camera angles cutting out prop designs and lackluster futuristic blasters. In Cliff Chiang's out of this world visuals for the Paper Girls comics, there are monsters with countless tentacles and eyes, futuristic character designs, but the show gives us…bugs. This is their grand technological moment!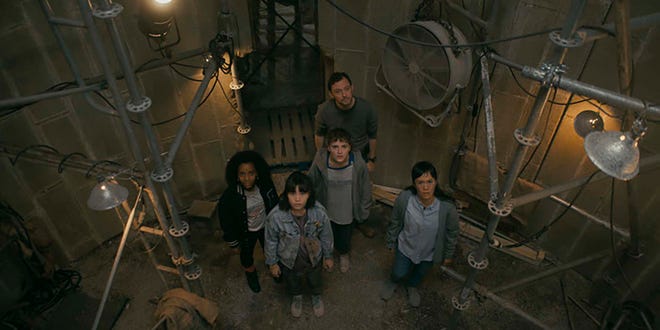 The book's stand out visuals doesn't stop at its pencils, but also shines with Matt Wilson's moody coloring— an element that the show does attempt to adapt. I applaud them for trying to stay true to the tone, but the electric pink backdrop doesn't completely translate to live action as smoothly as it did on the comic book page.
I'm sad to report that, from the looks of the pilot, Paper Girls isn't the next Invincible or The Boys, but hopefully the rest of the season will change my mind. If anything, I do hope that the show reaches a wider audience for people to be exposed to the same nuanced themes of growing up and nostalgia that I cherish from my first read of the comic.
Paper Girls premieres on Amazon Prime July 29.
---
To follow along with Popverse's coverage throughout San Diego Comic Con, check out our roundup of SDCC coverage.