Peach Momoko is in orbit for her new Space Usagi variant cover
Both Stan Sakai and Peach Momoko are teasing more collaborations to come
Stan Sakai is a comic book legend, the creator of Usagi Yojimbo and multiple award-winner for his cartooning and lettering alike across a career that's lasted more than four decades ay this point. Peach Momoko is one of the hottest artists in comics right now, known for her cover artwork for both Marvel and DC, as well as her work as a writer and artist on Marvel's Demon Days reimagining of the Marvel Universe. The two have had very different careers, despite shared influences — but they've also been quietly collaborating for some time, with the latest such work arriving next month.
Momoko has been producing cover artwork featuring Sakai's Usagi Yojimbo — a 17th century rōnin who happens to be a rabbit — for some years, with the most recent appearing on next month's Space Usagi: Yokai Hunter, a one-shot issue set in the far future of the regular storyline, featuring a sci-fi version of the character. The interior of the comic is once again written and drawn by Sakai, who provides the regular cover for the issue… but Momoko provides the variant, which looks like this: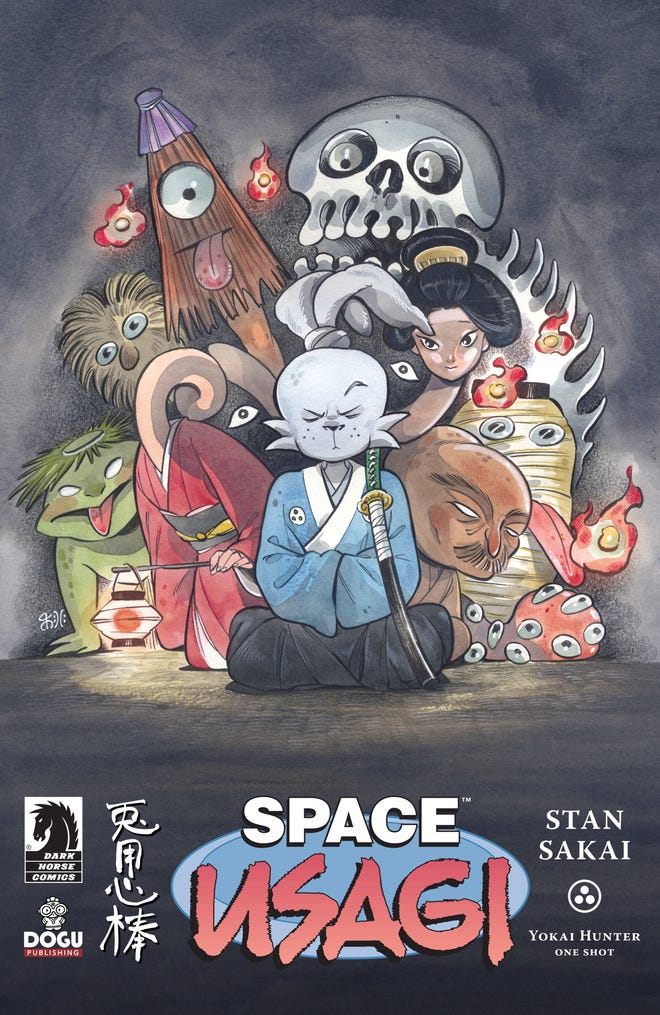 "It was an amazing opportunity for me to illustrate both worlds that I love, Stan's Usagi world and the Yokai world," Momoko explained in a statement from the artist. "I hope I gave it justice for both worlds equally. But most important thing for me is that Stan always lets me have fun with each cover."
"I am delighted that Peach has been involved in so many projects with Usagi," Sakai told Popverse. "Her Yokai Hunter cover is astounding and a huge notch beyond her already amazing body of work. I anxiously look forward to working with her a lot more next year for Usagi's 40th anniversary."
No, dear reader, you're not the only one who caught the mention of Sakai and Momoko working together "a lot more next year." When taken in combination with Momoko's mention of Sakai "always" letting her have fun, it raises the obvious question: just what are these two cooking up together for 2024? And when will they be ready to tell us?
Space Usagi: Yokai Hunter will be released by Dark Horse Comics on October 11.
---
Sakai spoke to Popverse last year about his career and his relationship to Usagi after close to 40 years together.