Big pirate adventure, bigger emotional journey in the sapphic swashbuckler The Pirate and the Porcelain Girl
What if the gods answered your prayers... with a surprise? Find out in The Pirate and the Porcelain Girl
What would happen if you asked the gods to be beautiful, and they turned you into porcelain? Well, you'd probably be set on an adventure of a lifetime. That's what happens to Ferra Brickminder in Emily Riesbeck and NJ Barna's The Pirate and the Porcelain Girl, and you can probably guess that Ferra's life will never be the same.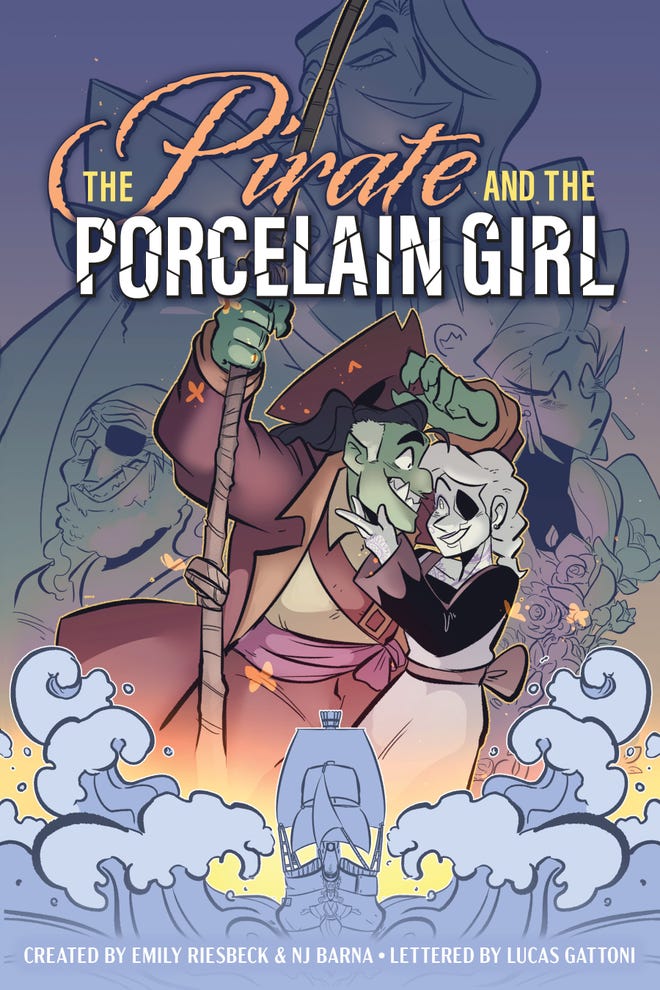 The official Simon & Schuster blurb for the high seas young adult graphic novel reads:
"'I want to be beautiful. I want to be interesting. I want to be enough.'
"That was Ferra Brickminder's prayer to win back the love of her life. And the gods answer—just not in the way she expected. After hoping for a miracle, Ferra instead watches her skin turn into delicate and dangerously breakable porcelain.
"Elsewhere, Brigantine de la Girona, a disgraced orc pirate captain, has her own problems. Penniless and banished from her home, Brig struggles to make ends meet with her crew as her only support. So, when a desperate Ferra enlists Brig to sail her across the Great Sea to her ex-girlfriend's home for a very handsome fee, Brig is happy to strike a deal.
"Pampered Ferra and tough-as-nails Brig quickly butt heads, bickering their way across the high seas, but as they encounter increasingly perilous obstacles—including the gods themselves—the two become reluctant allies…and maybe more."
As for the creators' thoughts on the project, creators Emily Riesbeck (The Blue Valkrie, It's Your Funeral) and NJ Barna (Paradise, Anagenesis) told Popverse, "When we started working on The Pirate and the Porcelain Girl together, we never thought it would lead us to such a wonderful friendship. This book is filled with everything we love about a great adventure story: big emotions, colorful characters and irresistible villains. At its core, this is a story about change: the pieces people leave in our lives, big and small, and the ways we change because of them."
Check out the entire first chapter of The Pirate and the Porcelain Girl in the gallery below:
The Pirate and the Porcelain Girl will hit bookshops on August 8, 2023. You can preorder it from Barnes & Noble, Amazon, or Bookshop.org now.
---
Inside the life of the US Revolutionary War hero who was also revolutionary and flamboyantly gay