Pluto: Adapting Naoki Urasawa's manga for the screen "was very difficult," iconic Producer Masao Maruyama says
It took ten years to bring Naoki Urasawa's Pluto to the screen
Pluto producer Masao Maruyama has a list of credits a mile long. Not only is he the co-founder of Madhouse, MAPPA, and Studio M2, he was was actually involved with the iconic original Astro Boy anime too! Now, he's returning to Astro Boy by producing the anime adaptation of Pluto, Naoki Urasawa's adapation of Astro Boy, which is debuting on Netflix on October 26. Recently, we had a chance to chat with Maruyama about the long journey of adapting of Pluto, which has taken a decade to make, and why it was so difficult to create this anime.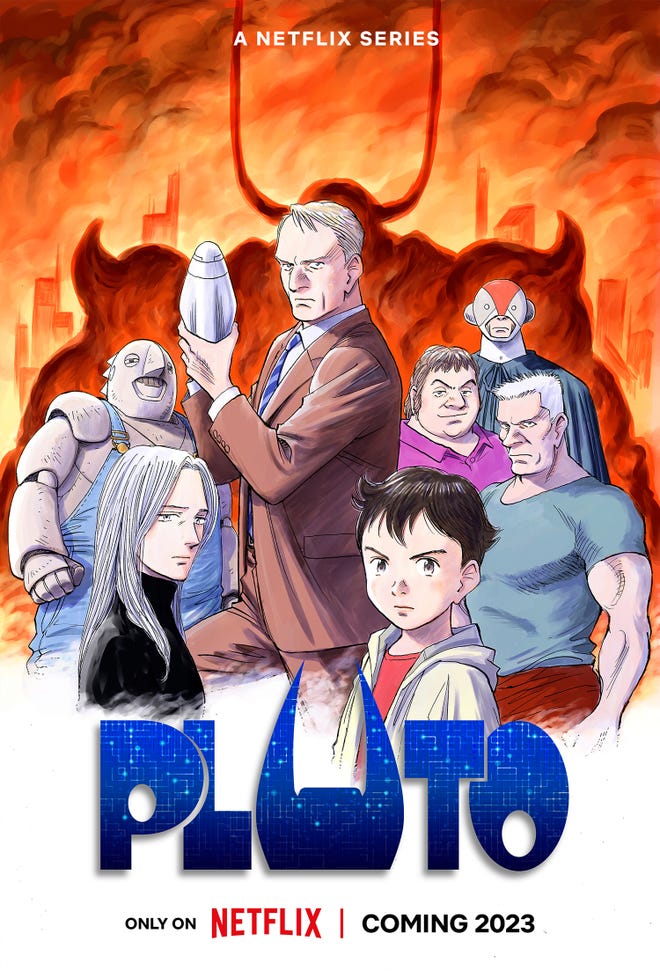 When asked what it was like to adapt Naoki Urasawa's manga for the screen, Maruyama told Popverse that it was a hard process. "It was very difficult because [Urasawa]'s design is very very real." he explained. "It was very difficult for us to work on [the] adaptation, and it's very time consuming. But we wanted to make sure that we were faithful, so we gave a lot of attention and care into recreating that in this anime."
Asked why the creative team decided to go for eight one-hour episodes, with an hour being double the length of an average anime episode, Maruyama responded that the story simply needed more space.
"When we were working with the original author Urasawa-san, we basically came up with the idea that we needed that much time and volume to totally and fully portray and depict the original story," he said. "We really wanted to give care and attention to detail to the show. We knew that because we are working with Netflix, we could be faithful to the original story and we could do whatever we could to fully recreate and reenact what we thought was necessary." Maruyama continued that Pluto needed more volume than Astro Boy because "with Pluto, we had to go deeper, where there's more elements of horror and mystery."
Pluto will hit Netflix on October 26, 2023.
---
Pluto: Everything we know so far about the anime adaptation of Naoki Urusawa's classic manga