Preeti Chhibber, Samira Ahmed, and Swapna Krishna share the joy of writing their favorite Marvel characters
Chhibber, Ahmed, and Krishna hosted a fun panel at NYCC discussing the joys of writing their favorite Marvel characters
On Saturday, October 8th I attended a New York City Comic-Con panel called I'm a Superhero! Writing Our Favorite Marvel Characters. The panel description said the discussion would feature insights from Marvel authors on their experiences writing for their favorite characters. Beyond that I wasn't sure what to expect. The panel wound up being so much more, thanks to the energetic discussion, inspiring stories, and deep insights from the speakers. The panel was moderated by Swapna Krishna (author of Sword Stone Table), and featured Samira Ahmed (writer of Ms. Marvel: Beyond the Limit) and Preeti Chhibber (author of Spider-Man's Social Dilemma).
Krishna began the panel by welcoming everyone, "I am here with two very talented authors who I love very much." Krishna then introduced Samira Ahmed, praising her work on Ms. Marvel: Beyond the Limit before introducing Preeti, who has written licensed work for Marvel, DC, Lucasfilm, and many others. The panel recommended that everyone check out Desi Geek Girls podcast, which features Krishna and Chhibber talking about their favorite geek properties.
"Let's talk capes and tights," Krishna said, asking Ahmed and Chhibber about their experiencesss writing licensed media. "The minute I got a chance to write Spider-Man, it was the best day of my life," Chhibber shared about her middle grade novel Spider-Man's Social Dilemma. She said she loved Spider-Man because he struggles in life just like she does. "In some small way I wrote a little bit of Peter Parker's life and it will exist forever," Chhibber mused.
Comics vs prose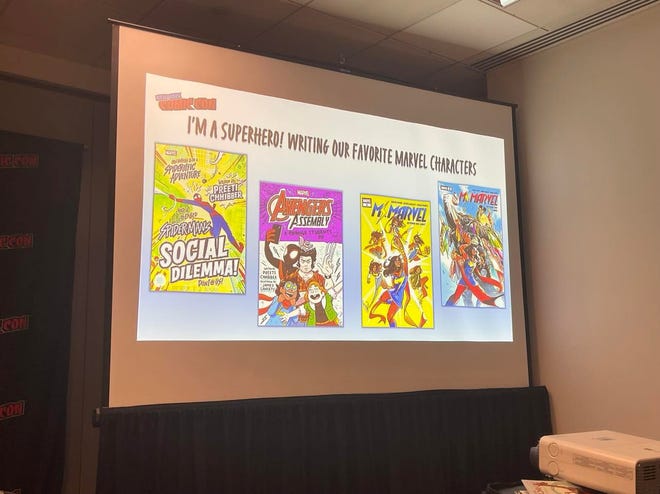 The panel began talking about the difference between writing comics and prose. "It's not easier to write prose," Chhibber said. She then spoke about how she had to punch herself in the face while writing Spider-Man's Social Dilemma because she wasn't sure how to describe the motion and sound.
Ahmed wrote novels before crossing over to comics. She said the transition was hard, and she initially wasn't sure what word balloons were called. "I learned comics as I was doing them," Ahmed said. However, she said she got the hang of it after her first issue of Ms. Marvel. She compared the two mediums, saying that writing a novel isn't collaborative, whereas comics requires lots of conversation with editors and artists. She loves that element.
Ahmed also loved working with an artist, and how they had the ability to visualize her stories. "It was cool how a person can be in my brain, but make it better than my brain," Ahmed said. Chhibber recalled an editor from Scholastic emailing her about writing Avengers Assembly, and how excited she was since the young reader series would feature Ms. Marvel. "I came as Kamala to Comic-Con that year," Chhibber shared.
"I have a special connection to Kamala," Ahmed said. Like Kamala, Ahmed is South Asian and Muslim. Half of her family is in Pakistan due to partition. When Marvel called her to write Ms. Marvel: Beyond the Limit her children jumped up and down. "This is the greatest day of my life because my mom is writing my favorite superhero," she recalled her 9 year old saying.
Limits and challenges
Krishna asked if either writer encountered any restrictions from the license holders. Chhibber said her first draft of Spider-Man's Social Dilemma had every character, including the Sinister Six, but she was told to pull back. However, she finds the conversations to be fun. "It ends up being a project where you're talking to nerds about a nerdy story and that's your job," Chhibber said.
The conversation then shifted to fan fiction. Krishna pointed out that fan fiction gets a bad rap. "Fan fiction is awesome. Anyone who says otherwise is ridiculous," Chhibber said. She brought up how it allows writers to learn, grow, and experiment with style and format. "I call Ms. Marvel fan fiction," Ahmed said. "Because I'm a fan and I now get to write the fiction."
Krishna asked about the balance between writing a story for your community vs writing it for others. "If I'm writing for my community, then what I'm writing for my community is consumable for everyone else," Ahmed said. "I read Lord of the Rings and I'm not a Hobbit." Chhibber echoed this point. "Even if I don't recognize this culture, I can recognize aspects of the relationships." Chhibber said that there is always something relatable people can latch on to.
Representation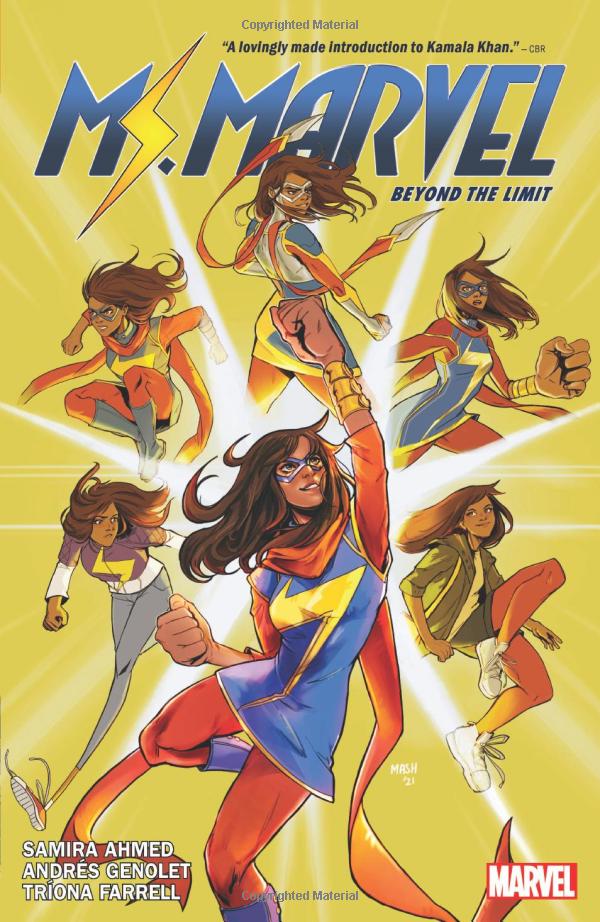 This led into a conversation about representation. "We are seeing more women creators, we are seeing more queer characters, and creators from marginalized backgrounds. I think comics are for everyone," Ahmed said. She then spoke about the way people dismiss inclusion. "A black elf is not going to ruin your life," Ahmed continued.
This prompted a discussion about how representation can lead to important conversations. Krishna said she was approached by a lot of people with questions after Ms. Marvel had an episode dealing with partition, which led her to speak with her mother about it for the first time. "Ms. Marvel brought this into the mainstream," Krishna said.
Chhibber brought up other ways creators can bring their personal experiences to characters they're writing, even if they're from a different cultural background. She said that her version of Peter Parker takes his shoes off when he enters a house. Other examples could be family or social expectations. "We can all relate to being an ordinary person and being asked to do something extraordinary," Ahmed said.
It's never too late
The panel took questions from the audience, sharing their experience as writers. "There is no expiration date on your dreams," Ahmed said. She then shared that she worked at a non-profit for years before becoming a writer. "What's nice is that now there are so many resources for writers online," Chhibber said, encouraging any potential writers in the audience.
Chhibber said that sometimes being a writer means working other jobs on the side, but it's worth it. "Full-time writing is full-time writing with 14 side-hustles," she joked. "Every writer has their version of these characters, we have the opportunity to bring our voice in it."
The panel wrapped up, and I departed pleasantly surprised. This panel felt like a podcast, in the best way possible. The conversation was fun, thanks to the great chemistry between the panelists, and the insights were interesting. These dynamic authors are an official part of the Marvel Universe, and it's a better place for having them in it.
---
Did you miss New York Comic Con? Catch up on everything from streaming panels to panel writeups and news by checking out
Popverse's NYCC roundup
.