Why Prism Comics matters: a personal story inside the pioneering LGBTQIA+ comics non-profit
Inside the queer comics organization that has grown and blossomed as the comics industry has grown
Paige Braddock is the chief creative officer of Peanuts' late creator Charles. M. Schulz and his family's immense creative empire, and an award-winning comic strip artist in her own right. But as she tells Popverse, she probably wouldn't still be a cartoonist if it weren't for the people at Prism Comics.
2023 marks the 20th anniversary of the all-volunteer non-profit championing lesbian, gay, bisexual, transgender, queer/questioning, intersex, asexual, and LGBTQIA+-friendly comics, comics professionals, readers, educators, and families. And although Prism has undergone some changes in leadership and structure since Braddock's Northern California get-togethers with underground queer comix heavyweights like Alison Bechdel, it still provides a community for queer creators to tell their stories and a place for queer fans to find stories featuring characters like them.
While opportunities have improved for queer creators since the non-profit was founded in 2003, as a transgender writer, I recently had a personal experience that reminded me why an organization promoting inclusion in comics and entertainment is still necessary. So, as Prism's managing editor and co-communications officer (alongside my wife, Avery Kaplan), I have been thinking about the non-profit's history, impact, and why Prism Comics is still needed today.
A brief history of Prism Comics

And now, for something completely incomplete: a short history of Prism Comics, which began with Comic-Con International's commitment to marginalized voices, a San Diego Comic-Con panel, and a zine.
Star Trek scribe, Gay Comics editor, and one of the first 'mainstream' creators 'out' in comics, Andy Mangels, moderated the first 'Gays In Comics' panel at SDCC in 1988. It featured Max Allan Collins (Ms. Tree), Terry Beatty (Ms. Tree), Roberta Gregory (Naughty Bits), Mike Grell (Green Lantern/Green Arrow), John Ostrander (Suicide Squad), Kay Reynolds (Fortune's Friends: Hell Week), Robert Triptow (Gay Comix), and Kate Worley (Omaha the Cat Dancer). Now run by Prism and known as 'Out In Comics,' the panel ran for its 35th year in 2022, making it the "longest-running Comic-Con panel," according to Comics Beat.
With the success of the 'Out In Comics' panel and a growing number of openly queer creators, Mangels started self-publishing a guide of queer comic creators and their bios, Out In Comics, in 1999. The first zine was 16 pages. But with the help of Zan Christensen, Joe Palmer, Kyle Minor, and Dwayne Best, the zine more than doubled in size by 2001. This project was the precursor to Prism Comics.
In 2002, Mangels and publisher Jai Sen (Shoto Press) worked alongside Minor, Palmer, and Christensen to create the non-profit group, Out In Comics, to publish a yearly guide at each SDCC and to promote queer creators and comics. In 2003, the group was officially renamed Prism Comics, with the tagline 'Seeing Comics in a different light!' and had a table (shared with Jai Sen's Shoto Press) at SDCC for the first time.
Over the years, Prism has published books, bestowed the Queer Press Grant, nurtured the careers of hundreds of queer comic creators, hosted drink and draw events, exhibited at conventions nationwide, and founded West Hollywood Pride Arts Festival's Q Con, the first LGBTQIA+ comic convention in Southern California since 2014. Each year the non-profit recognizes diversity and excellence in queer comics with the Prism Awards, an awards group co-sponsored by the Cartoon Art Museum and the Queer Comics Expo. All this support for the queer comics community is made possible through the work of many volunteers and some of the group's most active supporters: Maia Kobabe (Prism Award co-founder), Patty Jeres, Roger Klorese, Nina Kester, Gladys Ochoa, Elizabeth Beier, Tara Madison Avery, and especially the non-profit's current president, Ted Abenheim.
"I found Prism Comics nine years ago at a booth at San Diego Comic-Con," Abenheim told Lambda Literary in 2013. "I was amazed to find that there were comics that dealt with LGBT topics—coming out, youth issues, school issues, family relationships, dating, and relationships—personal subjects that television, film, and other popular media didn't touch in any depth at the time. I felt at home because in the huge sea of thousands of people at the convention, here were other people like me with stories I could relate to….That's when I got involved with Prism."
Prism Comics & me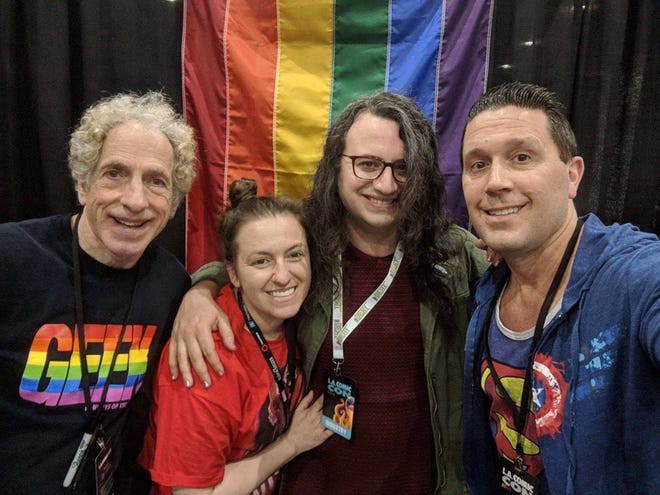 My story is like Abenheim's. In 2015, Avengers: Age of Ultron changed my life's trajectory (read about it here). So, my cousin invited my wife, Comics Beat features editor Avery Kaplan, and me to my first comic convention: Stan Lee's Comikaze (now Los Angeles Comic Con). Well, at least, I think it was. At the time, I was a noob who didn't know San Diego Comic-Con from the Santa Ana Art Walk.
That year, I was out as bisexual (only) and engrossed in California State Bar Exam prep (mistakenly, but I did pass). As a law clerk, I had a challenging experience working with demanding clients and even more difficult lawyers, so I had an inkling that I wanted to be something other than a career lawyer. However, when I saw the Comic Book Legal Defense Fund booth, I was intrigued by the organization's mission to protect the First Amendment rights of the comic book art form and its community. And for 0.68 seconds, I was tempted to become a lawyer.
At 0.69 seconds, I discovered Prism, located on the other side of the CBLDF booth. Signing that day was bisexual illustrator Elizabeth Beier, who also had self-published copies of I Like Your Headband: A First Crush Story and Bisexual Trials and Errors (later turned into a graphic novel by Northwest Press in 2017). Beier's books feature bisexual characters, and I still remember my audible excitement when I saw the rainbow-colored booth lined with books with 'BISEXUAL' splashed across the cover. Although I'd seen a couple of bisexual characters in mainstream comics, I'd never seen my identity so boldly displayed on a comic cover. I wanted to know more about the artist who created it (and the organization supporting her). So, I immediately bought copies of Beier's books, and Avery and I put our names in the plastic bin to be future volunteers.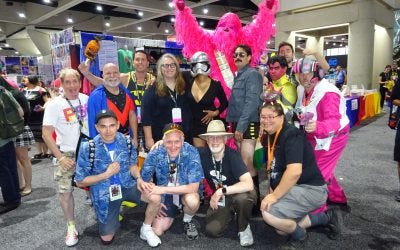 One year later, at Stan Lee's Comikaze in 2016, I officially volunteered with Prism for the first time. Although I seem like an extrovert (thanks to ADHD), my sweaty dance performance when I meet someone new betrays my severe social anxiety. However, I could stop performing at the Prism booth and be myself, as the other volunteers immediately made me feel welcome. More than welcome; it was like a party! I spent two days dancing – because I wanted to, not because of nerves – with a 'homo superior' bag and meeting my idols (although I generally didn't know whom I was talking to until the conversation ended). Over the next few years, I attended as many conventions as my endometriosis-riddled body would allow. And with each comic con, I looked forward to seeing the other volunteers more and more, such as the dedicated Kevin Alpert and Missy Boyd.
Today, as an active member of the non-profit, I hope when people visit the booth that, I can provide reading suggestions and conversation that recreates what Abenheim and I felt when we first found Prism: the feeling of being engulfed in a giant bear hug. With school library book bans targeting LGBTQIA+ content, Prism provides queer creators, readers, and allies a safe space to reliably find queer comics and graphic novels. More importantly, when people step into the rainbow-colored booth, they know they won't be judged for who they are.
When I volunteer at conventions, I see the difference that Prism makes in lives. Once, someone visited the booth to practice coming out before telling their friends and family. Conversely, many supportive families come by the booth asking what graphic novels and comics would be appropriate for a loved one who recently came out. Then, Braddock isn't the only creator who told me how Prism was a vital community when they started in comics. Finally, countless librarians stop by the booth at every convention to ensure they have graphic novels featuring every flavor of queer protagonists. These are all lives touched by Prism's work, and that's why the organization endures.
Looking forward, Prism has some exciting new projects in the works, and I can't wait for y'all to see what's next!
---
Here's a guide to all of the LGBTQIA+ articles Popverse has published for Pride Month 2023.