10 queer web comics to read during Pride Month
With the popularity of Heartstopper, what queer webcomic should you read next?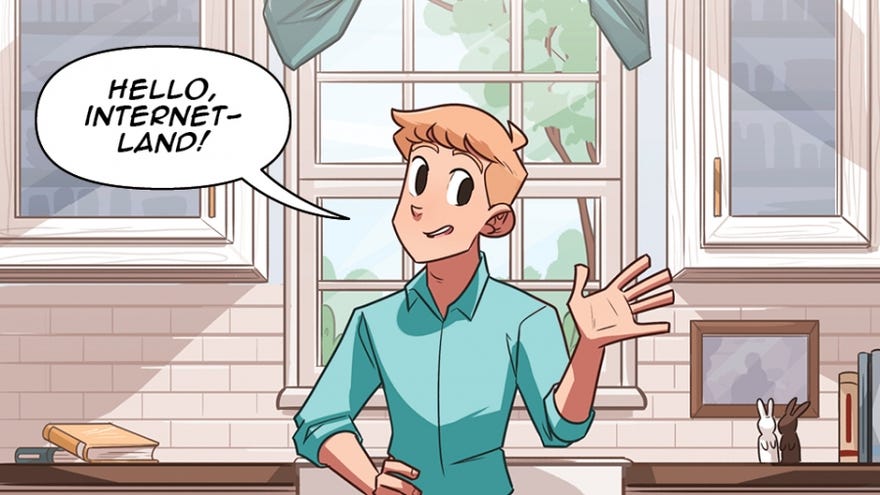 There are plenty of ways to read comics, but one of the most popular ways these days is on the internet. Webcomics are accessible, and most of them are even free. With their wide reach, webcomics have the opportunity to take a deep dive into genres that aren't explored as often in the comics on book shelves, including queer romance.
Queer romance webcomics have found mainstream success with the overnight sensation that is Netflix's Heartstopper, which was adapted from a webcomic that was originally posted on Tumblr and WEBTOON Canvas. The large landscape of queer romance webcomics can be overwhelming, but don't worry if you don't know where to start, we here at ReedPop are going to list our favorite queer webcomic titles ranging from WEBTOONS to Korean Manhwas.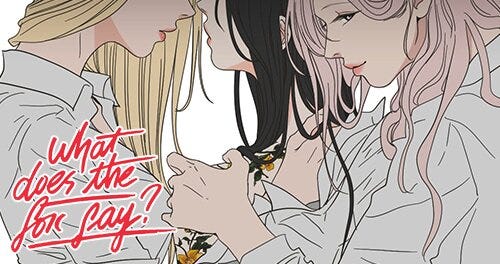 Created By: Team Gaji
Where You Can Read It: TappyToon (First six episodes are free. The rest are behind a coin-driven paywall.)
What Does the Fox Say? is a steamy office romance between Sungji, a naïve, drop dead gorgeous new hire, and Sumin, her blunt, older team leader. This Korean manhwa is a well-paced story that isn't afraid to show a slow romance, as Sungji experiences what it means to be in love for the first time. The comic showcases Sumin and Sungji's organic connection, allowing for the more erotic scenes that show up later in the series to feel well earned.
But What Does the Fox Say? isn't for the weak of heart. There's plenty of drama that involves the company's president, creating one hell of complicated love triangle. Team Gaji does a good job at creating interesting scenarios for the main couple to triumph over that rarely have to do with the fact that they're two women in a relationship, which is a breath of fresh air.
Created By: Alice Oseman
Where You Can Read It: WEBTOON
As mentioned above, the overnight success of the Heartstopper's adaptation on Netflix was the inspiration behind this article. Heartstopper is a romance between an anxious, openly gay overthinker and an easy-going rugby player. The comic is an opposites-attract love story with very little drama that just revels in the warmth of love. In mainstream media, queer people tend to not always get the happy ending. The success of the Heartstopper TV show and comic perfectly showcases that queer media is in need for more content like this!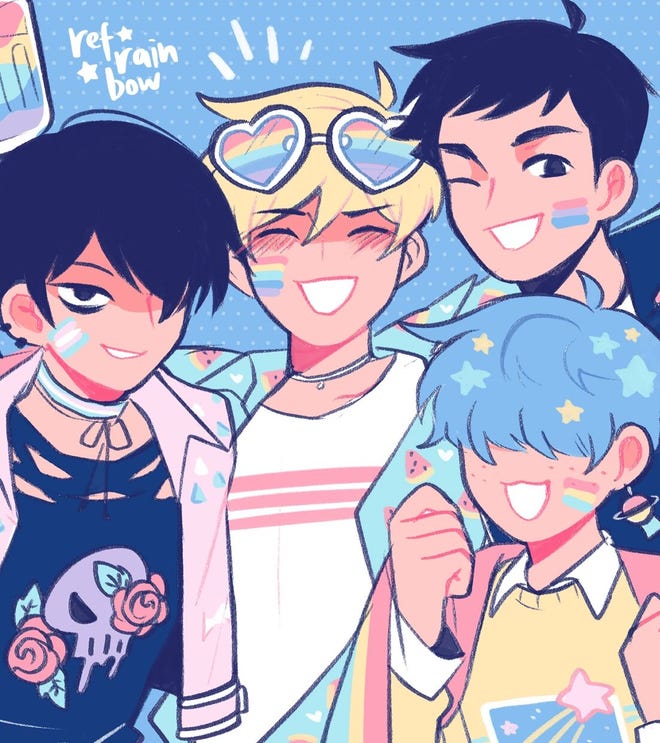 Created By: Ray Pratiwi AKA Refrainbow
Where You Can Read It: WEBTOON
Boyfriends is one of the most popular 'slice of life' romance comics on the WEBTOON platform. The story isn't your typical love triangle because, instead of fighting over one man, the four potential love interests all end up in a polyamorous relationship with one another. One of the book's biggest highlights is the way it showcases different queer identities & experiences, all encompassed in cute dialogue and art that will completely warm your heart.
Created By: Ngozi Ukazu
Where You Can Read It: Website
With the popularity of websites like Tapas and WEBTOON, there's a growing sea of queer webcomics, but in 2013, Check, Please! was a trailblazer. The comic has a unique angle on sports romance, as our main character uses vlogging to showcase his journey as he transitions from a figure skater to a hockey player and falls in love with his fellow teammate, Jack.
Ngozi Ukazu used the medium of the 'web' to an even greater extent by posting extra content on Tumblr and Twitter to build a transmedia platform. Ukazu later launched multiple Kickstarter campaigns to publish physical versions of the comic that became some of the highest funded projects on the platform.
Created by: Shawn Lenore
Where to Read It: Website
How to Be a Werewolf isn't exclusively queer, but it has many queer characters and romance subplots. The story centers around Malaya, a young girl who became a werewolf as a child, but never explores that side of herself until she meets a fellow werewolf who shows her the ropes. The series features a 'will they, won't they' relationship between Malaya's mentor Elias and her brother Vincent. The title's main romance centers around a lawyer in Malaya's pack and her witch/nurse girlfriend. How to Be a Werewolf is a well-balanced series that does a great job at equally focusing on werewolf action, queer romance, and slice-of-life story beats.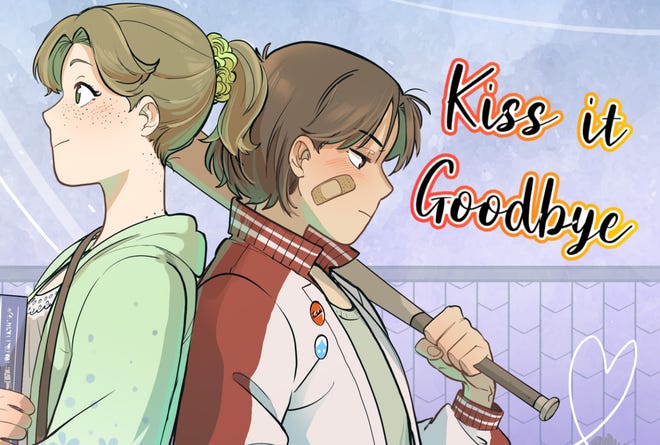 Created By: Ticcytx
Where to Read It: WEBTOON
Kiss It Goodbye takes a different visual approach to the traditional WEBTOON scroll down method by posting sequential comic pages for their posts. The series follows a pair of childhood friends, Aruka and Yukimi, who slowly fall in love. Creator Ticcytx takes much of her inspiration from classic Yuri manga, even setting the comic book in Japan.
To stand apart from the pack, Kiss It Goodbye showcases two timelines. The book opens with Aruka and Yukimi as adults telling their friends how they ended up together. It's a great story device that organically showcases the couple together without having to rush the romance's plot.
Created By: Curryuku
Where to Read It: WEBTOON
Originaly posted as a WEBTOON Canvas series, Not So Shoujo Love Story was later promoted to a WEBTOON Original. The series follows Rei, a girl obsessed with romance manga and anime, looking for her own real-life romance story with the ever so popular Hansum (yes, that's his name and he has a very long chin to prove it), but has a few obstacles to overcome before she can get her happily ever after.
I know what you're thinking - this sounds pretty straight so far. Well, enter the most popular girl in school and Rei's rival - Hanna. Rei will quickly learn that her story isn't like the Shoujo love stories she's so used to consuming because Hanna falls head over heels for Rei. Not So Shoujo Love Story is a hysterical take on classic love stories that takes a slow burn approach as Rei begins figuring out her own queer feelings.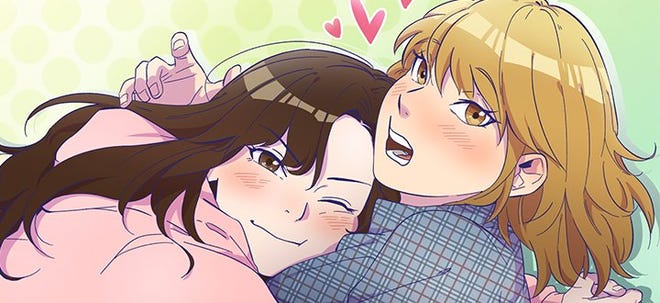 Created By: Yeongol
Where to Read It: Tapas (First five episodes are free. The rest are behind a 'ink'-driven paywall.)
You know what's a great romance convention? Misunderstandings. And damn, does Ring My Bell revel in misunderstandings. Ring My Bell focuses on two neighbors (hence the title). Mai is a webcomic artist, who just so happens to write and draw about her own queer romance. Her job gets more difficult when her toxic girlfriend breaks up with her. Her neighbor seems uncomfortable when she finds out about the breakup, which leads to Mai's conclusion that her neighbor is homophobic. But actually, Lee Chungyeon is on her own queer journey as she discovers she has feelings for Mai.
Ring My Bell is a sweet romance that has supporting characters that are almost as (debatably even more) interesting than the main characters. Mai's bakery store owner best friend and Chungyeon's childhood (formerly homophobic) friend create complex foils that allow interpersonal relationships (platonic and romantic) to drive this narrative.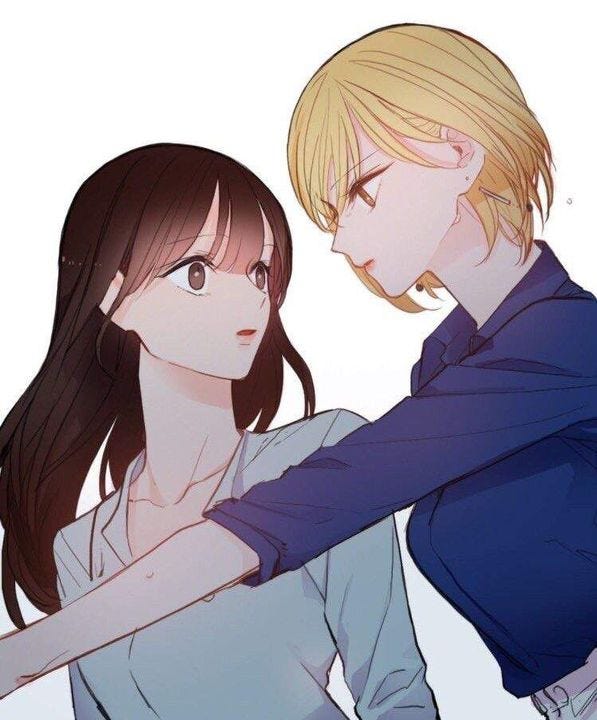 Art By: Bansook
Written By: Chamsae
Where to Read It: Lezhin Comics (First two episodes are free. The rest are behind a coin-driven paywall.)
Jung Erae has never felt romantic feelings for another person, and she's tired of not being in love, so she hires a love doctor - Cha Yoon. Yoon has only taken up being a love doctor because of an injury that has prevented her from continuing her professional dance career. Yoon's love doctor advice doesn't help Erae find love in the traditional sense, but Erae does start to develop feelings for Yoon.
Love Doctor is a relatable queer story as Erae discovers what it means to love, and the book tackles what it means to find out you're queer. This story is showcased from different angles, including a side story with Erae's best friend, who has a very different view on queer acceptance.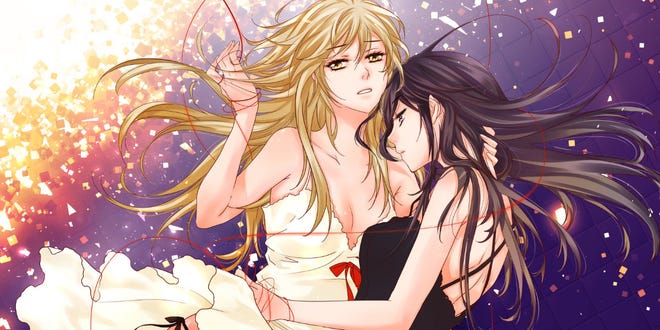 Created By: Ratana Satis
Where to Read It: Lezhin Comics (First two episodes are free. The rest are behind a coin-driven paywall.)
If you're looking for a steamy romance, Pulse is for you! Satis' Korean manhwa is a dramatic tale that follows college student Lynn as she goes into surgery for her continuous heart problems. Mel, her doctor, is forced to take care of Lynn in her own home, and the time they spend together blossoms into romance. The series is equally erotic as it is sweet. The book builds a true romance between the characters to allow their sex scenes to be even more electrifying. Pulse proves that a broken heart can always be sewn back together (physically and metaphorically) with true love.
---
Want to read more queer comics, but in print? Check out Popverse's guide to queer comics for people who don't want to reads superhero stories.