A Guide to Radiant Black: Image Comics' New Superhero Universe – The Massive-Verse
Everything you might need to know about Radiant Black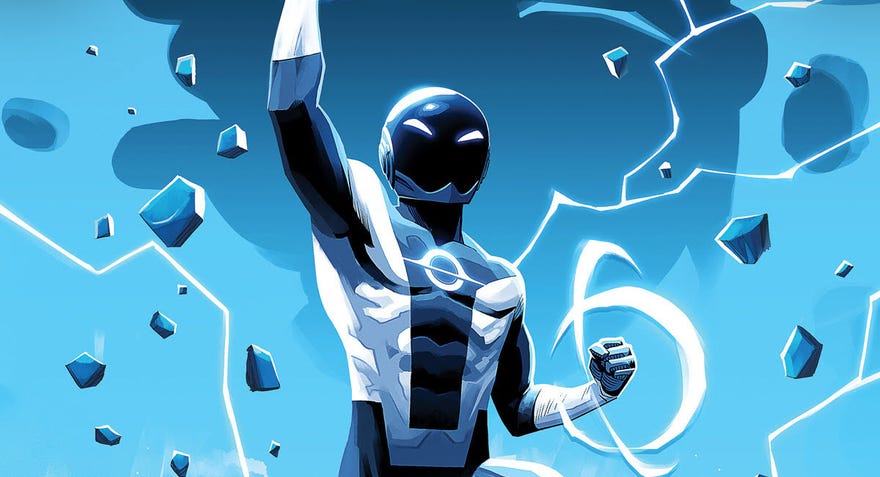 Kyle Higgins has worked on a plethora of licensed books, spanning from Marvel to BOOM! Studios. This includes the likes of Marvel's grounded hero Darkhawk, Marvel's take on the Japanese hero Ultraman that Higgins co-wrote with frequent collaborator, Mat Groom, and DC Comics' New 52 Nightwing. Coming off of the heels of his big Power Rangers run with one of BOOM! Studios' biggest events, 'Shattered Grid', Higgins decided to launch his own superhero universe with Image Comics' Radiant Black.
Image Comics is known for publishing an array of genres, but have also found powerhouse franchises within the superhero genre. First there was McFarlane's Spawn, then there was Kirkman's Invincible, and now there's Higgins and Costa's Radiant Black. A franchise that has not only found success as an ongoing book, but has launched a whole superhero universe that Higgins and his team has penned the "Massive-Verse."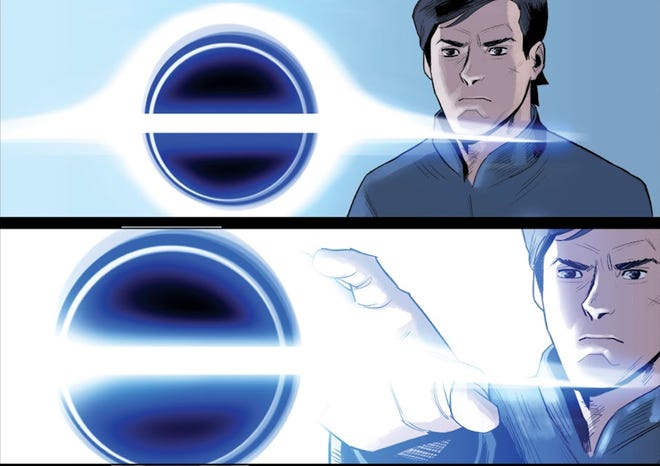 Who Is Radiant Black… and the other Radiants?
Well this is a bit of a complicated question, since there are two Radiant Blacks. The series opens up on Nathan Burnett, a failed writer who is forced to move back to his hometown and live with his parents. While he's down on his luck, fate comes knocking on his door to become Radiant Black, an almost Power Rangers looking suit with a mysterious origin. He embraces this new power and becomes a superhero, helping the citizens of his hometown.
But in issue 4 the title had one of its biggest twists yet, Nathan lands himself in a coma by the hands of the mysterious Radiant Red. The Radiant Black power then transfers into Nathan's best friend, Marshall. These new powers give Marshall purpose. He's finally able to step away from his dead-end job as a video store clerk (yes in 2022) and travel away from the hometown he's been stuck in all his life to become a hero.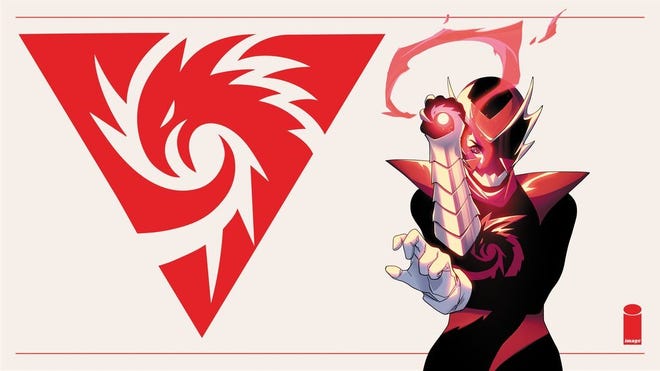 But Radiant Black isn't the only hero in this universe, there's a whole rainbow full of other Radiant heroes. The first issue introduces Radiant Red as a looming antagonist, and in Radiant Black #6 we receive her full origin story. Satomi is a middle school teacher who must balance making her immediate family and fiancé happy. When she receives the Radiant Red suit, she starts stealing money to help pay off her fiancé's debt. Satomi's story spins out into her own Radiant Red mini-series (written by Cherish Chen and illustrated by David Lafuente) to explore these story beats further.
The rest of the Radiant team were fully introduced in Radiant Black #7, which included Radiant Yellow, Radiant Pink, then of course Radiant Red. Radiant Pink received her own origin issue in Radiant Black #12, co-written by Twitch streamer Meghan Camarena). In this issue we learn she's a video game streamer dealing with burn out from social media. Her responsibilities as a superhero furthers this burn out, and starts destroying her relationships.
The only Radiant that hasn't received their own origin story in the main Radiant Black title is Radiant Yellow, but he will be receiving his own comic - set to release later in 2022.
Radiant Black's Powers
Both Marshall and Nathan receive their powers by the cosmic Radiant Black suit. This gives them the powers of flight, super strength, force pushing, and cosmic blasts. With the beginning of year two upon us, Nathan and Marshall are still figuring out the exact details behind their power set.
Even though they share the same look, the other Radiants, that show up throughout the series, also have their own unique powers that include the likes of teleportation and absorbing matter. Not much is known about their overall powerset, since the book is still introducing the team as individuals and their unique heroism, but maybe more will be revealed in their individual spin off stories.
These powers do not belong to their host but instead a mysterious cosmic being, who is haunting Nathan in the current Radiant Black issues. There's still not much known about these creatures, but the biggest glimpse to the Radiants' origin is in Radiant Black #10 where Nathan explores the Existence, an unimaginable infinity beyond space and time. The same faces he sees in his quick visions are shown here in full force.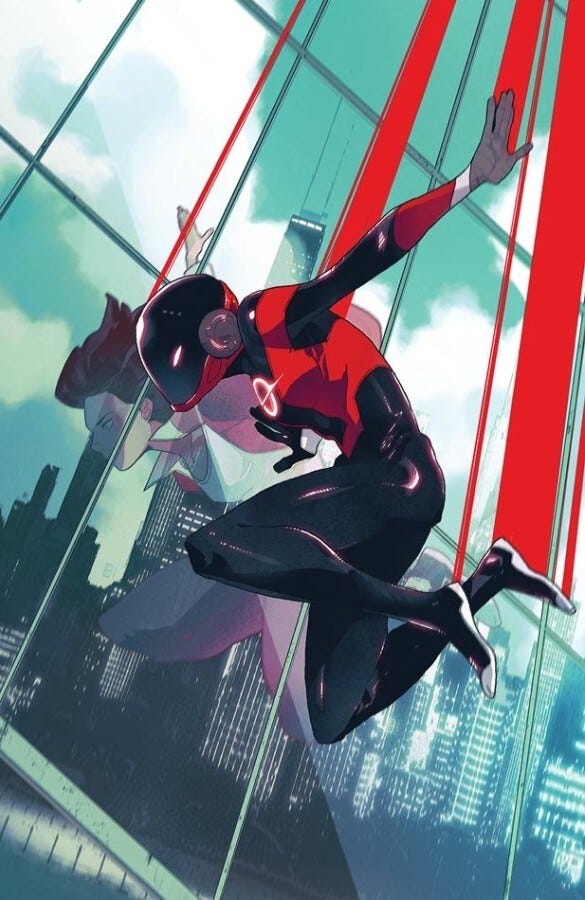 How Radiant Black Is Connected to other Creator Owned Heroes?
As mentioned above, Radiant Black is not the only title that's part of this universe. Radiant Red has her own mini-series that has already hit comic book stands, and there are more plans for Radiant Yellow outside of the main series - including his own series. But what's been extremely inventive, and makes the Radiant Black initiative stand out from the rest of the superhero pack is that the 'Massive-verse' is connecting other creator-owned superhero titles.
In Feb 2022, Image Comics released the Supermassive one-shot co-written by Kyle Higgins, Ryan Parrott, and Mat Groom - illustrated by Francesco Manna, Marcelo Costa, Abel, Simone Ragazzoni, Erica D'Urso, and Melania Palladino. This crossover was an initiative that brought the likes of Radiant Black, Inferno Girl Red, and Rogue Sun into the same universe (for you spec collectors this issue also marks the new heroes' first appearances before the release of their individual titles.)
In March 2022 Ryan Parrott and Abel's Rogue Sun ongoing title debuted at Image Comics. The hero has the personality of Marvel's Flash Thompson in high school and the aesthetic of Darkhawk. Mat Groom and Erica D'Urso's Inferno Red Girl launched a Kickstarter for their graphic novel in March 2021 with the announcement at the back of Supermassive that the book would be hitting the direct market through Image Comics in late 2022. The Supermassive one-shot also teased the introduction of a new hero The Dead Lucky, created by Melissa Flores, French Carlomagno, and Mattia Iacono.
The logo cites Supermassive 2022: does this mean that the publisher has plans for more Supermassive annuals? Well, in only a year time span, the Radiant Black universe has been able to grow into multiple spin-off titles and connect heroes from other indie titles. So, I wouldn't be surprised that Kyle Higgins and his team have many plans for the future of Radiant Black, Rogue Sun, Inferno Red Girl, The Dead Lucky, and the whole "Massive-Verse."
---
Want to figure out what comic to read next? Check out Popverse's guide to all the big summer 2022 comics and graphic novels.