The new Raina Telgemeier graphic novel is penciled! We just don't know what it is yet
The author/illustrator of such YA hits as Smile, Guts, and Ghosts will have a new title out next year, but is keeping it under wraps
Fans of YA graphic novels, rejoice.
Storied author/illustrator Raina Telgemeier's got a new work on the way, and according to her social media, that work is fully pencilled.
In case you don't know, Raina Telgemeier is the mind behind some of the best-selling graphic novels in the past five years, including Guts, Smile, and Drama. These are works targeted at YA readers, but receieve widespread acclaim from critics of all audiences. One of her works, Smile, has even inspired an ice cream flavor from Portland-based Salt and Straw.
The author took to her official Facebook page today to post an update an photo of the completed pages. Don't get too excited though, the picture is only of the pages from the side, not exactly an angle at which you can get much detail. Here's the post: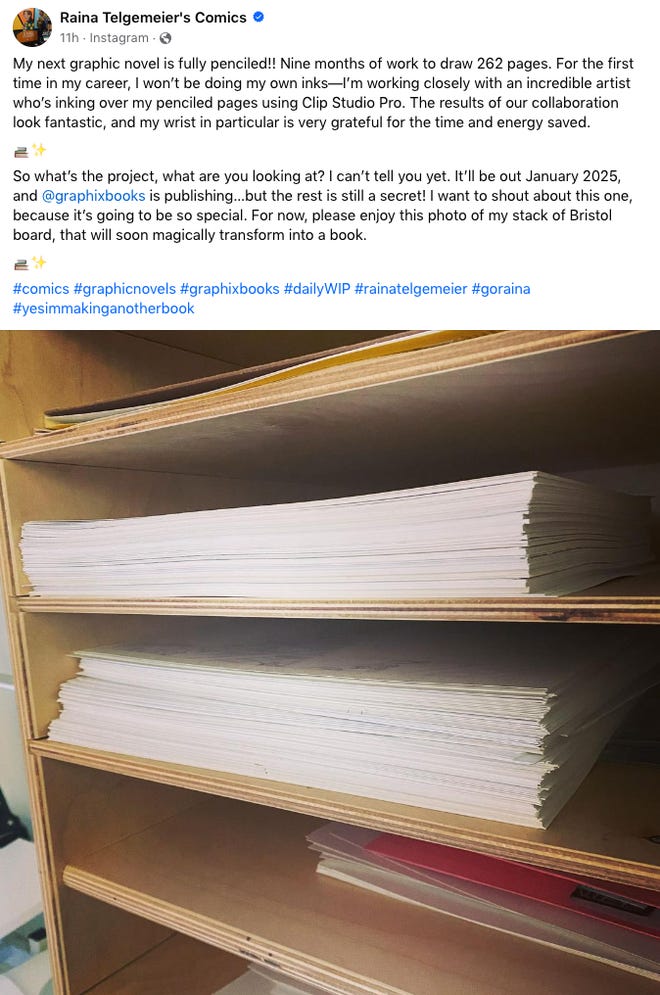 In terms of details, it's not much to go off of, but even with the hints Telgemeier provides, we can infer a few things about the book. First, it will be the longest graphic novel that the author has produced yet, in terms of pages. And second, we can gather from the publisher, Graphix Books, that this project will be in the YA category of graphic novels, a sect Telgemeier has pioneered and championed.
For any more information, we'll just have to hold off until January of 2025, when the new Raina Telgemeier book comes out. And not to get ahead of ourselves, but we're pretty sure it'll be worth the wait.
---
Raina Telgemeier spoke to Popverse just last year about her life as a cartoonist, struggles with anxiety, and more. Check out Raina Telgemeier's interview with Popverse here.