Inside the Rebellion Vault: Rediscovering the secret history of British comics
The publisher of 2000 AD and the Treasury of British Comics has plans for one of the largest collections of English language comics in the world
Somewhere, hidden in deepest, darkest Oxford — okay, the darkness might simply have been the weather when I was there — is a legitimate piece of comic book history. Or, more precisely, multiple pieces of comic book history: the archive of Rebellion's Treasury of British Comics and 2000 AD, which consists of more than a century of back issues, original art, and more.
Easily one of the largest archival collections of comic book history (and almost certainly, one of the most substantial archives of British comic history in particular), Rebellion's archive is predominantly made up of material published by what was one of the largest UK comic book publishers of the 20th century, IPC, and its many alternate names, subsidiary companies, and publishers purchased or absorbed into it across the years. (Including but not limited to Amalgamated Press, Oldhams Press, Fleetway Publications, and many more.) While Rebellion bought long-running British sci-fi anthology series 2000 AD at the start of the 21st century, it wasn't until 2018 that it acquired the complete back catalog of IPC, reuniting what is in effect 130 years of material, and a record of pop culture unlike any other.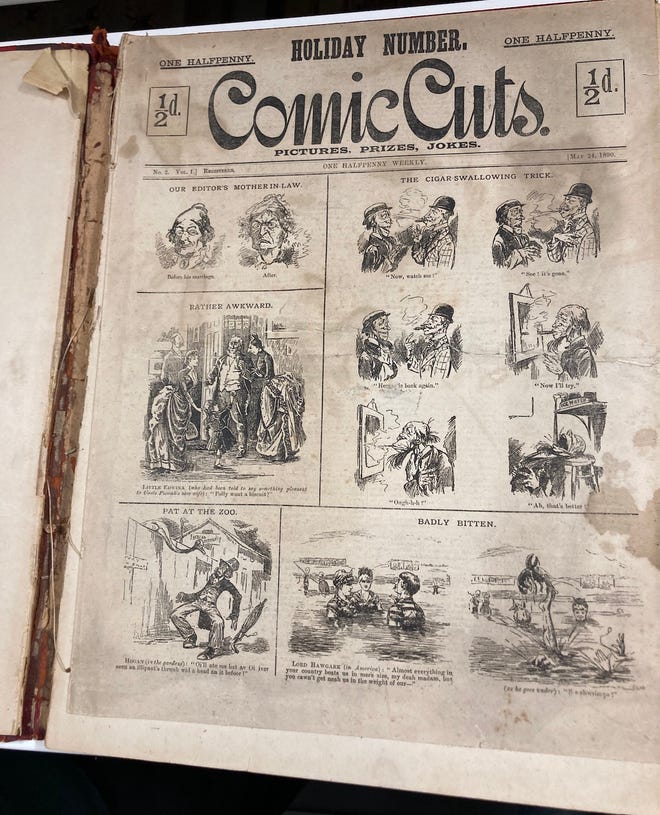 Yes, I wrote 130 years; the Rebellion archive includes copies of Comic Cuts from the 1890s, some of the earlier cartoon papers in the world. To see them — collected in bound editions that are, most likely over a century old in and of themselves, labeled with yellowing paper that they are "library editions" and not to be removed from the collection of a publisher that no longer exists — is a curious experience, because they are at once objects from a distant past and oddly contemporary, using illustration tricks and techniques (and employing a wicked sense of satire) still in use today.
Other bound editions in the climate-controlled archive — which is also moisture controlled, because some of these old comics, and especially some of the artwork, are impossibly delicate — include complete catalogs of the numerous girls' titles that dominated British newsstands for decades in the middle of the 20th century.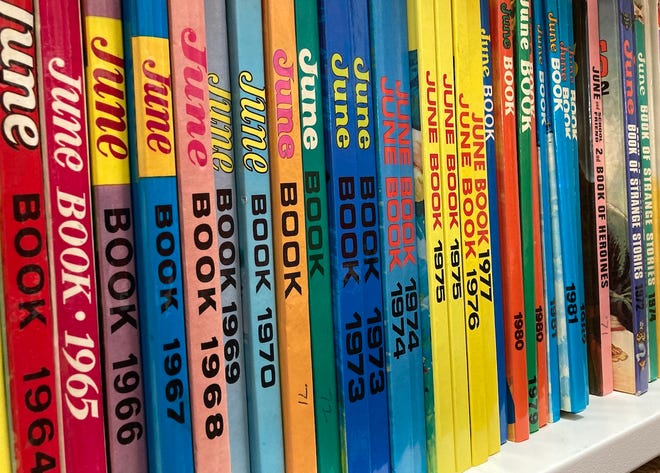 Titles like June, Misty, Princess Tina, Love Story Library and more are some that have been unfairly forgotten or ignored when self-serious "official" histories of comic books have been written in the past, but they're filled with stories as inventive, playful and beautifully illustrated as anything that boys were reading at the time, with a number of famed creators like Pat Mills, John Wagner, and others cutting their teeth on "girls' comics" before using the lessons learned there on everything from Judge Dredd to Third World War and beyond.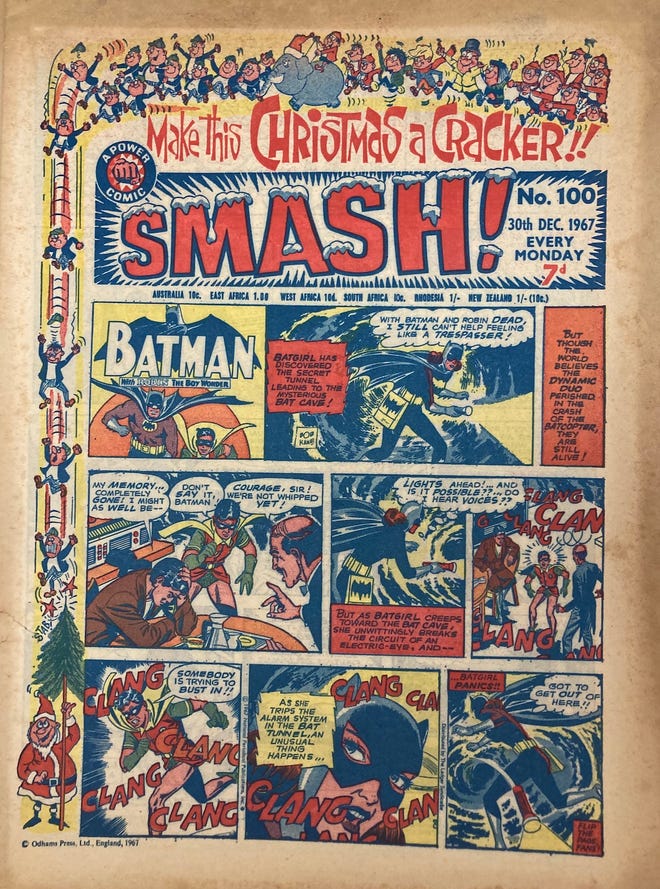 There are further surprises to discover in the vault: copies of series like Smash!, which for many UK readers was their first introduction to American superheroes like Batman to British audiences via luridly reformatted reprints, or Film Fun and Look-In, two anthologies of comic strips featuring actors and celebrities of the era; sadly unlikely to ever be reprinted due to complicated rights issues — the material is co-owned by Rebellion and whoever controls the celebrities or movie and TV properties the strips feature — such comics are nonetheless fascinating barometers of what was popular in the UK at the time, and glimpses into cultures often forgotten by more considered, revisionist records of what people were watching and listening to at the time.
And then there's the 2000 AD archive, which somehow manages not to be overshadowed by decades of history surrounding it. It's not simply that it's a complete collection of one of the most important comics in the English language; there's also a complete collection of the film transparencies for each and every issue, showing the behind-the-scenes details in how they were printed, as well as a host of original artwork purchased by Rebellion to act as a comprehensive record of both the major characters and major creators featured through the title's 46-year run so far. As a lifelong 2000 AD fan, I must admit no small excitement in getting to see original painted artwork by Alan Davis, or a late 1970s Judge Dredd strip by Mick McMahon, the first artist whose Dredd ever saw print.
As undoubtedly impressive as the archive was — and will continue to be, with Rebellion actively working to grow the collection through purchasing other collectors' back issues to fill the gaps, including material published by other companies as examples of contemporaneous work for context — what might have been most exciting about the archive is what Rebellion hopes to do with it in the coming years. While the work is currently still being catalogued by the diligent Tom Duckham, the ultimate ambition is to share it with the world through three primary methods:
Reprints, courtesy of the ongoing Treasury of British Comics publication program; running for a number of years already, the Treasury releases collections of archive material themed by creators, as well as publications
Access provided to educational establishments, with the physical archive being available for access by academics, researchers, or students in the UK by request
Exhibits and physical display of artwork and other ephemera contained in the archive, including Rebellion's participation in the recent Comics Forum exhibit as part of Thought Bubble 2023
The intent, I was told, was not to make the archive a hidden, private collection of material owned and controlled by Rebellion to maintain it as a piece of collective cultural history available to the UK in multiple forms. It's a bold aim, true, but one that feels thrilling to consider the impact of in years to come. Just imagine what having access to all of this history could inspire in the future.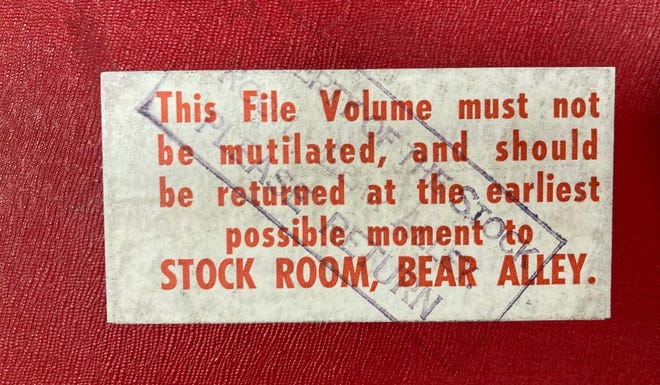 ---
Want to know what's coming up next in pop culture? Check out our guides to upcoming movies, upcoming TV shows, upcoming comics, and upcoming comic conventions. If you're looking for specific franchises or genres, we have all the upcoming MCU, upcoming Star Wars, upcoming Star Trek, and upcoming DC movies & TV for you. If you're a fan of superheroes and not specific to just Marvel or DC, we have overall guides to all the upcoming superhero movies and upcoming superhero TV shows (and new seasons) as well.