ReedPop responds to failure of mask enforcement of NYCC '22: "It was clearly not enough. You can see that for yourself."
Organizers of New York Comic Con have faced criticism for failing to appropriately enforce the mask mandate at this year's show
For clarity, Popverse is a sister company of New York Comic Con under the overall banner of ReedPop.
As New York Comic Con began its four-day run in the Javits Center today, fans were excited to see the return of the largest pop culture event in the country… but there was an element many were expecting to be central to this year's show that was surprisingly absent based on the early hours of the convention.
On September 7, ReedPop announced that New York Comic Con 2022 was going to feature a mask mandate. "We will be requiring approved face coverings for [NYCC 2022] throughout all areas of the show, and we are strongly recommending the use of high-quality masks, such as certified N95, KN95, or KN94 mask," wrote a message from VP of events Kristina Rogers. "At the end of the day, New York Comic Con is the largest pop culture convention in the United States… We feel this is the best way to ensure all of you have a safe and healthy time geeking out with us over the best 4-day weekend of the year."
The reality of the situation has proved to be very different. Throughout the Javits Center today, there was a significant number of attendees, vendors, and even representatives for the show who were maskless, with anecdotal evidence suggesting that more than half of those on the show floor were not wearing masks. In some cases, even those volunteers responsible for reminding attendees to wear masks were, in fact, either unmasked or wearing masks lowered beneath their noses.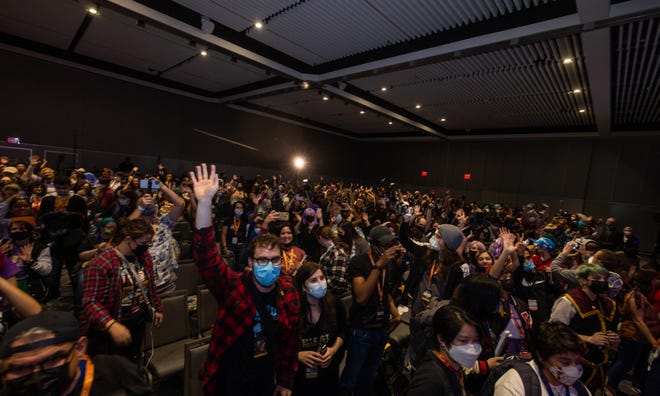 News of the lack of masks at New York Comic Con was quick to spread across social media. "Why so many people without face mask? What's the point of making it a policy if no staffs are enforcing it?" asked one fan on Twitter, with one creator posting simply, "So I guess no one is enforcing the mask policy at NYCC." One Twitter user summed up the attitude of a number of attendees by posting, "Dear @NY_Comic_Con please fix the mask situation and enforce people to wear it. I don't give AF how much they complain. COVID is still high. Thank you."
Anecdotally, Popverse reporters have not seen any level of enforcement either upon entry to the show, nor on the show floor itself, despite plans for both having been put in place by ReedPop prior to the show opening.
The masking situation at New York Comic Con comes after ReedPop's Emerald City Comic Con in Seattle this past September, which similarly required masks. At that show, the number of unmasked attendees was significantly smaller, with the enforcement of the mask policy far more visible and stringent. Earlier in August, C2E2, which ReedPop organizes, was an unmasked show. In contrast, San Diego Comic-Con — organized by Comic-Con International, as opposed to ReedPop — had a policy that required both mask and proof of vaccination in order to enter the convention; that show, too, featured a strong enforcement of the mask rule this past July.
This year's Star Wars Celebration, which took place in May and which ReedPop also runs, was similarly advertised as having a mask requirement as well as a vaccine requirement, though the convention had a lack of mask enforcement on the show floor and within panels similar to what Popverse has seen at New York Comic Con. While attendees were required to wear wristbands to show that they'd provided proof of vaccination at Star Wars Celebration, some attendees noted that wristbands were often not checked on entrance to the convention. During the show, Popverse staff overheard on the show floor multiple complaints from fans about the lack of masks, with one pointing out that the lack of mask enforcement was a disability issue.
When asked about the lack of enforcement of the mask mandate at this year's New York Comic Con, ReedPop's VP of events Kristina Rogers said that ReedPop used the same protocols at New York Comic Con 2021, with the same level of oversight and enforcement in terms of manpower. However, she admitted that at this year's show, "it was clearly not enough. You can see that for yourself." Rogers said protocols had been revisited midway through the first day and promised the number of checks and scale of security and enforcement around the mask issue would be revised upwards for following days. "You'll see a difference tomorrow," Rogers promised. "We got it wrong and we're going to fix it."
Popverse will continue to monitor the story moving forward.
---
Throughout all of New York Comic Con 2022, Popverse is going to be keeping up with everything that happens, from panels and breaking news to interviews and the best cosplay on the show floor. We'll be sharing everything as it happens — including exclusive livestreams from the biggest panels at the show — so let us keep you in the loop all weekend.
If you've enjoyed this coverage, please give Popverse a shoutout by tagging us on @PopverseSays on Twitter, Instagram, or Facebook, or linking to us at www.thepopverse.com.