Marvel reunites with its lost spaceknight ROM in surprising HASBRO team-up
A piece of classic Marvel Universe history will be restored with the first reprints of the 1980s comic
Lost to licensing issues for decades, Marvel Entertainment has announced that a central piece of its '80s history is returning, with the new that it will be reprinting and collecting Bill Mantlo's ROM: Spaceknight for the first time, starting in January 2024.
Based on the Parker Brothers toy — now owned by Hasbro, which has controlled the property since it bought Parker Brothers in 1991 — ROM: Spaceknight was a licensed comic book series for Marvel that was, nonetheless, pretty important to the Marvel Universe as a whole for the length of its run. It was ROM that was responsible for the Dire Wraiths, the shape-shifting alien invaders that would go on to appear across the Marvel line in 1984 in one of the first inter-title crossovers of '80s Marvel, with the so-called 'Wraith War' running through issues of ROM, Avengers, Uncanny X-Men, and Incredible Hulk years ahead of the Mutant Massacre, Fall of the Mutants or any similar storyline; it was even a year in advance of Secret Wars II, of all things.
ROM would also appear as a guest in a number of other Marvel titles, including Marvel Two-in-One, Power-Man and Iron Fist, and Incredible Hulk — with his appearance in that last title having previously been a significant problem with Marvel, in that he shows up during an important Hulk storyline that has been unable to reprint in its entirety because of ROM's appearance. He's there as the Hulk loses Bruce Banner's intelligence in the run-up to the series' 300th issue; the issue is currently available on Marvel Unlimited in a truncated form that replaces the actual comic with a text write-up working around actually naming ROM; the first page of that version looks like this: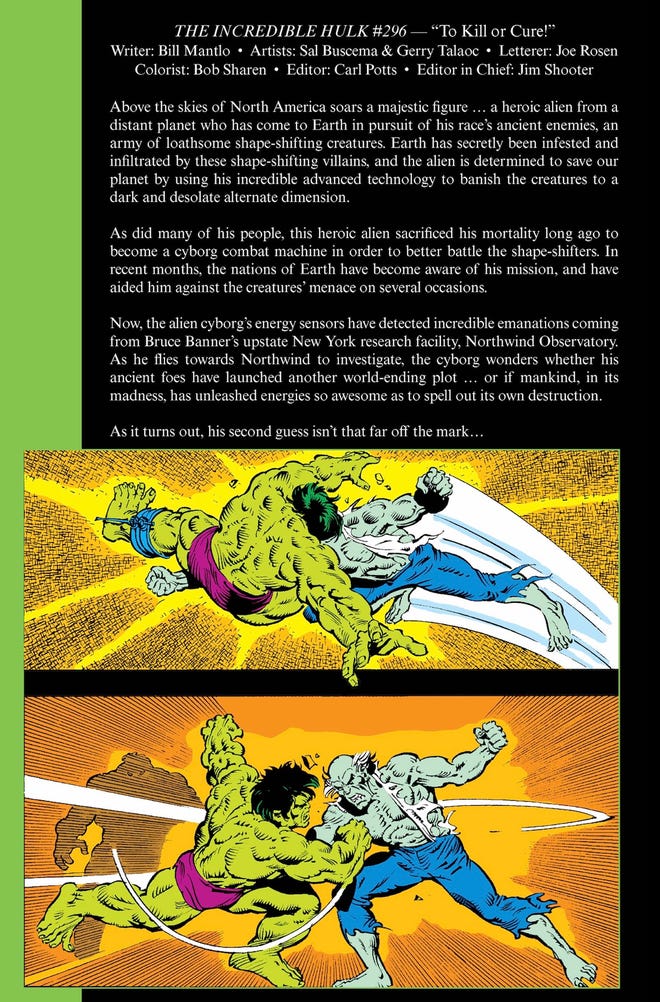 (The issue is available in full on ComiXology, curiously enough.)
ROM as a series in itself was filled with a number of Marvel Universe guest-stars, with fan-favorite character Rick Jones becoming a permanent member of the series' supporting cast midway through the run. As a piece of comic book history, it's also arguably one of writer Bill Mantlo's most beloved extended works, alongside the similarly out-of-print-for-licensing-reasons Micronauts, another 1980s Marvel series based on a Hasbro property. With Marvel and Hasbro working out a deal for ROM to return, perhaps a Micronauts revival is only a matter of time…
It's also worth remembering that no publisher has been announced as taking on either the Transformers or G.I. Joe comic book licenses, both of which are some of Hasbro's primary properties, since IDW lost them last year. Could ROM's revival at Marvel hint at both properties returning to the publisher that launched them in comics way back when...?
Marvel's first 'new' ROM release will arrive in September, with a fascimile edition of 1979's ROM #1 by Mantlo and Sal Buscema, with a cover from Frank Miller. Then, in January 2024, ROM: The Original Years Omnibus Vol. 1 will collect the first 29 issues of the original ROM series alongside Power Man and Iron Fist #79. Previous license holders IDW Publishing hadn't been able to collect or reprint the majority of these issues because of the preponderance of Marvel characters therein; these issues really have been lost to comics history for the past four decades.
It's taken a long time — like, a really, really long time — but finally, fans old and new will be able to enjoy some classic Marvel action featuring an alien whose head looks like a toaster oven. Honestly, that's all some of us have wanted for all these years.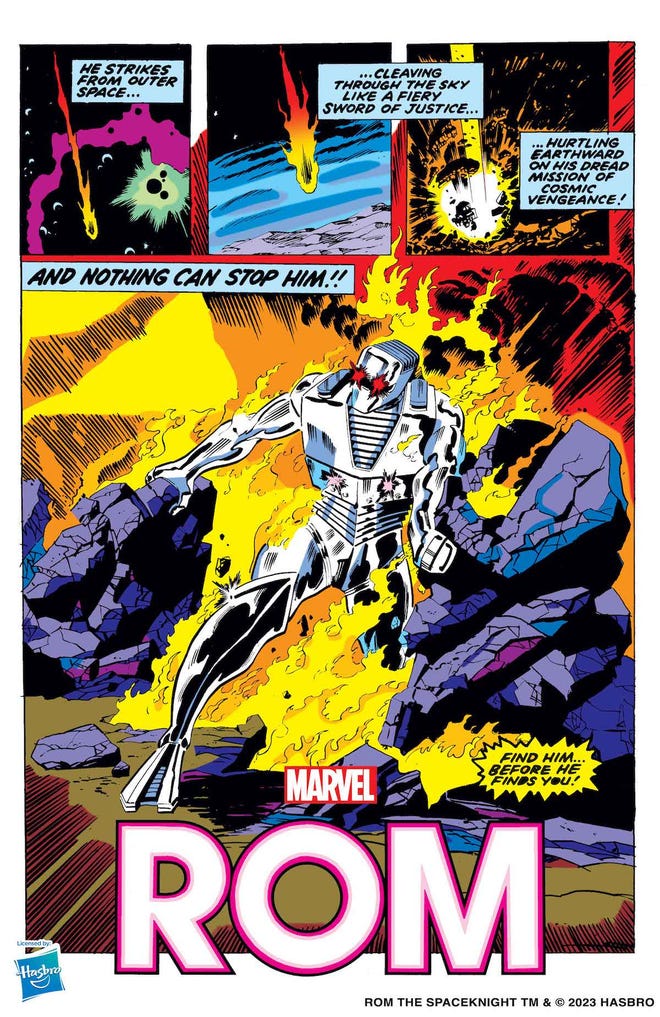 ---
Another core '80s Marvel title departed the publisher anew last year, as Conan went from Marvel to Titan Comics for future comic book adventures.