Sabrina the Teenage Witch gets two new nemeses this summer, courtesy of Archie Comics
Meet Jade and Sapphire: they're here to cause trouble for Sabrina Spellman
Last year saw the introduction of Amber Nightstone to the world of Archie Comics' Sabrina The Teenage Witch, as the teenage witch celebrated her 60th anniversary by meeting her nemesis for the first time. This summer, Amber's back — and she's brought her best friends along to cause even more trouble.
Popverse is proud to reveal Jade Kazane and Sapphire Gill to the world with an exclusive art reveal of the two new villainesses, created by Archie Comics' senior director of editorial Jamie L. Rotante and artist Holly G!.
This September sees the release of Sabrina The Teenage Witch Annual Spectacular #1, a 32-page one-shot featuring the introduction of Amber's fellow members of the Wicked Three: Jade Kazane and Sapphire Gill. Together, the trio are planning to kidnap magic-doers in an attempt to build their own power base, leaving Sabrina to save the day… although she might need some help to do it.
"We saw such an enthusiastic reaction to new Sabrina villain Amber Nightstone that we had to go back and see who else she hangs out with. Enter The Wicked Trinity," explained Archie Comics editor-in-chief Mike Pellerito. (Amber's debut in Sabrina Anniversary Spectacular #1 sold out and was rushed back to press immediately.) "Sapphire and Jade are two new witches who love to be bad, but in a different way from Amber so it makes for some fascinating story angles to come that we're excited to explore. Jamie's story is a great introduction to these two and Holly's art is always magical."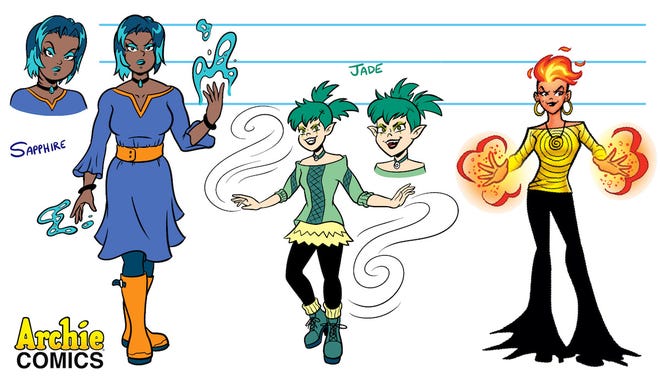 That last part might not have been intended as a double-pun, but it is: "I have always been so proud to muse that I may be the first fully functioning witch drawing Archie's Teenage Witch!," Holly G explained, adding that it's the first time in "nearly 20 years" that she's penciling Sabrina.
"When I received Jamie's script, I felt like I was dropped into this epic dangerous spellventure! I met these two new witches, Sapphire and Jade, and I just love their designs and energy," she continued. "Jade is this feisty pixie, a force of nature — don't judge her by her size! (Should I have said that in Yoda-speak?). Then there's Sapphire; she isn't anyone's puppet. She wants a place at the table, working with other witches to get the power she craves. For Sapphire, I wanted to channel the energy of someone self-confident, so I picked Megan Thee Stallion!"
"I'm always ecstatic when Mike asks me to write a new story, especially if I get the chance to help introduce new characters to the Archieverse," Rotate said about her part in the story. 'It's an honor to get to work on a Sabrina story, and even more so to expand the witch world! Amber Nightstone's introduction last year was such a fun and necessarily addition to the magic realm, and I cannot wait for everyone to meet her two new sidekicks — but something tells me Jade and Sapphire won't hide in her shadows for long!"
Sabrina The Teenage Witch Annual Spectacular #1 will be in stores September 6.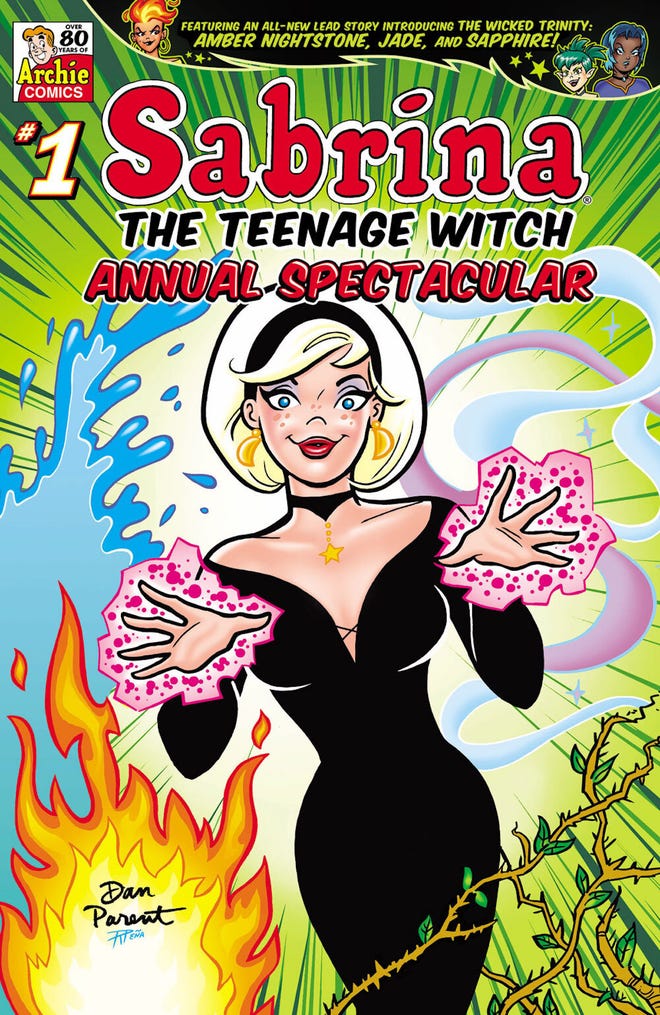 ---
Last year, Archie also announced the addition of Cassie Cloud to the Archie Comics line-up.