Fans, bans, and comics storytelling: 30 years of the Comics Arts Conference
During The Comics Arts Conference Poster Session at SDCC, academics present research on the interplay of comics and society
Bringing academia to Comic-Con
Comics scholars, professionals, and enthusiasts gathered at the 2022 Comics Arts Conference (CAC) Poster Session during the afternoon of Saturday, July 23, at Comic-Con International: San Diego.
"If this is your first time experiencing the poster session, please note that it is not your typical programming," says CAC co-organizer Dr. Kathleen McClancy from the onstage speaker's podium at the top of the event. "Instead of a panel sitting up here dictating to you what you should think, our presenters are scattered around the room so that you can check out their posters, see their works, and ask them questions about their work on a one-to-one basis."
McClancy also reminds presenters to walk around. "Don't feel like you have to be married to your poster," says McClancy. "Please circulate and read the posters of others. Have a good time!"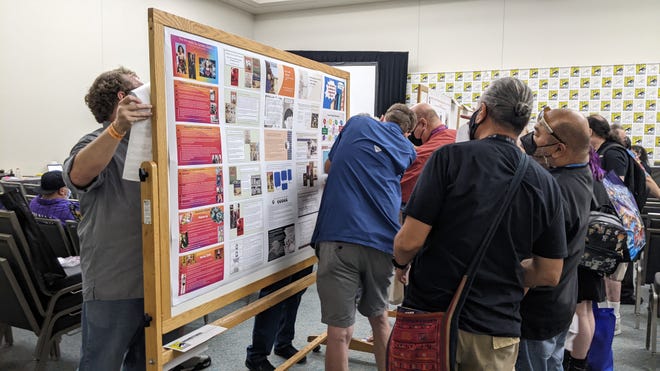 An ambient hum of voices follows as presenters interact with attendees who move from poster to poster on a presentation crawl around the room. Printouts of comics imagery with research data are posted with thumbtacks and tape on nine bulletin boards that are set up end-to-end and single file down the center and left aisles of the room's rows of seats. It's an intentionally analog and makeshift operation, as the room must be easily reset at the end of the program for the traditional panels that follow on the day's schedule.
CAC was originally founded in 1992 by Dr. Randy Duncan, professor of communication and director of the Comics Studies Program at Henderson State University, and Peter Coogan, director of internal operations at the Institute for Comics Studies at Washington University in St. Louis. It is considered the first ongoing conference dedicated to comics scholarship, and it included Will Eisner and Scott McCloud as presenters in its inaugural year.
"I know Steve Bissette from when I first taught him in Vermont. He said, 'My friend Scott is working on this book and he wants to do a Powerpoint presentation on it.' So, we got a Powerpoint presentation of Understanding Comics," shares Duncan, who counts this year as his last on the organizing committee, which includes Coogan, McClancy, an associate professor in the Department of English at Texas State University, and Dr. Travis Langley, distinguished professor of psychology at Henderson State University.
"I always said that I would do it until the 30th anniversary," says Duncan. "It kind of went quickly, and it was a lot of fun."
The poster session came out of a need to include more academics.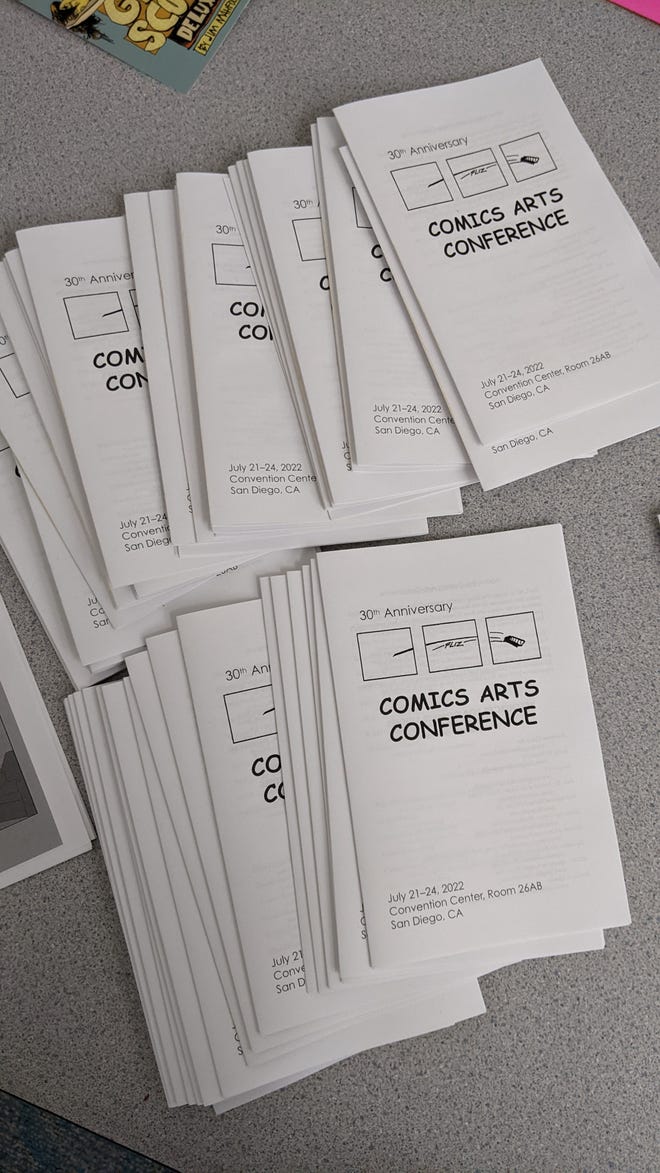 As the conference grew in significance in the academic world, so did interest to participate, particularly when CAC partnered with Comic-Con International in 1998.
"What happened was we were getting more and more people who were sending abstracts," says Duncan. "It's a popular conference because you get a pro badge to go to the con."
So the organizers converted one hour-and-a-half slot in their Saturday block of programming into a poster session. This allows them to give more comics scholars access to the conference and Comic-Con. As many as 18 additional scholars are invited to participate through the poster session, which is about three times more people than would be accommodated if the organizers filled the time with one more panel or roundtable. The poster session has been part of CAC programming for about 20 of its now 30 years of existence, and has been hosted in Room 26AB at the San Diego Convention Center since at least 2013, according to the earliest Programming Schedule available on Comic-Con's website.
This year's poster session
This year's session featured 18 studies, including 'It Doesn't Matter if You Read the Comics or Watched the Movie: Comics and Movie Fans,' a study out of California State University, Long Beach, investigating the preference consumers have for inclusive content co-presented by Maricela Correa-Chavez and Yvette Apatiga; 'From Fiction to Fact: How Current Comics and Graphic Novels Reveal Truth and Address Social Justice' co-presented by Barbara Glaeser from California State University, Fullerton, and Andrew Sanchez from the Osher Lifelong Learning Institute at California State University; and 'What Does it Mean to Ban a Book in 2022? Maus, Challenges, and Access' by Cathy Leogrande from Le Moyne College.
"It's really interesting because from what I've seen, academics and non-academics tend to ask similar questions in different ways. They're just structured differently," says Joie Magalona, a graduate student co-presenting with fellow graduate student Michelle Zernick on the topic Comics and Graphic Novels and Sexism, Oh My! The Relation Between Consuming Graphic Storytelling and Endorsing Sexist Beliefs, a study conducted out of California State University, Long Beach. "An academic will say, 'How did you operationalize this? How did you measure this construct?' And someone that's not an academic will ask questions for details about that construct or idea. So, it's kind of like we're answering the same questions, just tailoring them to different audiences."
Like most of the presenters in this year's poster session, Magalona and Zernick are part of a larger research team whose poster proposal was accepted for the 2020 edition of CAC at Comic-Con International. When the pandemic hit, CAC organizers gave participants the option to rollover their attendance to the year the full show would reconvene.
"It's really exciting, and a lot different than the other conferences we've gone to," says Zernick. "We usually go to academic ones, so going to this one is huge. One convention center and two hotels—it's pretty fun."
---
Comics Arts Conference is seeking proposals from creators, editors, publishers, retailers, journalists, historians, and academics on a broad range of scholarly perspectives about comics for CAC 2023, which takes place during WonderCon in Spring and Comic-Con International in Summer. Proposals are due on December 1, 2022 to be considered for CAC at WonderCon, and February 1, 2023 to be considered for CAC at Comic-Con International. CAC's poster session is only hosted during Comic-Con International.
---
Read about everything major that happened at this con with Popverse's comprehensive San Diego Comic-Con round-up.