Scarlet Witch cosplays that will make you believe in magic
With the premiere of Marvel's WandaVision on the horizon, here are 10 Scarlet Witch cosplayers.
WandaVision is set to premiere today on Disney+, and comic fans couldn't be more excited. The anticipation for this show has been bubbling since the release of the fantastic trailer depicting a theme of sitcoms over the decades. Elizabeth Olsen and Paul Bettany are returning to their cinematic superhero roles as Scarlet Witch and Vision.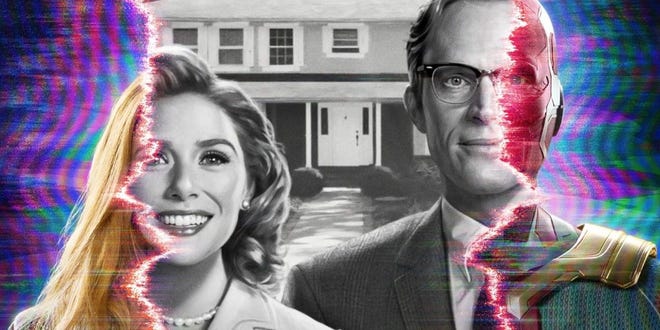 Scarlet Witch is known in both the MCU and in the comics for her immense power and fragile psyche, and with the death of her partner Vision, it has fans questioning what is reality or what is not. What is undeniably real is how many new costumes we are getting from this show.
Speaking of, this wouldn't be the first time Scarlet Witch has had a costume change. Considering her comic debut in March of 1964, Wanda Maximoff has gone through at least ten costume variants. We've compiled a list from both the MCU and the comics to present some of our favorite cosplays of Scarlet Witch.
10. Supersailorvirgo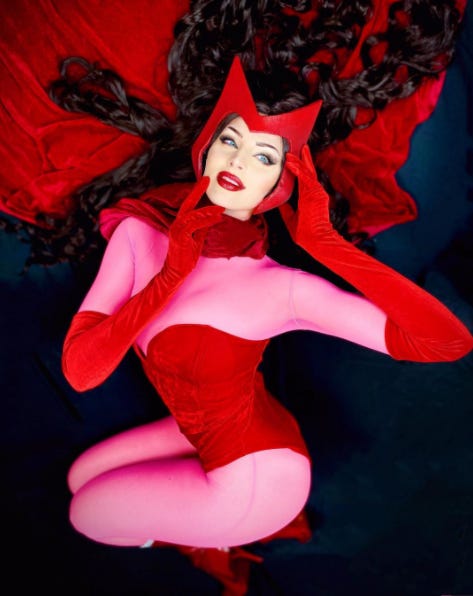 SuperSailorvirgo is serving looks with this accurate comic version of Scarlet Witch. Deemed as the most popular suit for our heroine because of how many times it has made a comeback, here is what makes it so famous. We've got the pink undersuit, red bodysuit, gloves, the iconic headpiece, and those gorgeous latex boots.
A comic to check out with Wanda Maximoff wearing this variant is in Steve Englehart's 1974 classic, Giant-Size Avengers #4. This is the issue in which Scarlet Witch and Vision finally tie the knot.
9. Yayahan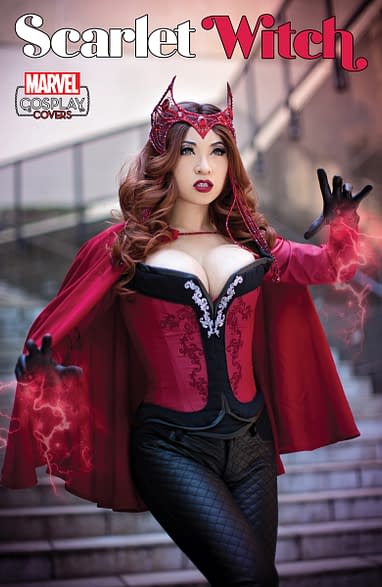 Yayahan is striking in this Scarlet Witch ensemble from Marvel's 2015 Scarlet Witch comic series where witchcraft is broken, and it's up to Wanda Maximoff to fix it. Yayahan was part of Marvel Cosplay Covers, which inspired her to make this iteration of the costume for issue ten of the comic series. Her favorite part was creating the bejeweled crown that she embroidered.
8. Lolainprogress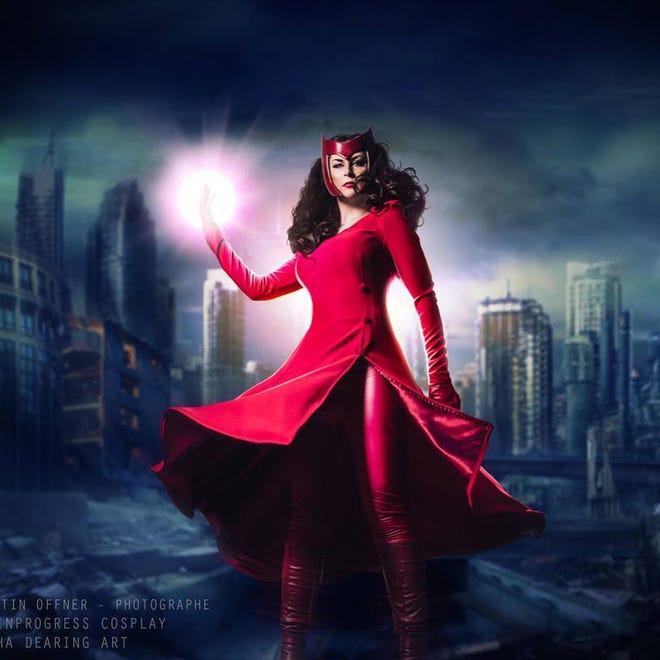 Lolainprogress dresses to impress in this classic, dare we say niche, version of the character. This is one of Wanda's more relaxed styles, but it still has her recognizable red touch.
In Young Avengers, Billy and Teddy seek out the Avengers for assistance and, of course, our favorite magic-wielder is on the case. Interesting enough, Wanda isn't a mutant. She ordained her powers as a baby and was taught sorcery from a witch named Agatha Harkness. Let's hope she doesn't utter her most renowned line from the comics "no more mutants".
7. Takeachancecosplay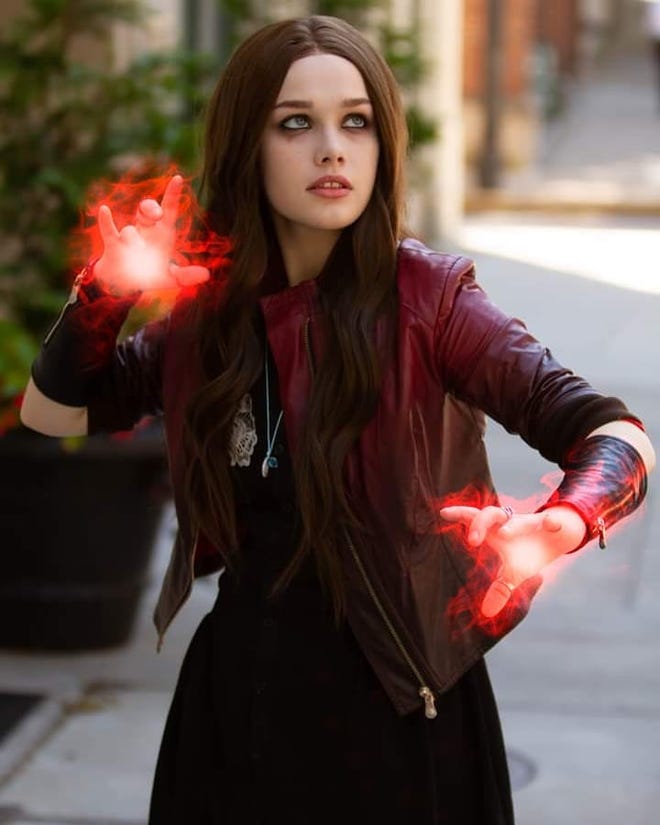 Takachancecosplay is taking us back to when we first met Scarlet Witch in Avengers: Age of Ultron, and we couldn't be happier. Since Wanda Makimoff is in the beginning stages of her journey, she doesn't have an actual suit.
Instead, she's sporting a black dress and a gorgeous red leather jacket, which was a tribute to what was to come for this character's future style. We love the edit on this image from takeachancecosplay as well as her eye makeup.
6. CaptainKayceecosplay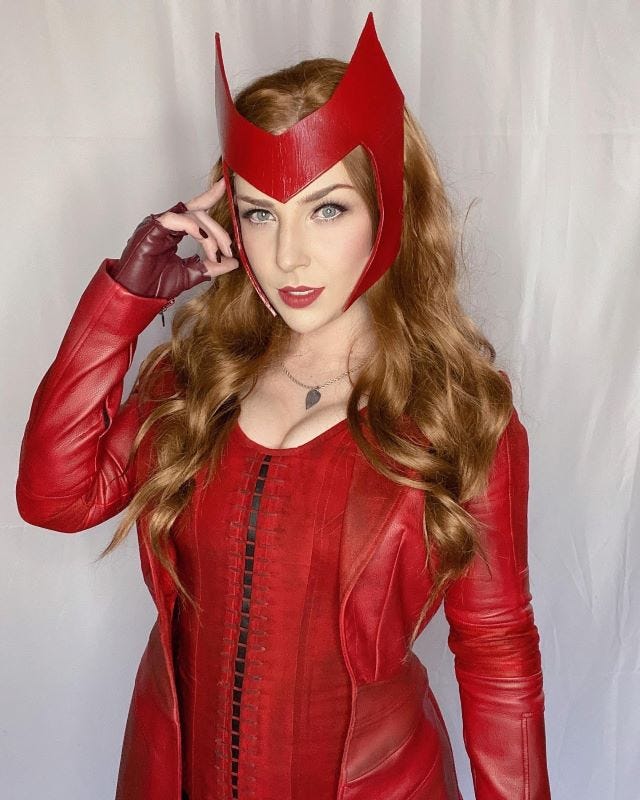 We love a good mashup, and CaptainKayceecosplay blew us away with this one! She paired the Avengers Endgame look with Scarlet Witch's signature headpiece from the comics. CaptainKayceecosplay mentioned that the headpiece design was modeled after the one from the WandaVison trailer. The sheer talent.
In her caption for this photo on Instagram, she acknowledges how the magnet in her headpiece broke as she was taking pictures. This didn't even phase the cosplayer as she dished out these phenomenal images.
5.Faithnomoar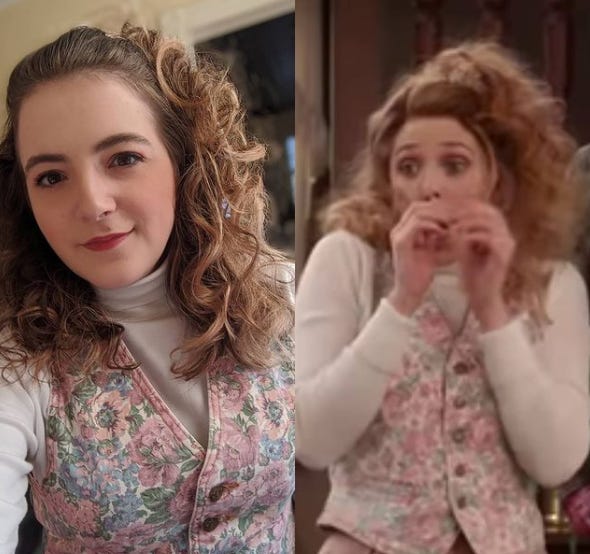 Faithnomoar blew us away with this cosplay mostly because WandaVision isn't out yet, and she made this character-accurate outfit just by capturing stills from the trailer. Impressive. Most impressive. We love the texture of the vest and that incredible 80's hair. Faithnomoar does plenty of character recreations on her page, but this one is by far our favorite.
4. Minakess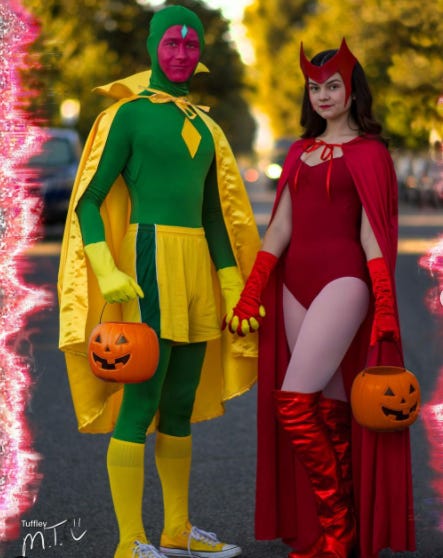 Minakess and her partner Aaron have us swooning. This is what we mean when we say couple goals!! They took inspiration from the 2020 trailer of WandaVision for their Halloween costumes, and it's phenomenal.
Did you know that Vision wasn't the only love interest for Scarlet Witch in the comics? Hawkeye also had his eye on her but eventually put his feelings aside, and thus Vision and Wanda married. Minakess is an incredible creator and actor. She displays these talents in her cosplays and on TikTok.
3.Scarletscosplay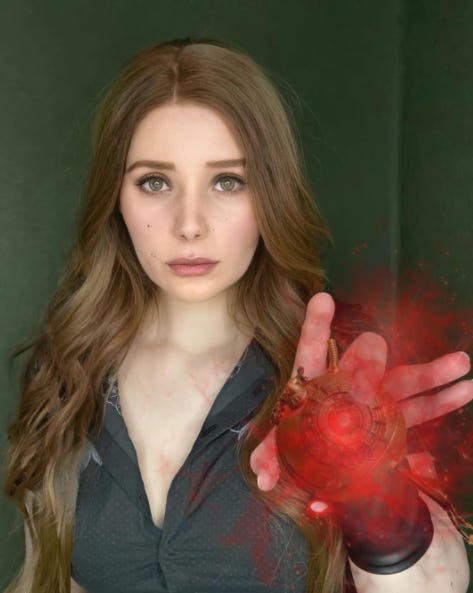 We know what you are thinking: This has to be Elizabeth Olsen. It's not! It's her sister from another mister, Scarletscosplay. An absolute dead ringer for this character, Scarletscosplay is wearing a dress and gloves made by Shalizaa_clothing to replicate this Age of Ultron look. Recently, she posted on her story showing the four new Wanda Maximoff looks she will be creating and we can't wait!
2. Iamcardib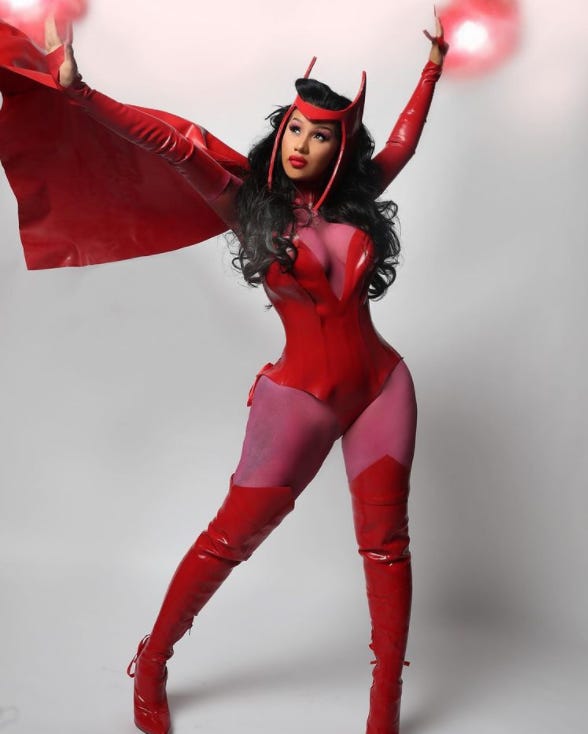 We were blown away that Cardi B dressed as Scarlet Witch for Halloween, and we couldn't be happier. She is slaying the game, and we are here for it. Having a team of designers and the financial stability to create a cosplay this great would be an absolute dream. Let's hope Cardi B continues to serve up some fantastic cosplays.
1. Retrogradoffcosplay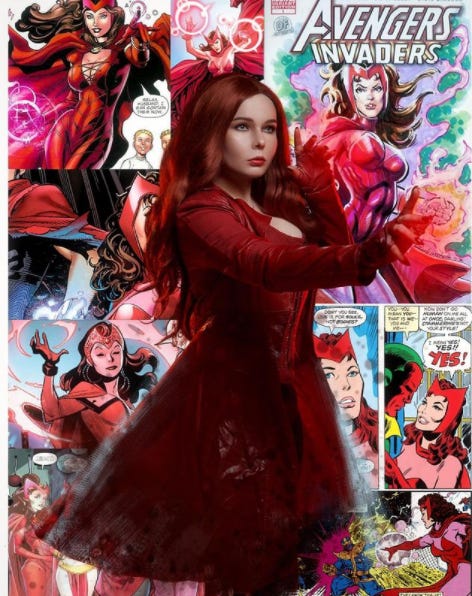 Our end game is Retrogradoffcosplay, and we couldn't be more blessed. We love this replica pose from the movie posters and the comic covered background of our favorite heroine. What makes this cosplay unique is retrogradoffcosplays caption on the discussion of psychology and perspective. There are some similarities between Scarlet Witch and Retrogradoffcosplay as they are both from Russia.
Fun fact, in the MCU Scarlet Witch noticeably loses her accent from training with Black Widow to become a spy and to become less recognizable in public since she is on the run.
BONUS: Magissacosplay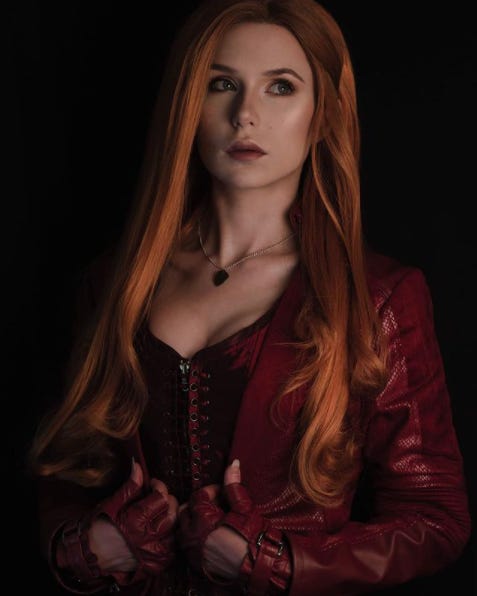 The portrait queen of our dreams is here! Magissacosplay is exceptional in her Avengers: Endgame cosplay. She shoots her own self-portraits and edits them. This isn't the only cosplay Magissacosplay has done of Scarlet Witch, and we can almost guarantee it won't be the last. Her page is filled with beautiful portraits like this one; see it for yourself.
WandaVision premieres January 15th on Disney+.