Marvel's Scarlet Witch: Here's how to cosplay as the MCU Wanda Maximoff
If you want to cosplay the Scarlet Witch's Halloween episode look, then we have the guide for you.
With the season finale of WandaVision already here, we are wiping our tears on our crimson capes and readying our sewing machines. The Disney+ series stars Elizabeth Olsen and Paul Bettany as newlyweds Wanda and Vision. Their fantastical and heart-wrenching journey through sitcom decades is ending. Spellbinding episodes will no longer fill our Friday nights. Director Matt Shakman tells fans that there aren't any proposals for a season two. According to Shakman, creating and concluding this story in nine episodes was the plan all along. However, Shakman has said "that could all change," so here's hoping for a season two.
With our lamenting over, WandaVison has been a rollercoaster of a series, and through the show's decade hops, we've seen some incredible wardrobe pieces. But everyone's fan-favorite look has to be the Sokovian Fortune Teller, AKA a knock-off of Scarlet Witch's classic version of her super suit from the comics. This costume's debut was in episode 6, 'All-New Halloween Spooktacular,' where Wanda and her family enjoy the holiday's tricks and treats.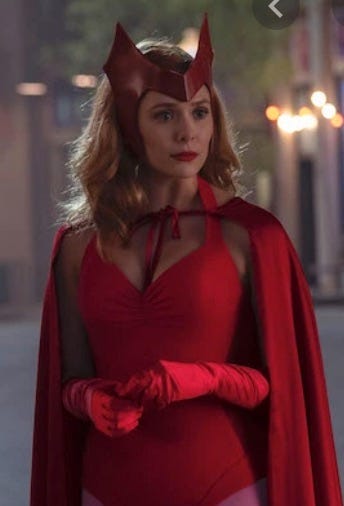 If you are like Wanda and can magically change your outfit with the snap of a finger; kudos to you. But if you're non-magical like the rest of us mere mortals, here is a guide to recreate your own version of the fantastical witch's wardrobe.
The guide will have two sections:
Buyers Guide:
Creators Guide
No matter which guide you choose, we are happy to help create your cosplay.
Buyers Guide
Our guide is mostly Amazon finds. A lot of these individual pieces can be found at a local Halloween store or Department store. Also, check out a thrift shop; you never know what fabulous cosplay pieces you will find! And never forget to look in your closet for Halloween costumes from seasons past (there could be some real gems in there). - If you plan on physically going to places, remember to mask up, social distance, and bring that hand sanitizer.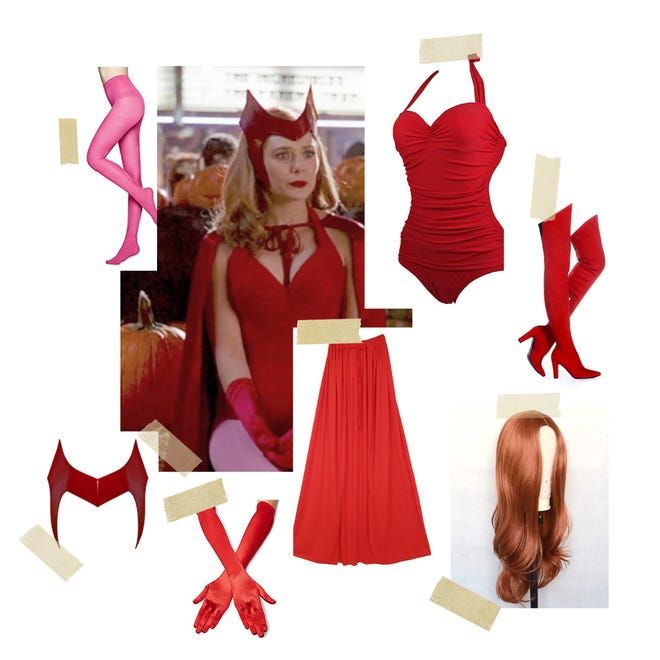 Wanda's costume is pretty easy to replicate. Based on her comic-accurate variant, Wanda sports a red bodysuit, a crimson cape, and of course, her faithful spiky headpiece. Some honorable accessory mentions include her red thigh-high boots and gloves, opaque tights, and a little bit of magic - just kidding, we can't infuse you with magic; you have to be born with it, sorry.
We also included where to buy a wig that would mirror Wanda's gorgeous hair. The hair in this episode is meant to resemble Rachel Green's hair from the popular sitcom Friends. The only modification would be trimming the copper wig to get that refined length. So with a quick cut and curl, this wig can be cosplay accurate. Not sure how to properly cut a wig? We got you covered; here are some wig tips and tricks.
The red bodysuit we recommend is actually a swimsuit. It provides a practically perfect rendition to the bodysuit despite having a different fabric. Wanda's costume purposefully looks like a store-bought costume because it is Halloween. In the world she's manifesting, these players would purchase their costumes already constructed, or they would be handy-me-downs. However, since all of this is manufactured by Wanda, she put a bit of work into her own costume. Just look at that gorgeous headpiece.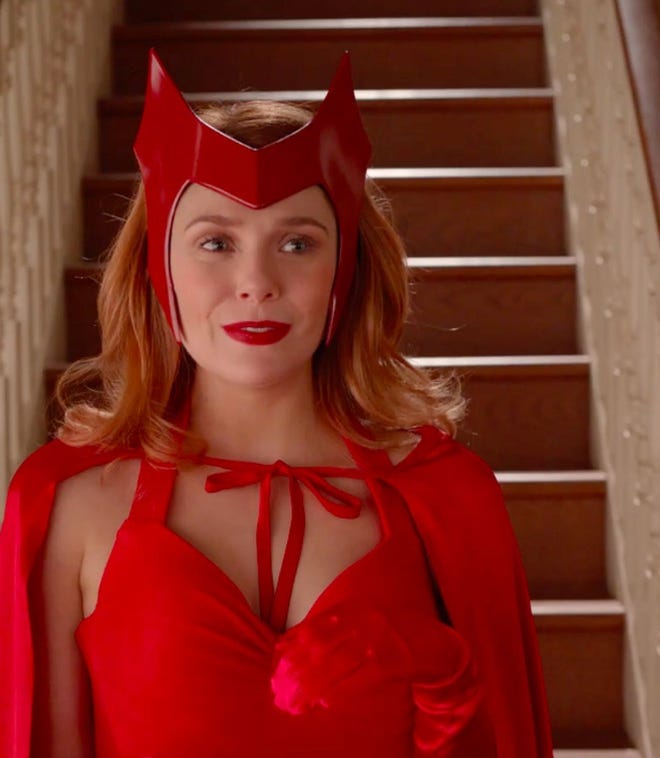 Isn't it glorious? For a fast purchase at a reasonable price, Mad Masks is the place to go to get your stunning replica of this master headpiece. Pro-tip: Purchase the option with the hidden adjustable strap to help the headpiece stay on better. This company is super reliable, and their masks are made to last.
Once we get to the accessories part of Wanda's costume, things start to get miraculous. As always, we try to keep our buyers' guide affordable. The cape, tights, and gloves are pretty inexpensive, but those shoes are a tad pricey. If the boots are the only thing making you shy away from this cosplay, don't buy them yet, the outfit doesn't necessarily need them. Convention season is a bust due to the pandemic, and if you are purchasing the costume now to only photograph in it, take pictures from the thigh up, and no one will know if you have the shoes or not.
Bonus buy: The scarlet red lipstick Wanda wears is Pat McGrath's MatteTrance in Forbidden Love.
If you are nervous about the different shades of red throughout your cosplay, don't be. Again, this cosplay is based on a knockoff version of Scarlet Witch, and things are supposed to look imperfect. If you want to push your crafting skills, continue to the creator's guide, where we've included patterns for sewing a cape, constructing a boned corset, and a guide for making Scarlet Witch's signature headpiece.
Creators Guide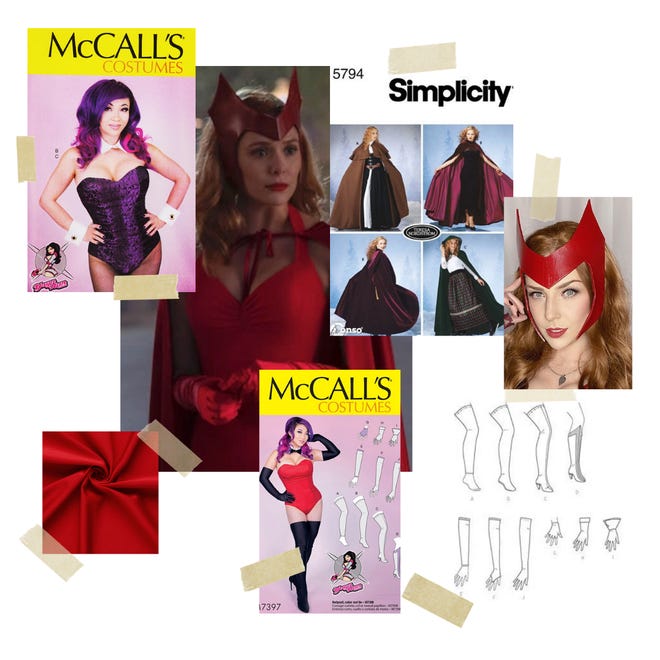 Starting with the red bodysuit, McCall's Costumes Patterns offers a fantastic corset bodysuit designed by cosplayer Yaya Han. That's right, her crafting and sewing expertise is so impressive that McCALL'S wanted to collaborate with her to create patterns accessible to other cosplayers. To replicate Scarlet Witch's costume, this figure-enhancing boned bodysuit does the trick. However, the pattern's missing the straps, which is an easy fix. The straps on the bodysuit are considered to be a halter design. With a yard of fabric, use a measuring tape to cut out two fabric swaths three to four inches wide. Fold the fabric over to your desired size and iron it. After that, sew the sides of the fabric together to make a long flattened tube. Sew the two end pieces to the front inside of the bodysuit and viola! You've done it!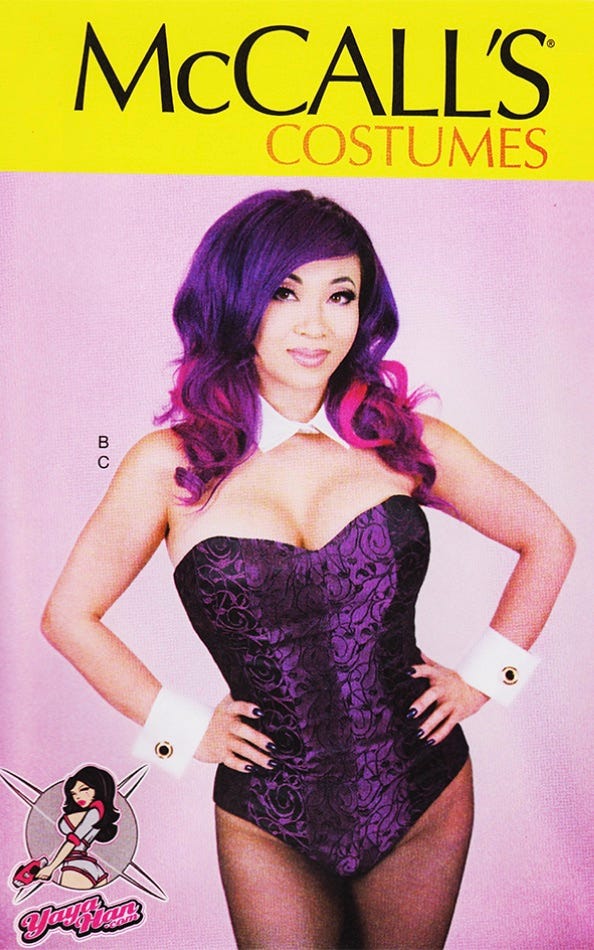 Yaya Han also created an accessory guide ideal for creating specialty designs like Wanda's gloves and thigh-high boot coverings. It is a one size fits all pattern; thus, sizing may require adjustments during your sewing stages.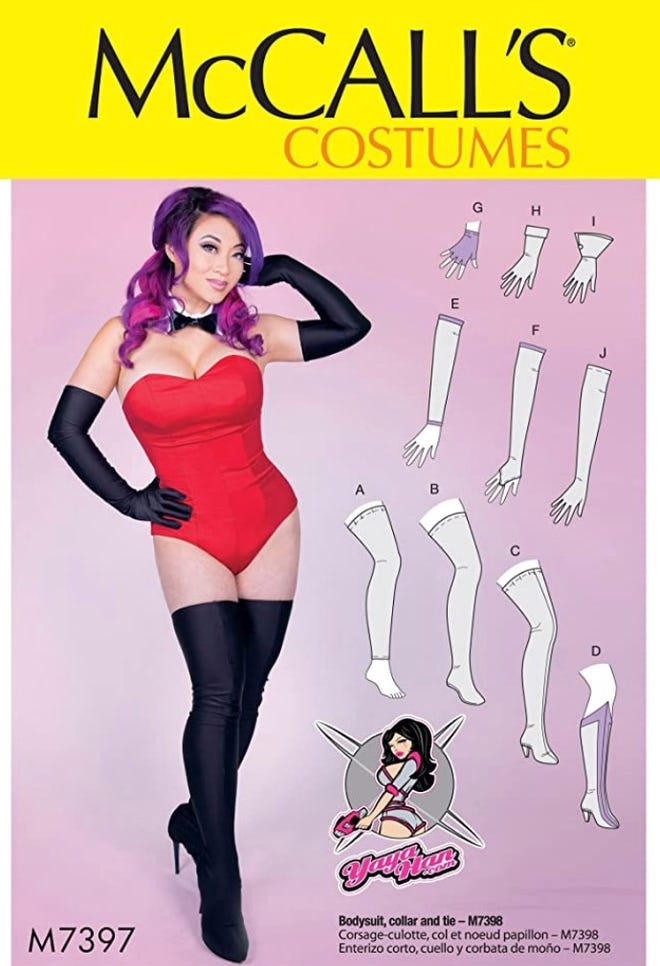 Since we mentioned fabric for the straps, we thought we'd recommend Joanns Performance Nylon & Spandex Fabric. The color is stunning, and the material is what the costume designer used for WandaVision. If this isn't to your liking, Joanns is a great place to find a fabric suited best for you. Plus, they always have deals, so make sure you download the app or check ahead of time. You will most likely purchase a ton of fabric for these designs since this material is an essential part of this costume creation.
Simplicity 5794 cosplay capes pattern gives off the witchy vibes we need to complete this look, plus they have a design perfect for an Agatha cosplay. It's a two-for-one special! Sorry Edna Mode, but yes to capes in this case.
As for the headpiece, cosplayer and writer Kelsey Endter wrote a step-by-step guide. She helps you design your own pattern and walks you through assembly steps while giving crucial advice. The headpiece you'll create using this guide will charm all who are lucky to be graced by your presence.
With all of that information, you are ready to start changing your reality to become Westview's Scarlet Witch.