Scott Pilgrim Takes Off: Everything we know about Netflix's anime adaptation
The Bryan Lee O'Malley comic heads to Netflix as an anime, and it's bringing much of the Edgar Wright film cast along. Here's all you need to know
It's rare that a work and an adaptation of that work stand on their own as cultural groundshakers, but it does happen, and it's certainly the case with Scott Pilgrim. First published in 2004, the graphic novel series written and drawn by Bryan Lee O'Malley electrified the comics of the day. Then, in 2010, Shaun of the Dead progenitor Edgar Wright took the character to the big screen in the indie-kid darling Scott Pilgrim vs. The World.
For a guy with not much luck in love and no job, Scott certainly has made his mark. And now, he's about to do it again.
Earlier this year, Netflix announced that the Scott Pilgrim mythos would be heading to the streaming service in the form of an all-new anime produced by O'Malley and Wright themselves. Ahead of what promises to be a legendary collaboration, Popverse compiled a guide to everything we know about Scott Pilgrim Takes Off.
Let's start simple.
What is the Scott Pilgrim Takes Off release date?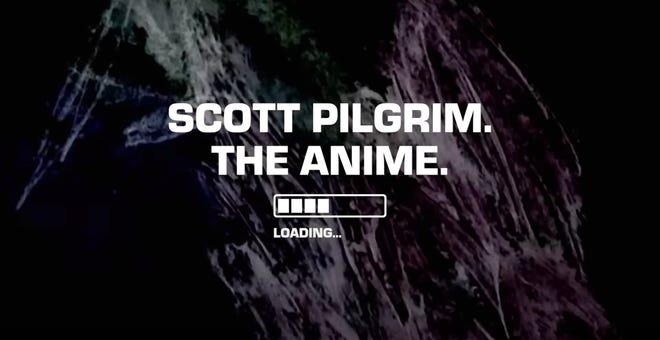 The release date of Scott Pilgrim's animated escapades is November 17, 2023. It feels like a long way off at the moment, but considering the fact that it's already somehow August, I expect that drop date will be here in no time. In the meanwhiles, however, you may be asking...
Is there a Scott Pilgrim Takes Off trailer?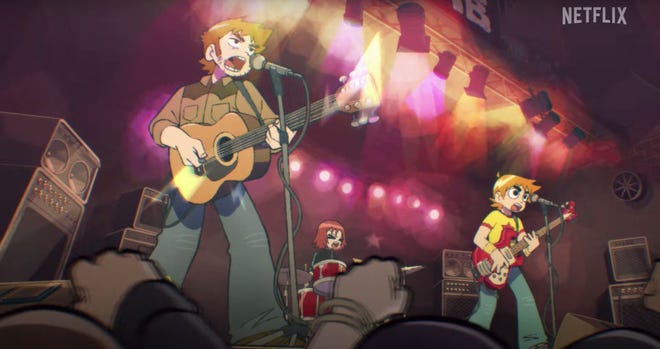 At the moment, there's no official trailer for the show, but that's not to say there isn't something to watch as you wait for the anime to drop. In fact, Netflix has released not one but two teasers for Scott Pilgrim's anime adventures. The first, which was released March 30, 2023, just covers some broad facts about the show, with no actual animation to be seen. Watch it here:
But c'mon, you want to see that sweet, sweet animation, don't you? Well don't fret, Netflix has you covered there as well. Along with its release date announcement, Netflix posted this (AWESOME) teaser to their official YouTube page:
Who is in the Scott Pilgrim Takes Off cast?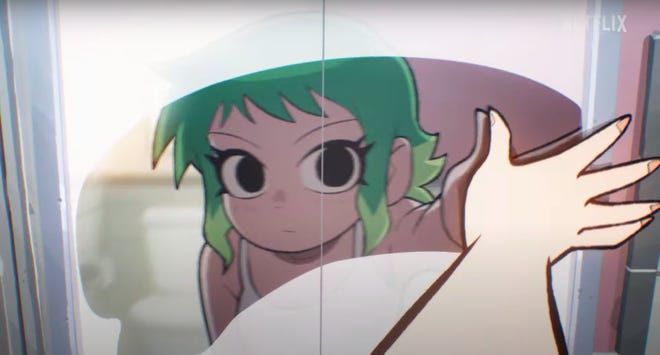 As you can see in both the teaser and trailer, the voice cast for this show is a big one. And if you've seen the cult classic movie, the names you're seeing in the videos should sound awfully familiar. Yes, pretty much the entire cast of Scott Pilgrim vs. The World is returning to their characters for the animated adaptation.
Here's a list of who to expect:
Michael Cera as Scott Pilgrim
Mary Elizabeth Winstead as Ramona Flowers
Satya Bhabha as Matthew Patel
Kieran Culkin as Wallace Wells
Chris Evans as Lucas Lee
Anna Kendrick as Stacey Pilgrim
Brie Larson as Envy Adams
Alison Pill as Kim Pine
Aubrey Plaza as Julie Powers
Brandon Routh as Todd Ingram
Jason Schwartzman as Gideon Graves
Johnny Simmons as Young Neil
Mark Webber as Stephen Stills
Mae Whitman as Roxie Richter
Ellen Wong as Knives Chau
Who's doing the Scott Pilgrim Takes Off soundtrack?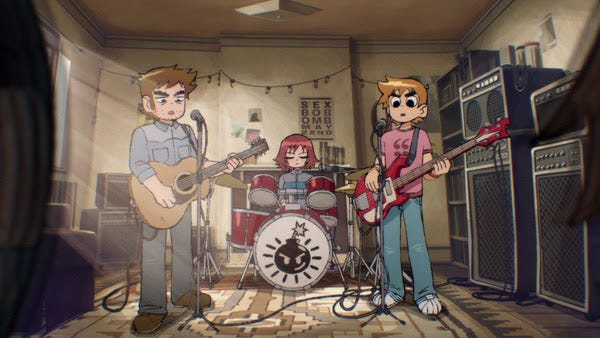 With so many members of the cast returning to the world of Scott Pilgrim, you might expect the minds behind the music of the Edgar Wright film to come back. While that's unfortunately not the case, tunesters Anamanaguchi have previous experience in this universe, as the musicians for Scott Pilgrim vs. the World: The Game. Joinging them is Joseph Trapanese, of Straight Outta Compton fame.
Who's doing the animation for Scott Pilgrim Takes Off?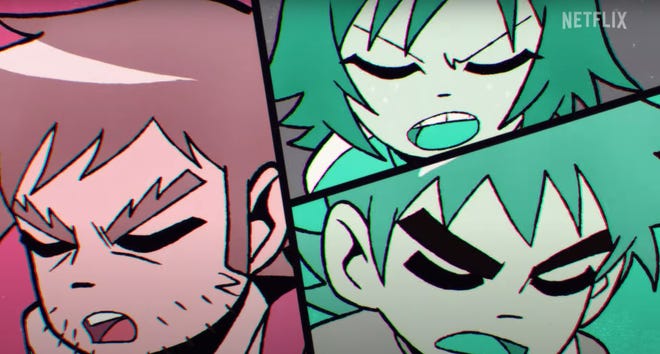 If you watched that trailer and thought, 'dang, that looks pretty cool,' then you have the good folks at Science SARU to thank. Science SARU is an anime mainstay, with titles like DEVILMAN crybaby, Keep Your Hands Off Eizouken!, The Heike Story, and Inu-Oh under their belts. Scott Pilgrim Takes Off marks the second time they've worked a Netflix original, after Japan Sinks: 2020.
How many episodes are there of Scott Pilgrim Takes Off?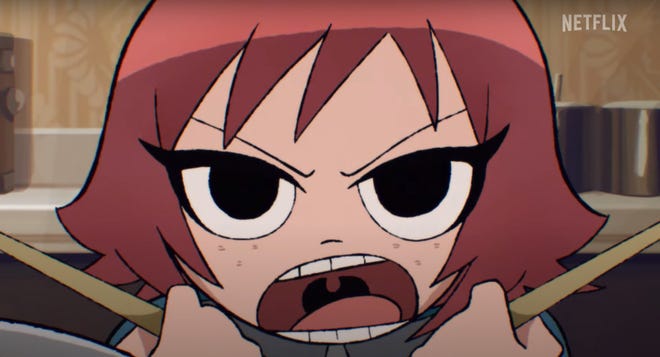 According to an August 16 press release, Netflix has eight episodes in store for Scott Pilgrim Takes Off.
What is the Scott Pilgrim Takes Off plot?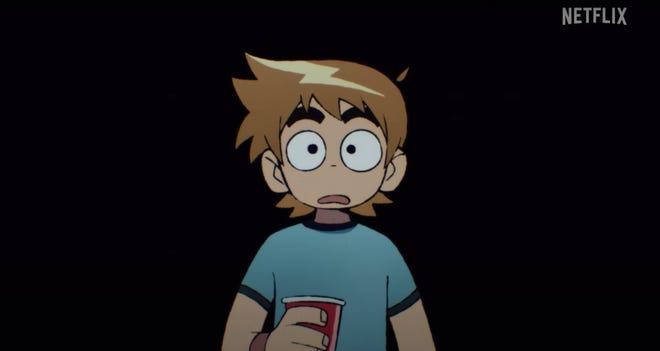 Just like the live-action film before it, Scott Pilgrim's latest foray onto the screen follows the plot of the Bryan Lee O'Malley books. It is set in a surrealist world of sparkling imagery and death-defying duels, and is ultimately the story of a truly hopeless romantic who pines after a woman he barely knows. Netflix's official plot synopsis reads:
"Scott Pilgrim meets the girl of his dreams, Ramona Flowers, but learns he must defeat her seven evil exes in order to date her. Then things get even more complicated. Based on the graphic novels by Bryan Lee O'Malley."
Where can I watch Scott Pilgrim Takes Off?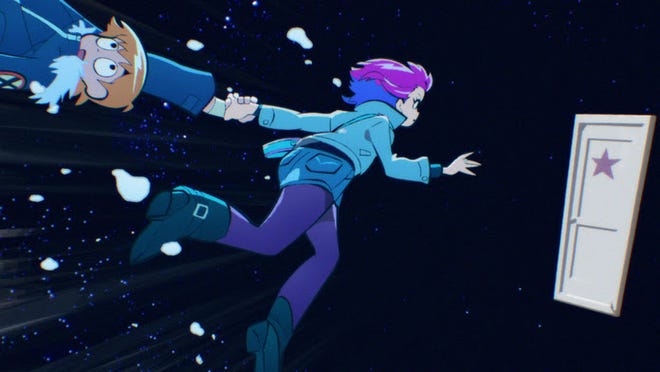 Sorry if you're not on the Netflix train at the moment, but it's the only place that the show will be available. If you're a fan of Bryan O'Malley's comic or Edgar Wright's culture-shifting flick, it's of course worth the price of a membership. But here's the thing - there's plenty of great stuff to watch on Netflix, and Popverse has a list for your viewing pleasure.
Scott Pilgrim Takes Off premieres on Netflix November 17.
---
Want a show that's BOTH an anime and a classic? Popverse has a Dragon Ball Z watch guide you should really check out.