Netflix, Sony, HBO, Universal, Lucasfilm, and Disney are joining Marvel Studios in skipping SDCC 2023 Hall H and other panels (and others may be on the fence)
Hall H is going to look a lot different at San Diego Comic Con 2023
Marvel Studios isn't the only one staying home this year from San Diego Comic-Con, as its its parent company Disney, its sister studio Lucasfilm, and even competitors such as Sony Pictures, Universal Pictures, Netflix, and HBO are also skipping the trip to south California.
The last time something this major happened was when Comic-Con International: San Diego was forced to cancel due to the COVID-19 pandemic. But this time around, it's not a public health crisis - it's apparently a worker crisis.
According to Variety, these Hollywood heavyweights are skipping SDCC 2023 in anticipation that the Writer's Guild of America strike will continue at least through July - and that if the actors working for SAG-AFTRA cannot come to terms with their own deal with the studios by a June 30 contract deadline then all union actors will join the writers on the proverbial (and actual) picket lines.
That would exclude both the actors and writers from participating in creating movies and TV shows, and doing press for those such - which is why they come to conventions like San Diego Comic Con. (Well, exclude them unless they would be willing to break with their union and cross the picket lines, or attend in another capacity besides working for a studio.)
"With regard to the strike and its possible effects on Comic-Con, we tend to refrain from speculation or forecasting," Comic-Con spokesperson David Glanzer told Variety in a statement. "I will say, our hope is for a speedy resolution that will prove beneficial to all parties and allow everyone to continue the work they love. Until then, we continue to diligently work on our summer event in the hopes of making it as fun, educational, and celebratory as in years past."
Variety reports that SDCC plans to begin releasing its 2023 panel schedules on July 5.
Netflix recently held a online fan event in Brazil called Tudum which featured actors of its upcoming projects such as The Witcher season 3 and the highly-anticipated One Piece live-action TV series. Although it's not clear if the Netflix event was scheduled before this June 30 deadline to get some marketing in, it does effectively work that way. Netflix also is appearing at Los Angeles' Anime Expo, occuring July 1 - 4.
What movie/tv studios could still have SDCC 2023 panels?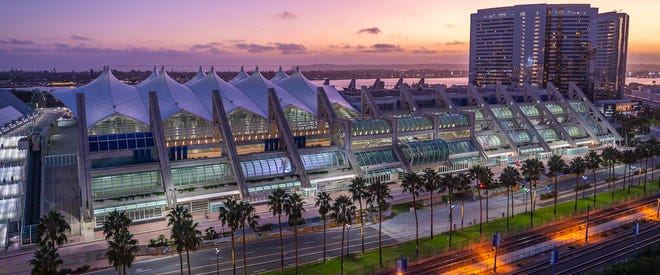 So what are the big studios who could still be expected to appear at San Diego Comic Con 2023? According to Variety, HBO's parent company Warner Bros. isn't restricting all of its company to skip the con. The streaming service Max is reportedly bringing "some animation titles to SDCC", and the door is open for the main Warner Bros. Picture arm to be there. Also in the wings is therecently revamped DC Studios division, which is hoping that the upcoming Blue Beetle and Aquaman and the Lost Kingdom films will be the hits that Black Adam and the Flash weren't.
Likewise, Paramount Pictures is reportedly in for SDCC - but the only confirmed project according to the Hollywood trade is Teenage Mutant Ninja Turtles: Mutant Mayhem. Star Trek, which has been a staple of SDCCs for decades, is "yet to commit" to panels according to Variety.
Variety reports that NBC is holding off unless the strike abates, but its sister company Peacock is open to making its own decisions.
The other big streamer, Amazon Prime Video, reportedly plans to have "some kind of presence" at SDCC 2023 - but Variety hasn't been able to suss out what that is.
So how are Max's animated titles and Paramount's Teenage Mutant Ninja Turtles: Mutant Mayhem expected to some how have a panel presence even if the union strike persists (or grows)? Unlike live-action scripted movies and TV, the animation industry workers are largely not organized or represented by a union.
So what will SDCC look like without these players?
While these studios may not have panels at SDCC 2023, they could still have a presence through booths, participatory fan events (called 'activations), screenings, and other marketing efforts. Amazon has already paid for its The Boys spin-off series Gen V to be the featured project on SDCC's badges.
Unlike most other comic conventions, SDCC 2023 rarely negotiates directly with actors and celebrities directly to appear at the convention as guests of the show, and take part in panels, autograph signings, and photo-ops. Instead, they come as part of marketing efforts by the studios and companies which employ them.