How Gene Luen Yang brought Shang-Chi in line with the Marvel way of being a hero
Shang-Chi has a complicated history, and Gene Luen Yang had a plan to give him a new way of being a hero
At his Wondercon spotlight panel this year, Gene Luen Yang chatted at length about his work on Shang-Chi (alongside Philip Tan and Dike Ruan) and his aims for the development of the character.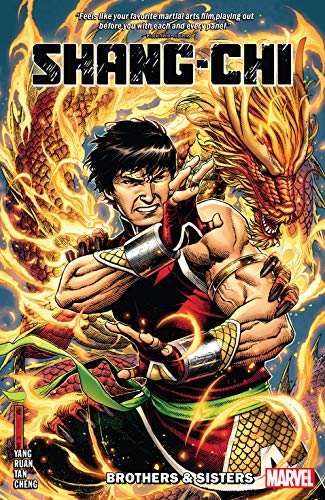 Starting off, Yang shared that writing Shang-Chi wasn't his childhood dream job. After all, Yang actually didn't know much about Shang-Chi at all when he took the job. He had avoided Shang-Chi as a kid as he, like many children, wanted to "excise" everything that set him apart. Still, Yang and editor Darren Shan felt like "it was an opportunity and maybe even an obligation" to work on a Shang-Chi series, but maybe with a bit of a deviation from the character's tradition.
The history of Shang-Chi is clouded in racism, but also in difference from the regular Marvel hero format. According to Yang, "the heart of the problem of Shang-Chi was that he didn't follow the Marvel way of being a hero." Yang points out that Marvel heroes are written in a way for the reader to see themselves in the characters. They're meant to be relatable. "Shang-Chi is one of the exceptions," Yang says, pointing out that the appeal of the character originally was not to imagine yourself as Shang-Chi but as one of his quite counterparts. Yang calls it "hero as spectacle."
With his take on the character, Yang wanted to "bring Shang-Chi back in line to the standard Marvel way of doing things where you're supposed to identify with the hero himself or herself." To do so, the team worked to make Shang-Chi more relatable and flawed. One plot-specific way of doing this was building out the supporting cast which gave Shang Chi more family drama that readers could latch onto while adding a lot of drama and tension Shang-Chi's journey. Though not everyone can relate to having a supervillain dad, everyone can relate to family drama, after all.
---
The full Gene Luen Yang run of Shang-Chi is currently available for purchase.
---
Gene Luen Yang's The Books of Clash flips the concept of the game on its head.