Acclaimed black comic creators assemble for horror anthology SHOOK! from Dark Horse & Second Sight
Get ready for 13 dark tales from some of comics' best Black voices in SHOOK! A Black Horror Anthology
The horror anthology is one of the most time-honored and beloved formats in all of comics, and we're still finding new ways to keep it fresh. From changing the subgenre to changing the roster of creators, you can always find the fun in a collection of spooky tales on the comics page. Now, one of the most promising horror anthology concepts in recent memory is ready for launch.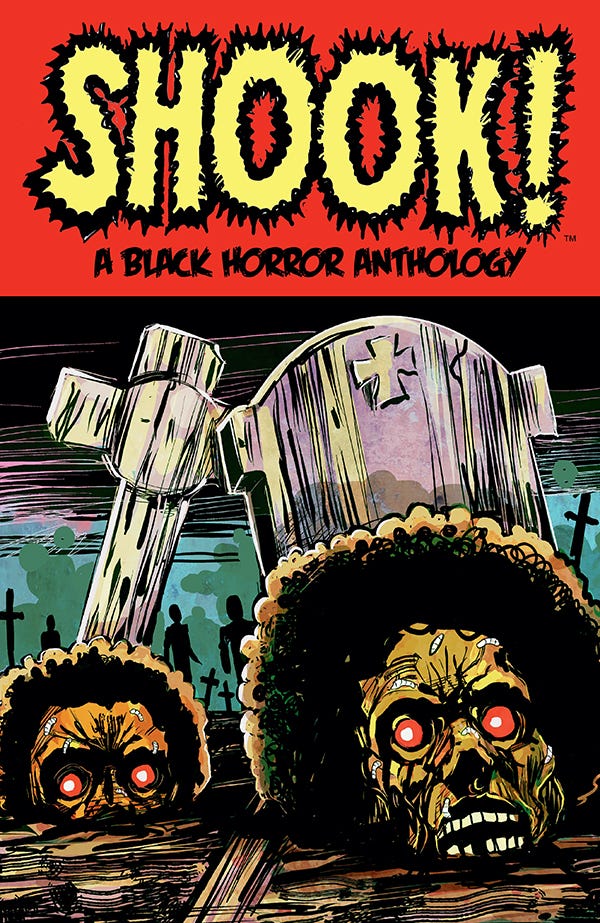 Popverse can exclusively reveal today that February 2024 will mark the official release of SHOOK! A Black Horror Anthology from Second Sight Publishing and Dark Horse Comics. The project, which got a boost from a successful Kickstarter campaign that raised more than $50,000 last fall, brings together award-winning Black creators and an old-school, EC Comics vibe to tell 13 new stories of terror in one 200-page volume.
"The Shook! project is a collaboration between John Jennings, Bradley Golden, and myself who all hail from the south," collection editor and Second Sight Publishing head Marcus Roberts says in a statement. "John and Bradley are from Mississippi, and I am originally from Georgia. Our brand of horror has been called Southern Gothic horror and this has been in the making for two years."
Joining Roberts, Jennings, and Golden on the project is an impressive roster of comics talent that includes Eisner winners and nominees, Ringo winners and nominees, Ignyte winners and nominees, and what's billed as the largest collection of Glyph Awards (which honor comics by and about people of color) nominated and awarded talent ever assembled. Creators you'll find in the SHOOK! Table of contents include Rodney Barnes (Killadelphia), David Walker (Bitter Root), Flavio Cortés, Brandon Easton (Andre the Giant: Closer to Heaven), Kevin Grevioux (Adam: Legend of the Blue Marvel), and more.
"I remember the feeling I got when the first Dream Team was announced," Roberts said back when the project's Kickstarter launched, "and I felt like the Black comics community deserved their own version of such a great team."
SHOOK! A Black Horror Anthology will arrive in bookstores on February 28, 2024, followed by a comic book store release on February 29, 2024.
---
10 comics by Black creators you should read.