A stoned wizard bear is leading the fight against capitalist criminals in Oni Press' Soggy Landing
Yes, we said "stoned wizard bear"
On first glance, Oni Press's upcoming fantasy graphic novel Soggy Landing seems like a tale as old as time, with heroic figures standing up against the forces of greed to save their beloved homelands… but rarely if ever have the heroic figures been quite as freewheeling — or as bear-like — as Otso. Find out more about the book, and get a first look at the cover, below.
The title of the graphic novel refers to the land in question — a place that was once a utopian paradise, but has since been transformed into something far less pleasant by a cult of wealthy ne'er-do-wells calling themselves The 13. As tensions grow between those who still live in the increasingly brutal city and those that own it, two figures come into focus as the only hope to restore order and goodness. Unfortunately, they happen to be a perma-stoned wizard who's also a bear, and her best friend Slipper.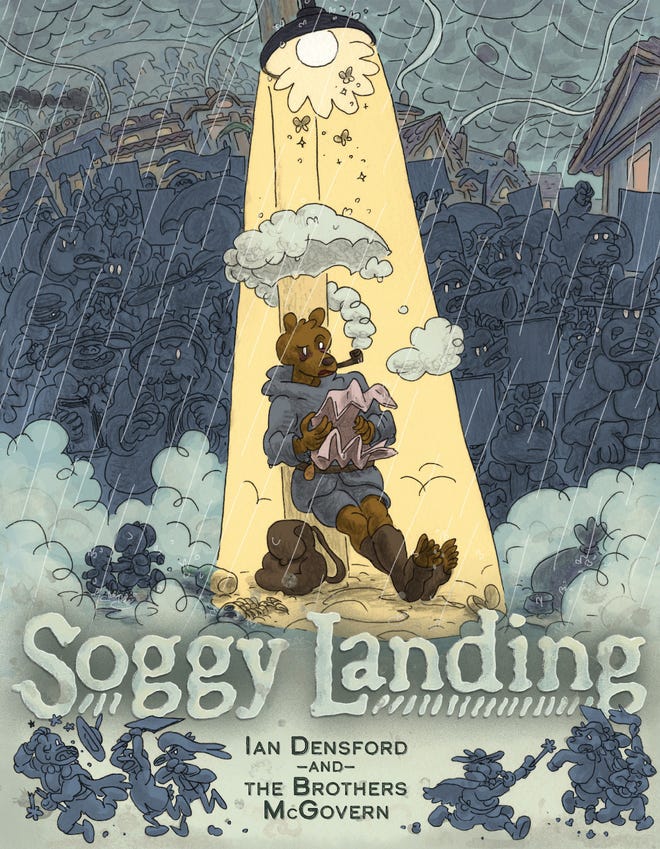 "We wanted to create a story of resistance in a fantasy setting where we could lampoon these contemporary robber barons, stick a finger in the eye of the powerful and selfish, and try to kill them," artist Ian Densford explained about the project's roots.
"Soggy Landing is about a different, wacky world, sure — but it's also about what's happening now," added editor Zack Soto. "This is a story of resistance, and finding camaraderie in increasingly inhospitable situations."
"Soggy Landing isn't for kids, it's for cool kids and I hope tons of kids read this book and have to hide it from their stupid parents," said co-author Alec McGovern. "We're super stoked to work with Oni Press, a publisher with a spine. Soggy Landing is the tip of the iceberg. We're excited to explore our wilder, raunchier and more violent fantasies next."
If all of this sounds potentially too heavy, co-writer Andrew McGovern has something to sooth any potential worries: "Soggy Landing is a silly book, and there should be more silly books. Without them, we're doomed."
Soggy Landing will be available in bookstores August 1, and in comic book stores August 2.
---