Meet Spider-Boy, the hero who might be the Marvel's next Spider-Verse sensation
Meet Spider-Boy, Peter Parker's forgotten sidekick, and the newest addition to the Spider-Verse
The Spider-Verse just got a little bigger. Meet Spider-Boy, the latest hero to join Peter Parker and his multiverse counterparts. Marvel has introduced a lot of Spider-Man variants over the years, especially in the wake of the 2018 film Spider-Man: Into the Spider-Verse. However, Spider-Boy is different. In fact, his co-creator Dan Slott believes that he's one of the most exciting characters he's created, which is saying something since Slott has been writing Spider-Man for decades. Spider-Boy made his grand debut in Spider-Man #7 (written by Dan Slott and penciled by Mark Bagley). Could he become the next big thing? Let's break down everything we know.
Warning: Spoilers ahead for Spider-Man #7!
Who is Spider-Boy?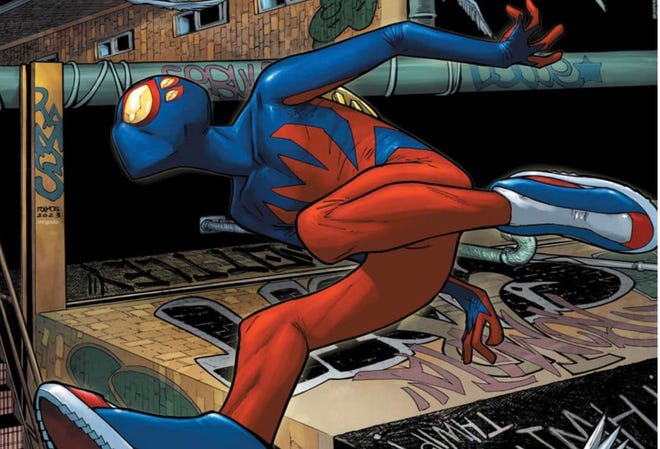 Spider-Man #7 is the final chapter of 'The End of the Spider-Verse', the latest crossover event with the various spider-themed heroes of the multiverse. The storyline pit them up against Shathra, a predator who hunts Spider-Men and Spider-Women across the multiverse. During the struggle, various Spider-Heroes were stabbed by the Totem Dagger, a deadly blade capable of erasing someone from reality. Not only does it remove its victims from the timeline, but over time it will cause them to be forgotten by everyone who knew them.
After Shathra is defeated, the various Spider-Heroes are given a golden spider talisman. The artifact can rebuild the fractured reality by restoring the erased Spider-Heroes. Julia Carpenter uses the talisman to revive Jessica Drew, Kaine, and restore the 616 version of Peter Parker. However, another erased Spider-Hero was also revived, one who none of the others recognized.
This is where we meet Spider-Boy. He's wearing a spandex outfit with a red and blue color scheme. His mask has the traditional Spider-Man eyes, but they're gold. His mask also contains some smaller four smaller lenses, with two next to each eye. Spider-Boy is also wearing a pair of sneakers. Spider-Boy is shocked when he realizes that nobody recognizes him. "Pete? Miles? Hello?! We've been on a million adventures together. Guys. You know me! It's Bailey," Spider-Boy says.
If you haven't put the pieces together, the idea is that Spider-Boy has existed this entire time, but the heroes don't remember him because of the Totem Dagger. In essence, he's had years of adventures in the Marvel Universe, but we've never seen them because we've been reading the version of reality that had been severed by the Totem Dagger.
It was previously established that if someone is stabbed by the Totem Dagger, they are eventually forgotten. Julia Carpenter was able to bring the other heroes back before that happened, but it appears Bailey wasn't as lucky. Spider-Boy quickly becomes offended and leaves. As he departs, Julia remarks that although she doesn't remember him. she can tell that Earth-616 (aka the mainstream Marvel Universe) is his native reality.
Breaking down what we know about Spider-Boy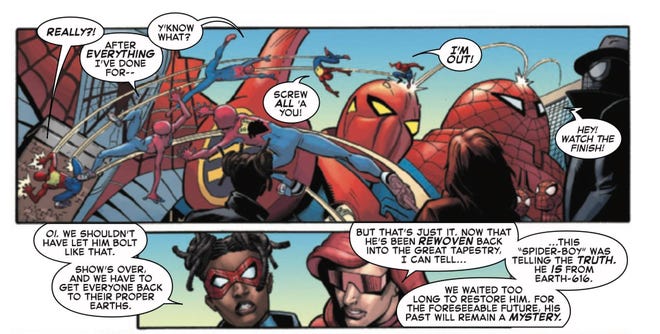 Spider-Boy makes a memorable introduction, but he leaves one page later. His brief scene establishes a few things about who he is, but it also introduces some mysteries. First, there is the question of the extra lenses on his eyes. Are those purely decorative, or do they serve another purpose? Is it possible that Bailey has extra eyes, and isn't entirely human? Bailey never removes his mask, so his race and even his species is unknown.
We know that Bailey is a close ally of Miles and Peter. He calls them by their first names, which means he's been trusted with their secret identities. To be fair, most of the Spider-Verse heroes know who Peter is, but that's because most of them are alternate versions of Peter Parker. Bailey is a hero who comes from Earth-616, and Peter is very guarded about his secret identity around the other 616 heroes. Even if Bailey learned the identity during a Spider-Verse crossover, this knowledge implies a closer partnership.
There is also the question of Bailey's age. If Miles is Spider-Man, and Bailey is Spider-Boy, one would assume that Bailey is younger. However, there is no guarantee that this is the case. It's hard to discern Bailey's age, because he's never clearly illustrated standing next to the other Spider-Heroes. As a result, there's no telling if he's a teenager or a preteen.
Bailey's quick departure seems to indicate that he has a short temper. This is the type of thing Peter Parker would do during his early days as Spider-Man. If this scene is any indication, Bailey has a major chip on his shoulder. In other words, he's a typical adolescent.
Wait, wasn't there already a Spider-Boy?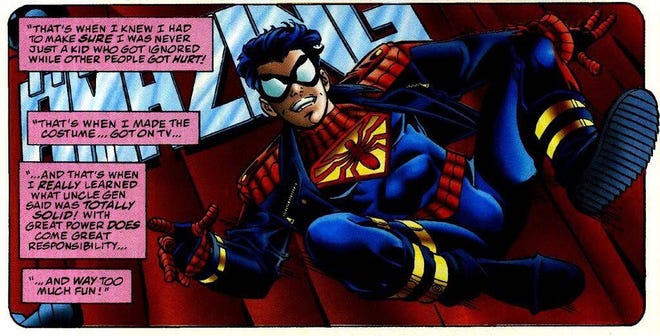 Some of you might be wondering what happened to the first Spider-Boy. If you are, then you either grew up in the '90s or you love researching obscure Spider-Verse characters. The original Spider-Boy made his debut during one of the biggest comic book storylines of the '90s, which might sound like a good launching point for a character. However, Spider-Boy has not been seen since 1997 for a shocking reason - Marvel cannot legally publish the character without DC Comics' permission.
In 1996 DC Comics and Marvel collaborated on a limited series called Marvel Versus DC. The event featured a series of battles between the heroes and villains of both companies. Fans were given the opportunity to vote on the outcome of some of the battles by mailing in forms, dropping them off at their comic shop, or emailing their choices through America Online (yes, it was that part of the '90s). During the crossover, the DC and the Marvel Universes temporarily merged during a cosmic event.
The merging of the universes led to Amalgam Comics, an imprint jointly owned by Marvel and DC Comics. Amalgam Comics was full of fun mashups of both companies' characters. For example, there was Super-Soldier, who was a fusion of Superman and Captain America, and Dark Claw who was a fusion of Batman and Wolverine. Spider-Boy was a fusion between the Ben Reilly version of Spider-Man and the Conner Kent version of Superboy.
Most of Spider-Boy's backstory and characterization is taken from Superboy. He's a clone grown in Cadmus Labs. His gravity-based powers allow him to stick to walls and increase his agility. He starred in Spider-Boy #1 and Spider-Boy Team-Up #1 in addition to guest-starring in other Amalgam related comics. However, this was always meant to be a temporary thing. Marvel Versus DC ended with each universe being restored after the Amalgam Universe split apart.
Marvel and DC published a second wave of Amalgam one-shots in 1997, but the imprint hasn't been seen since. According to Dan Slott, he was not allowed to use Spider-Boy in his original Spider-Verse storyline, due to him being co-owned by DC Comics. If you look closely, you might see Spider-Boy in the crowd in 2015's Spider-Verse #2, but not enough of him to apparently upset DC's lawyers.
In some ways the original Spider-Boy still exists. Since he was a fusion of Ben Reilly and Conner Kent, we're technically looking at Spider-Boy every time we see a comic with Superboy or King Chasm. It's also amusing to note that Dan Slott was prevented from using Spider-Boy in his first Spider-Verse story, and now he's created a completely new one for his latest Spider-Verse story. We still don't know Bailey's full story, but we do know that he's safe from DC's lawyers.
What's next for the new Spider-Boy?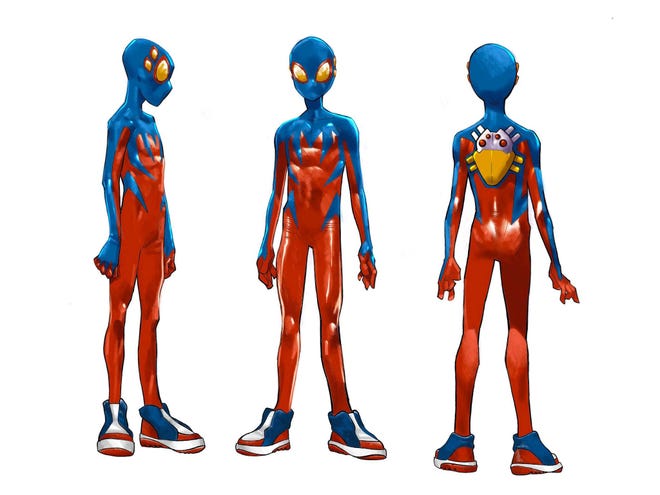 If you're looking for Spider-Boy in the new Spider-Man: Across the Spider-Verse trailer, then you're out of luck. While the trailer features multiple versions of Spider-Man, the film began development long before the creation of Bailey. However, if you want to see Bailey again, you won't have to wait long.
According to a press release from Marvel.com, Bailey's next appearance will be in Edge of Spider-Verse #3, on sale this June. The story will be written by Dan Slott and illustrated by his longtime collaborator Humberto Ramos. In a statement via Marvel, Slott credited Ramos with helping him and Bagley develop the character. ""On the art side, two absolute Spider-Legends are bringing Spider-Boy to life. My longtime collaborator, Humberto Ramos and the amazing Mark Bagley," Slott said.
Slott couldn't be more excited about Bailey's debut finally hitting the stands. "I grew up reading Spider-Man comics. He's my favorite character in all of fiction. All I ever wanted to do was tell stories with this cast, and it's been the coolest thing ever to co-create some of the characters who populate it. And this kid, this Spider-Boy, is the one I'm most psyched about!"
Slott also dropped some hints about what we'll learn about Bailey in his upcoming appearances. "The all-new, all-different Spider-Boy of the 616: He's got strange new spider-powers, secret ties to dark corners of Spider-Man lore, and a story that's all his own... that is right about to begin!"
Spider-Man variants such as Spider-Gwen have become popular cosplays during conventions. Is it possible that Bailey will be the next big thing? If Slott's enthusiasm is any indication, it's certainly possible. "I can't wait for people to meet Bailey, and the unique role he's going to play in both Spider-Man's world and the Marvel Universe."
---
Want more Marvel surprises? Make sure you've read all of our recommended best Marvel Comics stories.