Spider-Gwen: How a one-off variant became one of Marvel's biggest modern new heroes
Spider-Gwen has one of the most unique paths from comics to movies.
Spider-Gwen was never supposed to be more than a one-off character, but with her unique design and quick witshe quickly became one of Marvel Comics' biggest new characters in the past decade. Just four years after this Gwen Stacy vairnat's debut she landed herself a co-starring role on the big screen in Sony's Spider-Man: Into the Spider-Verse voiced by Hailee Steinfeld. Gwen returns with this year's Spider-Man: Across the Spider-verse. (Buy tickets on Fandango or Atom Tickets)
With the success of the animated film franchise, the Spider-Gwen phenomenon has grown way past Gwen Stacy mash up variant covers. Instead of little girls wearing Limited Too shirts with Lizzie McGuire's head plastered on the front, a new generation of kids are dressing up as Spider-Gwen. And if that doesn't prove that she's a household name than I don't know what does.
Who is Spider-Gwen AKA Ghost-Spider AKA Gwen Stacy?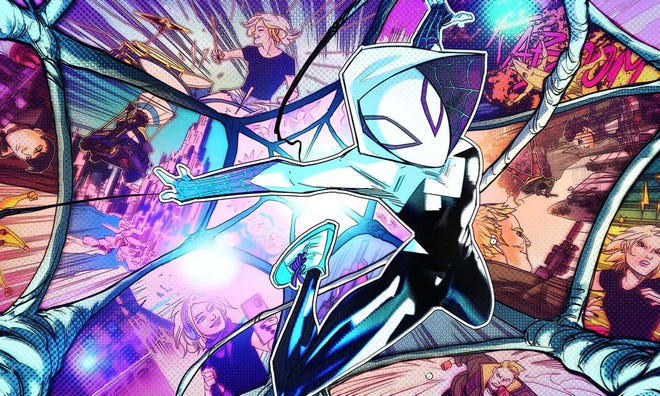 But what caused Spider-Gwen's accelerated rise to fame? Spider-Gwen (known as Spider Woman in her universe) made her first appearance in Edge of Spider-Verse #2 (2014), which is worth a pretty penny if you have the first print run in your comic collection. Edge of Spider-Verse was a prelude mini-series to help introduce the major players in Dan Slott's Amazing Spider-Man event, Spider-Verse. Well, Edge of Spider-Verse #2 did a lot better than anyone expected, leading to seven reprints to date and multiple spin-off series.
Robbi Rodriguez's Spider-Gwen costume design didn't just look like a Spider-Man rip off for a female figure. She had her own unique, stylish appearance. The hoodie and sneakers gave a modern twist with enough familiar nods to Spider heroes that came before to both give a classic and innovative vibe. And here's the mind-blowing part, she even had a new color palette! A concept not seen very often for a spin off character for a popular franchise like Spider-Man because of the fear that new readers won't recognize the bigger franchise's connection. Well, Spider-Gwen didn't need Peter Parker's classic colors to be a success or recognizable. She did that all on her own!
Before Spider-Gwen, Gwen Stacy was best known for well…dying. In a story called 'The Night that Gwen Stacy Died, written by Gerry Conway and illustrated by Gil Kane, the Green Goblin takes Gwen Stacy to the Brooklyn Bridge to lore Spider-Man. Then the Green Goblin throws her off the ledge. Spider-Man uses his web shooters to catch Gwen, but the force breaks her neck – ultimately killing her. Gwen Stacy died for the sake of Peter Parker's story, which was later identified as a trope called fridging, in reference to Gail Simone's essay 'Woman in Refrigerators'.
Was making her a superhero a redemption arc for 'fridging"'the character? Earth 65's Gwen Stacy doesn't erase what happened to Earth 616's Gwen Stacy, but Jason Latour does one hell of a job at creating a larger commentary about that moment. Edge of Spider-Verse #2's opener reveals that just like Peter Parker was 'responsible' for his Gwen Stacy's death so was Gwen for her Peter Parker. In Earth 65, Gwen Stacy is the one who gets bit by the spider and her best friend Peter Parker is jealous of her powers and makes his own science experiment to become the Lizard, which leads to his eventual death.
This moment is what drives Gwen and really the whole narrative for Edge of Spider-Verse and beyond. Edge of Spider-Verse #2 led to a few spin-off series including Ghost-Spider, written by Seanan McGuire and drawn by Takeshi Miyazawa, where Gwen gets a name change as she commutes to Earth 616 to attend a college where the world doesn't know her secret identity. Her ongoing titles cement Spider-Gwen's own voice to the spider mythos as the creators explore her relationship with music including her friendship with her band - The Mary Janes, her complicated dynamic with her cop dad, and unique twists on Spider characters we all know and love like Vulture, Harry Osborn, Mary Jane Watson, and Jackal.
What are Spider-Gwen's powers and abilities?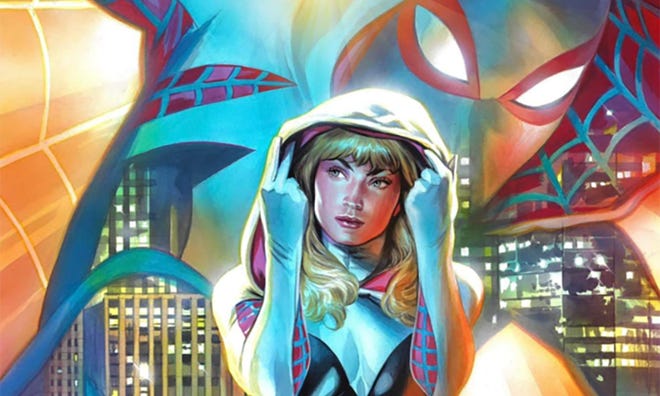 Spider-Gwen has a very similar power set/technological arsenal to Earth 616's Peter Parker – super strength, agility, spider-sense, and web-shooters. But the big difference to her powers actually comes way down the line, in a crossover with Silk and Jessica Drew titled Spider Women. Gwen loses her powers, but gains her abilities back through her connection to a Venom symbiote.
Jason Latour and Robbi Rodriguez's last arc on the Spider-Gwen ongoing series focused on her relationship with this Venom symbiote, one that directly correlates with the use of her powers. The rock n' roll flavor of the earlier volumes transitions into a punk rock aesthetic, bringing a new flavor of angst to the Spider-Man franchise, and as we all know Spider-Man already has a plenty of angst. Rodriguez morphs a leather jacket with spiked shoulder pads into a full-on superhero costume, using the Venom's tongue as a zipper to add the perfect finishing touch to deliver another refreshing Gwen Stacy look.
Who is Spider-Gwen in the Marvel movies?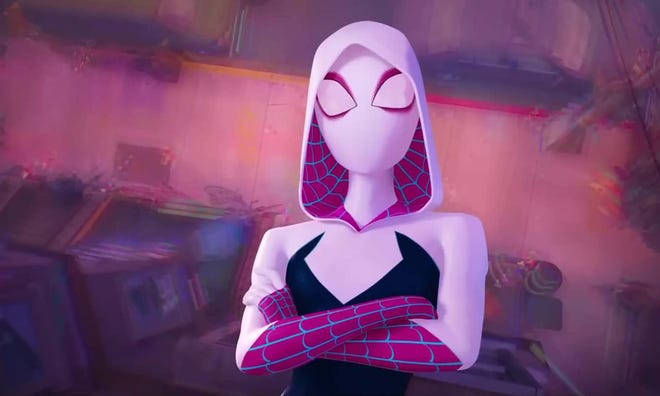 Spider-Man: Into the Spider-Verse film focused on Miles Morales' origins while introducing Spider-Gwen, Spider-Man Noir, Spider Ham, and Peni Parker into his world. Across the Spider-Verse has already teased in its first trailer that Miles Morales will be going into Gwen's universe, the color palette embracing Rico Renzi's colors from the original Spider-Gwen run.
Just like Into the Spider-Verse heavily involves Miles Morales supporting cast, this will hopefully mean that the likes of The Mary Janes, Captain Stacy, and maybe even some of Gwen's villains will appear or even affect the movie's larger plot. In the original film, there was a foreshadowing of a romantic relationship between Miles and Gwen, that didn't pan out, in Brian Michael Bendis and Sara Pichelli's Spider-Man #12 (2016) that could potentially play a larger role on screen as well.
The events of this movie could be a launching point to the Spider-Gwen solo animated film that was announced from Sony following the success of the original Into the Spider Verse flick.
Could Spider-Gwen come to live-action in the MCU?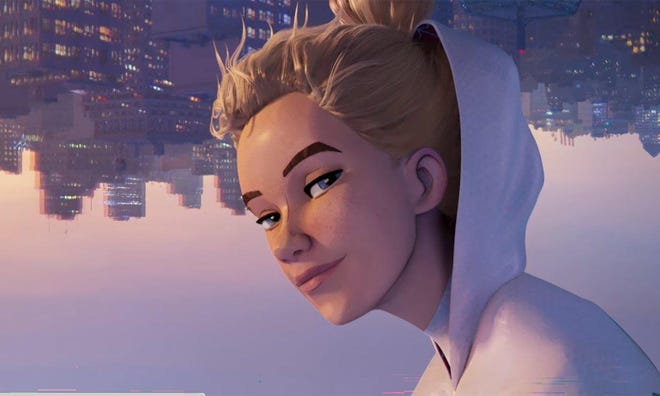 With the expansion of Spider heroes from the fallout of Spider-Man: No Way Home there's even a chance that Spider-Gwen can show up in live action. No Way Home heavily referenced Gwen Stacy as an important character from Andrew Garfield's Spider-Man franchise. This could be an opportunity to redeem the movie's own fridiging moment, and let Emma Stone become Spider-Gwen.
Gwen Stacy hasn't appeared in Tom Holland's universe to date. The possibilities are endless for what the MCU can do with this iconic Spidey character. Ironically, Hailee Steinfeld, who voices Spider-Gwen in Into the Spider-Verse, already has a role in the MCU as Hawkeye's Kate Bishop. So, chances are slim that the actress will play the live action version of the character. Either way, the future points to Spider-Gwen continuing to rock on, no matter the medium.
---
Five Spider-hero comics to read that aren't about Peter Parker's Spider-Man.