Star Trek: Day of Blood - what to expect from the landmark comics crossover event
Star Trek: Day of Blood is the franchise's first comic book crossover event
Crossovers between different Star Trek serials have always been a hotbed for great stories, and now the crossover is coming to Star Trek comics. In 2023, IDW Publishing will be releasing Star Trek: Day of Blood — a "universe-shaking" crossover event between its main Star Trek comic book series and the upcoming Star Trek: Defiant ongoing series.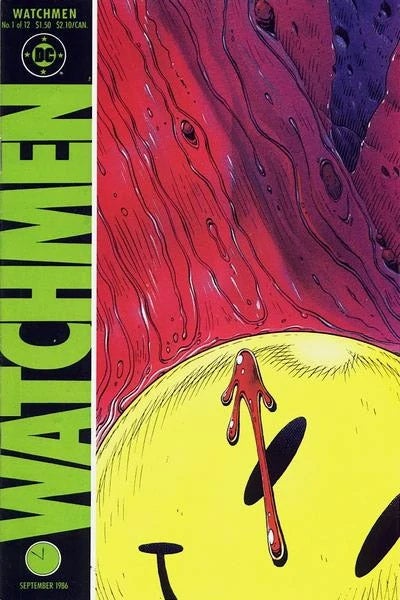 And it includes a nod to Watchmen by Alan Moore and Dave Gibbons.
Star Trek: Day of Blood will kick off May 6, 2023 with 'Prelude to Day of Blood' - IDW's 2023 Free Comic Book Day special, before spilling into the aforementioned Star Trek ongoing comic books, starting with August's Star Trek: Defiant #6 and Star Trek #11. The storyline will run through the following month's issues of each series.
The FCBD Star Trek cover with blood trickling down over a Starfleet communications badge is evocative of Dave Gibbons' iconic Watchmen #1 cover - one that IDW senior editor (and defacto lead Star Trek editor) Heather Antos knows well, and has used in her personal social media imagery.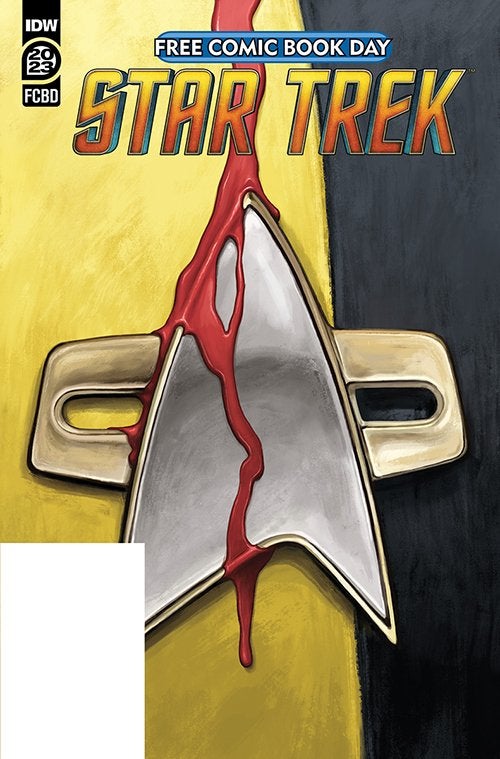 Antos teased about the storyline, "Star Trek: Day of Blood is what this last year of comic book planning has been all about. It all leads to this moment. Was Sisko the correct choice of the Prophets? Will Worf's Klingon honor serve him well? Or will the two remain in the crossfires of the godkiller? [Writers] Jackson [Lanzing], Collin [Kelly], and Chris [Cantwell] are asking some of the biggest questions we've ever seen in Star Trek comics, and it's time to answer them in the franchise's first-ever classic summer crossover event."
"I've been nothing short of ecstatic to be a part of this new, larger Star Trek initiative at IDW," Cantwell, who's writing Star Trek: Defiant, said in a statement about the project. "There were moments in our writers' room with Jackson and Collin where I couldn't believe we were really doing this — not just telling one Star Trek story but weaving together multiple Trek stories at the same time, with plotlines from Star Trek and Star Trek: Defiant converging. We threw all our boldest ideas and best character pairings into a story of pure chaos, starship battles, and real epic dramatic resonance you can only achieve in the scope of comics."
Star Trek: Day of Blood will be the first proper comic book crossover inside the Star Trek franchise. Although Star Trek has had memorable comic book crossovers with other franchises such as X-Men, Green Lantern, Doctor Who, and even the Transformers, Day of Blood will be the first time two Star Trek comic book series have crossed over, although DC published a crossover miniseries Star Trek: Deep Space Nine/The Next Generation in 1994, even if the actual series themselves weren't part of the event.
IDW is in the midst of having one of the most thriving Star Trek era for comic books, with one ongoing launched in October 2022 (Star Trek), a second launching in March 2023 (Star Trek: Defiant), and miniseries for Strange New Worlds and the video game Star Trek: Resurgence underway. It even recently had a limited series for Picard and Lower Decks.
This 2023 Star Trek comic book crossover comes just as the Star Trek TV shows are also planning a crossover. It's already been announced that Lower Decks ensigns Ensign Beckett Mariner (Tawny Newsome) and Ensign Brad Boimler (Jack Quaid) will appear in a hybrid live-action/animated episode of Star Trek: Strange New Worlds' second season in 2023.
Star Trek: Day of Blood launches with the Star Trek: Prelude to Day of Blood FCBD issue May 6, 2023. The full release schedule for the event is:
May 6: Star Trek: Prelude of Day of Blood
July: Star Trek: Day of Blood #1
August: Star Trek: Defiant #6
August: Star Trek #11
September: Star Trek: Defiant #7
September: Star Trek #12
Look below for a preview from the Free Comic Book Day issue, with art from Mike Feehan
---
While there's good news, there's also bad news - the 2023 Star Trek Mission: Seattle convention has been canceled.