Miss Star Trek: Discovery? Check out these queer science fiction comics
Live Long and Proud: Queers in Space!
Star Trek: Discovery broke new ground in 2016 with the franchise's first onscreen gay couple, Commander Paul Stamets and Doctor Hugh Culber, played by two queer icons, Anthony Rapp and Wilson Cruz. Although before Discovery, both men were already groundbreaking queer actors, having a gay couple on Trek was an essential step in queer representation onscreen. Getting his big break while starring in Rent on Broadway, Anthony Rapp was once called "one of the first openly gay men on Broadway" by Metro Weekly (although he identifies as queer). At the same time, Wilson Cruz was the first openly gay man to play a gay character on television in his role as Ricky Vasquez on My So Called Life. In their lives before Trek, Anthony Rapp and Wilson Cruz played an essential role in opening the doors for their Discovery co-stars like Blu del Barrio, Ian Alexander, Mary Wiseman, Mary Chieffo, and more.
Although John Cho's Lt. Sulu came out of the sonic shower in Star Trek: Beyond a year before DISCO introduced Stamets and Culber, the film did not have any significant onscreen rep. In what original Sulu actor George Takei called "a whisper of a scene," Beyond's Sulu is seen holding his husband's hand (Cho also criticized the film for removing a same-gender kiss when he returned home). So, although Beyond was the first, it was Discovery that opened the doors to a much queerer Trek.
Since Discovery first aired in 2017, the 'woke' Trek that the conservatives hate has taken over the franchise. Not only did Star Trek: Prodigy introduce Zero, a character with they/them pronouns, but Star Trek: Lower Decks also has characters who fall on every point of the Kinsey scale. There is the canonically pansexual Beckett Mariner (voiced by Tawny Newsome) and the TBD canonically asexual Andarithio Billups (played by Paul Scheer). But that's not all. Recently, Queer as Folk's Jesse James Keitel played a non-binary character on Star Trek: Strange New Worlds, and Jess Bush's Nurse Christine Chapel (originated by the First Lady of Star Trek, Majel Barrett-Roddenberry) came out as bisexual.
Discovery started the rainbow age of Star Trek, and we love it. We can't get enough of the show's manifesto that Infinite Diversity in Infinite Combinations must include the LGBTQIA+ community, so we've created a list of fantastic LGBTQIA+ comics about queers in space. So, without further adieu, here's a list of queer comics for the Star Trek: Discovery fan.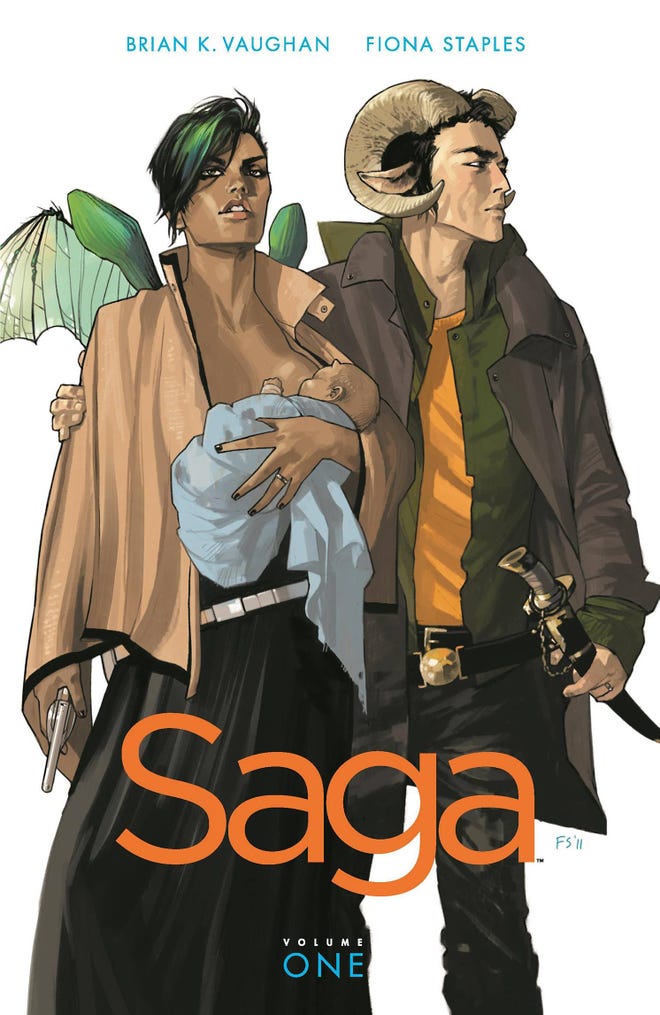 Let's start with the famous (and maybe most obvious) queer comic that Discovery fans may enjoy: Saga by Brian K. Vaughan, Fiona Staples, and Fonografiks. In case you don't know, Saga is queer as all get out. As far as LGBTQ+ rep goes, this book has everything from pansexual characters to transgender characters to robosexuals. Even better, Saga has its own Zora (played by Annabelle Wallis on Discovery), a living spaceship from the Rocketship rainforest (although Saga's ship isn't as sentient as Discovery's resident AI badass).
But most importantly, Saga shows the power of fiction to change lives. The protagonists, Alana and Marko, are moved to take action to change their war-torn planets by an in-universe novel by D. Oswald Heist, A Night Time Smoke. Even though Heist's novel is widely panned by readers as a "piece of shit," Alana sees it as a "treatise on radical pacifism." And, what is more Trek than a person's vision that pop culture can inspire others to take a path to a better tomorrow?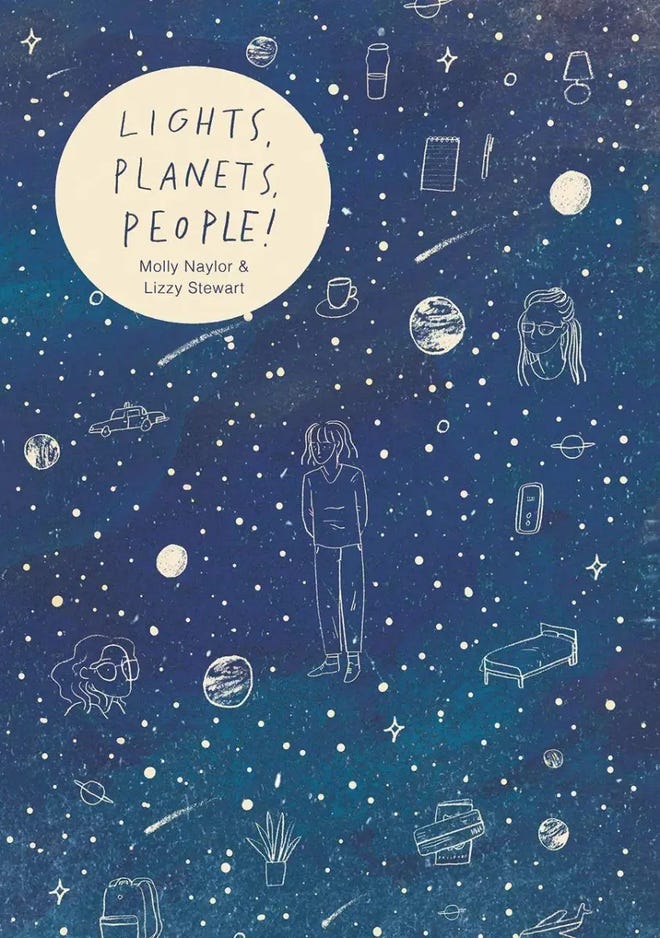 Next is Molly Naylor and Lizzy Stewart's graphic novel, Lights, Planets, People! The graphic novel is an adaptation of Naylor's play about Maggie, a queer, bipolar astronomer suddenly having trouble with public speaking. The book alternates between a conversation that Maggie is having with her therapist about feeling shame over her Bipolar diagnosis and a lecture the astronomer is giving to a group of future female scientists.
With the exploration of therapy becoming a more significant part of Trek canon, Naylor's story is a nod to the limits and power of therapy and treatment. It also explores the power of connecting with others to heal, a popular theme on Discovery (and something many Trekkies relate to). A psychiatrist misdiagnosed me with Bipolar II during my late teens (this happened because of sexism in diagnostic standards, my actual diagnosis was ADHD, PTSD, and depression). However, Discovery and stories, like Naylor and Stewart's graphic novel, showed me a world of possibility, not limitation.
What is more Discovery than a book about the history of human spaceflight? Okay, I just said the queer themes of Saga, but both can be true. The Mars Challenge: The Past, Present, and Future of Human Spaceflight by Benjamin Alison Wilgus and Wyeth Yates asks readers one of the fundamental questions of Trek: why do we want to boldly go where no person has gone before? The Mars Challenge tries to answer this question and explores scientists' difficulties as they develop the technology to send a human to Mars. If you want to learn more about the steps necessary to make space flight possible, like what we see on Discovery, Mars Challenge is the book for you.
Over the years, Trek has used science consultants to increase its alien species' realism and take on the future. Currently, the very queer and fabulous Dr. Erin Macdonald is the science consultant on Discovery, and the science on the show was out of this world throughout Season 4. As the Discovery crew was challenged with its first contact with Species Ten-C, we learned many fun science facts. There were episodes about rare black holes and systems for the classification of intelligent life (Kardashev Scale). There was even an episode that used the extraplanetary communication theory, Lincos, developed by a Jewish survivor of the Nazi regime, Hans Freudenthal.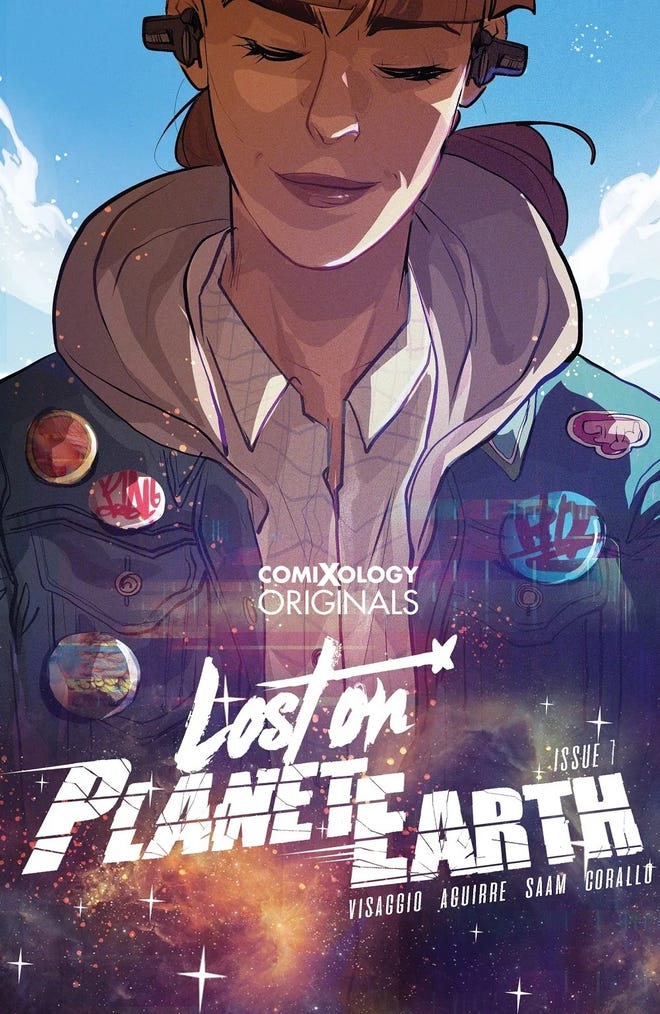 The ComiXology original title, Lost on Planet Earth by Magdalene 'Chief' Visaggio, Claudia Aguirre, and Zakk Saam, is set in the year 2381, which in Trek canon places it in the same period as Star Trek: Lower Decks (perfect for a graphic novel that sees the main character put on poop duty). The story centers around Basil Miranda, a closeted Afro-Latinx cadet who has structured her whole life around becoming a Star Union Interplanetary Fleet captain. But when she has a crisis of faith, Basil meets a revolutionary from another planet who condemns Star Union's assimilationist policies and exploitative recruitment strategy.
I know Lost on Planet Earth is supposed to show the underbelly of Trek's utopian vision—but it really is an interesting noncanonical (and non-Trek-adjacent) examination of what member planets give up to join the United Federation of Planets (known in Lost on Planet Earth as the Star Union). And, the discussion of whether assimilation into or isolation from a bureaucratic and military force like Star Union is similar to the consideration that potential member worlds regularly consider in Discovery… Well, at least after the Burn, a catastrophic event wiping out the primary energy source for warp travel (dilithium) across the galaxy and nearly destroying the Federation.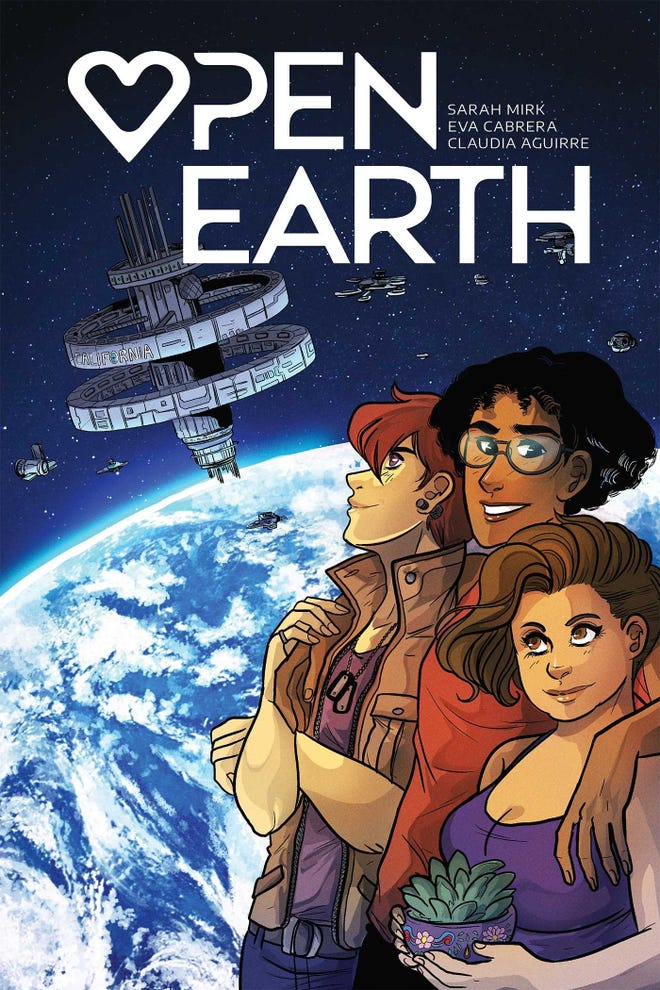 Have you always dreamed about a female version of James T. Kirk getting to sleep her way across the galaxy? Yeah, me too. If you are caught up on the fourth season of Discovery, you'll know why the romantic future of a certain female captain is now uncertain—and a gal can dream, right? But since I don't think the show will fulfil my heart's desires in Season 5, and polyamory and a commitment to a better tomorrow is totally in the spirit of the series, Open Earth by Sarah Mirk, Eva Cabrera, Claudia Aguirre, and Christopher Crank is the final recommendation for Discovery fans looking for queer space stories.
In Open Earth, Rigo is a young woman living after the collapse of Earth. Along with the other first-generation space babies (or Boomers in Trek terms), she is bound and determined to ensure the antiquated cultural norms of her California-born parents. Rigo has grown up in a world with no pop culture and no consumerism and a world free of oppressive norms of how people should look. Therefore, she is comfortable exploring her body and sexuality in a way that may seem foreign to many women today—and it's refreshing. In addition to representing queer love, Discovery has also moved Trek forward in terms of opening the doors for various body types in Starfleet.
---
If you are still hungry for more gay space comics, then check out Cosmoknights by Hannah Templer about a ragtag band of space gays fighting the patriarchy, or the adaptation of speculative fiction writer Octavia E. Butler's Parable of the Sower by Damian Duffy and John Jennings, which is described in Nalo Hopkinson's introduction as a tribute to Butler's "hard-nosed practice of staring down the worst of humanity's evils and refusing to live in denial, all the while choosing to remember that humanity is also capable of great good"—and, at least to me, that is what Discovery is all about.
Remember this list is not exhaustive, and we'd love to hear your suggestions in the comments. QUEERS IN SPACE is one of the best genres, after all.
---
Lynda Carter's right, Wonder Woman has always been queer.