Star Trek: Strange New Worlds' musical episode (and the real singers on the Enterprise crew)
After 'Subspace Rhapsody,' we dive into how musical each cast member of Star Trek: Strange New Worlds is.
At this year's San Diego Comic-Con, the Star Trek Universe panel announced that Paramount+'s Star Trek: Strange New Worlds would receive a musical episode. Luckily the wait was only a few weeks to watch 'Subspace Rhapsody.'
In season 2, episode 9, Uhura and Spock are experimenting on a quantum probability field. A freak accident causes the people onboard the U.S.S. Enterprise to reveal their innermost feelings in song. Though only the starship seems to be afflicted by the musical disorder, it has the potential to spread across the galaxy. So, they must work fast to contain it.
'Subspace Rhapsody' is a fun diversion from your conventional episode that still maintains the core of what Star Trek is. Each cast member does an admirable job, and you would think everyone has some musical talent. That made us curious about which actors had prior experience and which were out of their comfort zones. Here's a brief musical history of the actors of Star Trek: Strange New Worlds.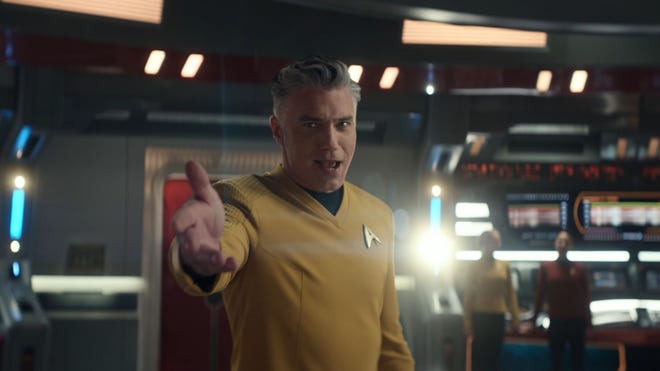 Anson Mount (Captain Christopher Pike)
Anson Mount has spread his acting career throughout television, film, and theater. In theater, he always performed in plays and never had the chance to share his voice in a prior musical. In an interview with Collider promoting the series Hell on Wheels, the interviewer asked whether he sings. The actor responded, "A little bit. Mostly people pay me not to sing, but I could learn."
After becoming Captain Pike in Star Trek: Discovery, Mount shared during a panel at the Great Philadelphia Comic Con in 2019 that he had a singing part in the second episode of season two entitled 'New Eden.' When the crew meets with human inhabitants of a distant planet, his character sings an old church hymn, 'Let Us Break Bread Together.' The actor even asked for a voice teacher for the part. But for story reasons, the scene was eventually cut. He would have to wait until 'Subspace Rhapsody' for others to see him finally sing on Star Trek.
Celia Rose Gooding (Nyota Uhura)
Celia Rose Gooding is a big reason Uhura plays a significant role in 'Subspace Rhapsody.' They are a talented singer who broke out as Mary Frances 'Frankie' Healy in the rock and roll musical Jagged Little Pill. They earned a Grammy award and a Tony nomination for the performance. They studied dance at the Alvin Alley Institute in New York City and majored in musical theater at Pace University before dropping out due to Jagged Little Pill obligations.
Melissa Navia (Erica Ortegas)
Helmsman Erica Ortegas is one of the breakout characters of Star Trek: Strange New Worlds due to Melissa Navia. In addition to acting, she is a writer and stand-up comedian. No wonder she hits Ortegas's one-liners and zingers. She grew up as a musical theater kid. In an interview with IRK Magazine, she mentions one of her earliest leading roles was as Peter Pan when she was younger. Despite many adult projects not needing song and dance, Navia still looks right at home in the musical episode.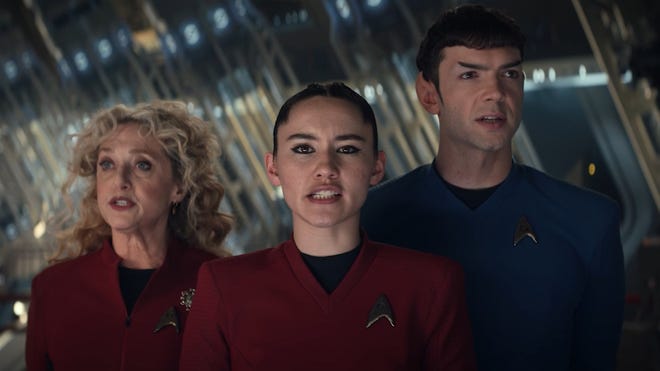 Ethan Peck (Lieutenant Spock)
Entertainment runs in Ethan Peck's family as his grandfather and father were both actors. It's no surprise that he began his career as a child actor with his early roles, including parts in the made-for-TV movie Marshal Law and Passport to Paris, which starred the Olsen twins. Though none of his prior projects required any musical talent, he did appear in the music video for 'I Want You to Want Me' by KSM. The video was for the television series 10 Things I Hate About You. Peck also studied classical cello for six years when he was younger.
Christina Chong (La'an Noonien-Singh)
Christina Chong started dancing at the age of four. She initially studied at the Sutcliffe School of Dance in Longridge, England, then attended the Italia Conti Academy of Theater Arts in London beginning at 14. After graduating from the academy, she received a role in the musical Aida, which featured songs from Elton John and Tim Rice. An injury shortened her musical theater career, so she turned to acting. Chong proves she still has it in the Star Trek: Strange New Worlds' musical episode.
Carol Kane (Pelia)
The newest main addition to Star Trek: Strange New Worlds is Chief Engineer Pelia. Her actress, Carol Kane, has a long career in entertainment as an actor. She has also received an Academy Award nomination for best actress for the film Hester Street and earned two Oscar awards for her work on the sitcom Taxi. But did you know she has musical experience as well? She played Madame Morrible in Wicked during the first national tour and later on Broadway. For someone who is most known for her comedy, Kane is a sneaky musical ringer for "Subspace Rhapsody."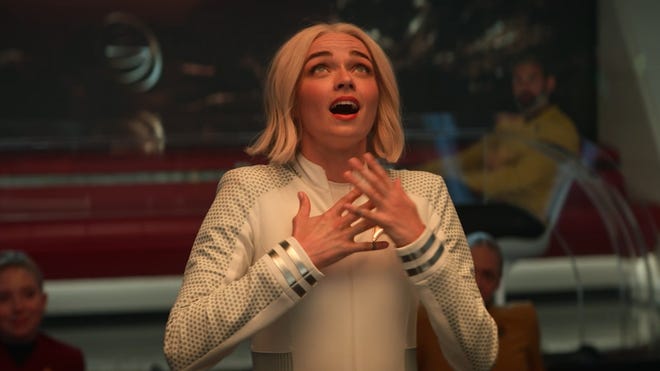 Jess Bush (Nurse Christine Chapel)
Jess Bush's first television appearance was as a contestant on the seventh season of Australia's Next Top Model. She later pursued acting in the Australian soap opera Home and Away and having a recurring role in the drama series Playing for Keeps. Playing Nurse Chapel on Star Trek: Strange New Worlds is her first international role. She might not be a singer, but she has other talents. She is a visual artist who has been selling her work since age 19, and she even designed some of the jewelry her character wears in the series.
Babs Olusanmokun (Doctor Joseph M'Benga)
The one crew member who isn't a slight bit amused with all the musical shenanigans is Doctor M'Benga. Compared to the other characters, he seems to sing the least. Looking through Babs Olusanmokun's filmography and history, there don't appear to be any roles that called for musical ability. That's okay because we saw one of his other talents front and center in the previous episode 'Under the Cloak of War." Olusanmokun utilized his championship Brazilian Jui-Jitsu skills in a sparring scene with Ambassador Dak'Rah.
Rebecca Romijn (Una Chin Riley/Number One)
Rebecca Romijn was first known as a supermodel before she transitioned into acting. She had geek cred even before Star Trek. Her first film role was as the mutant Mystique in the X-Men films of the '00s. Romijn has also dabbled in singing. She covered the Prince song 'Darling Nikki' for the 2005 album Electro Goth Tribute to Prince and featured on 'Color Me Love' on RuPaul's eighth studio album Realness. More recently, as cohost of The Real Love Boat, she sang the iconic theme song of the '80s show, which the reality romance television series is based on during the opening credits alongside her real-life husband, Jerry O'Connell.
Paul Wesley (Lieutenant James T. Kirk)
Before he was Lieutenant Kirk in Star Trek: Strange New Worlds, Paul Wesley is probably best known for his role as Stefan Salvatore in The Vampire Diaries. Due to the popularity of the series, he was a regular on the convention circuit featuring in many panels. You can search for videos of the various panels and find where the actor sings, including a viral video where he and The Vampire Diaries co-star Ian Somerhalder rap Vanila Ice's 'Ice Ice Baby.' However, these instances are all for fun to entertain the attendees in the audience. You'll have to dive deep into his filmography to find a role where he professionally sang. In the season 2, episode 11 of the legal drama Shark entitled 'Shaun of the Dead,' Wesley plays the lead singer of a rock band. There is a scene where the character performs onstage at a bar, and you can hear Wesley sing a few lines.
For more on Star Trek and how to understand it all, we have a comprehensive Star Trek watch guide.