Star Trek: Lower Decks gets release date, Strange New Worlds gets a... musical?
During the long-running Star Trek Universe panel at San Diego Comic Con 2023, fans heard what's coming to Paramount+ in the near future
'Memorable' is perhaps too soft a word to use to describe this year's Star Trek Universe. The annual panel made its 11th annual appearance at San Diego Comic Con 2023, and the announcements were more stunning than your average phaser.
Let's start with Lower Decks. The animated comedy set on the Enterprise is a masssive hit among fans, who have been waiting for a season four release date since the third season dropped in August of 2022. Now we have a date, and more than that, a direction.
Lower Decks Season 4 will officially begin streaming on Paramount+ on September 7, 2023. Along with a date and a new poster (see below), the creators revealed what inspired the upcoming season.
According to film critic and Star Trek fanatic Scott Mantz, the new chapter will be an homage to Star Trek IV: The Voyage Home. The poster he showed Hall H is a pretty spot-on confirmation of just that.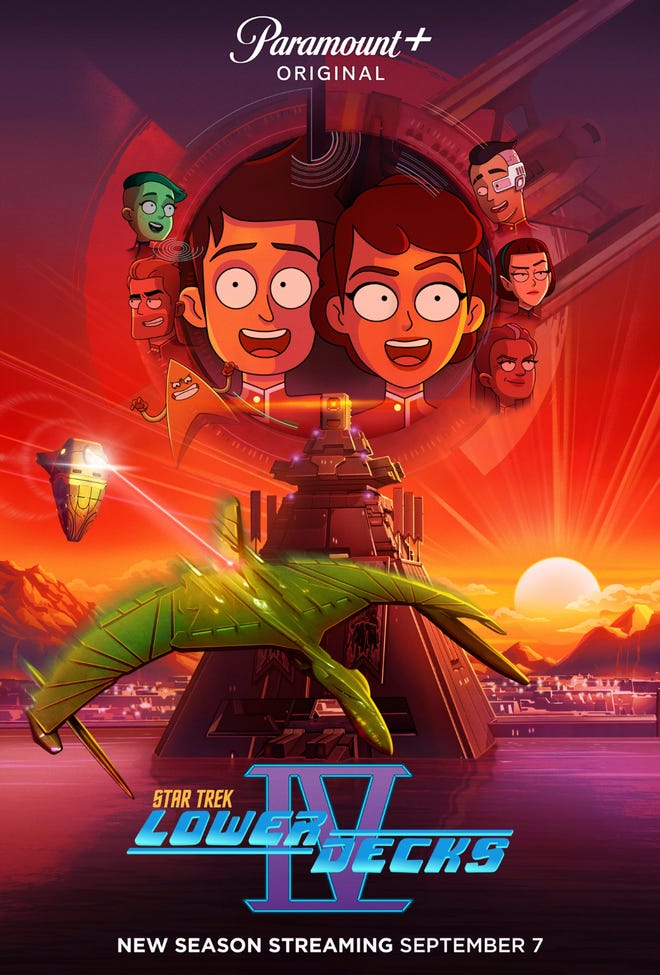 But there was still more news to come form the STU panel; news surprising enough to have any fan singing and dancing for joy.
Literally.
Mantz moved on from Lower Decks to start talking about Strange New Worlds, the third season of which airs August 3. Besides the release date, though, there was a different, perhaps even bigger, announcement about the show Mantz could share. Episode nine of the third season, appropriately titled Subspace Rhapsody, will be a musical.
Yes, you read that correctly. Star Trek is getting an in-canon musical episode. Weird Al, rejoice.
SDCC-goers were treated to a clip of that episode, but unfortunately, it does not appear to be online at this time. We'll let you know as soon as it shows up, and in the meantime, we'll join you in your white-hot jealousy.
---
Popverse saw it and did most of it, and you can find all about our guide to All the big news, magic, and moments from San Diego Comic-Con. And if you want to go to SDCC next year, we have the San Diego Comic-Con 2024 dates as well.
---
An offical Star Trek musical is new, but fans have been putting together their own for a while. In fact, the long running USS Improvise comedy troupe has been singing, dancing, and beaming for a while now. You can watch USS Improvise's performance from Emerald City Comic Con 2023 in full right here.