SDCC 2023: Star Trek Universe panel features Discovery, Lower Decks, and Strange New Worlds
Star Trek Universe is back at San Diego Comic Con for 2023!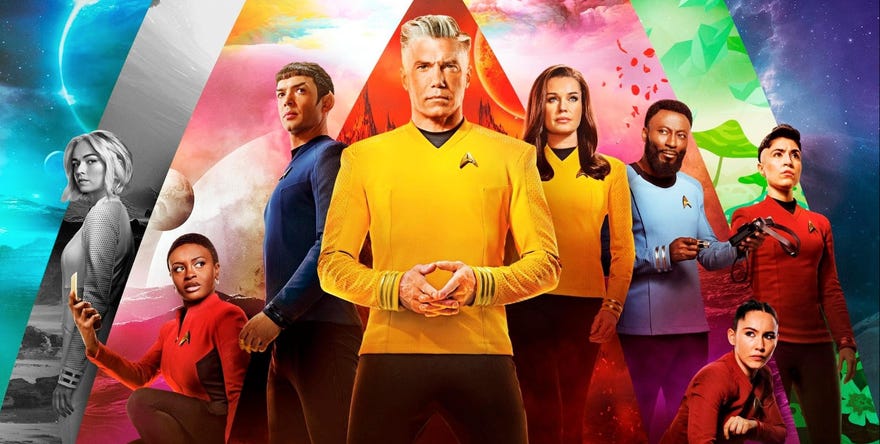 San Diego Comic Con 2023 invites you to boldly go back to one of the most popular recurring panels in fandom: Star Trek Universe! Join fans like yourself at this exclusive event featuring news and footage from Star Trek series Discovery, Lower Decks, and Strange New Worlds.
Can't make it to SDCC? Don't worry, Popverse will be live in the room for this panel to break the biggest news and the most interesting insights about the whole thing. You can follow along live with our play-by-play, or come back later for a beat-by-beat recap of the entire thing.
Follow along to the Star Trek Universe panel from SDCC 2023, as it begins Saturday, July 22 at 1:30 PM PST, 4:30 PM EST.
Popverse saw it and did most of it, and you can find all about our guide to All the big news, magic, and moments from San Diego Comic-Con. And if you want to go to SDCC next year, we have the San Diego Comic-Con 2024 dates as well.
Our live coverage of this event has finished.
Hello everyone! Sorry the delay, Hall H doesnt love wifi
panel is about to start. we've been warned lots of screen content...no recording
Paramount is screening a sizzle reel higighting Star Trek's history. its awsome
Scott Mantz is introdcuing the panel, recalling his childhood watching the original series.
He was 6 years old and loved watching the animated series. It was weird but he dug it. Don't we all? Star Tret is awesome.
Mantz just showed us a picture of him as an 11 year old with an Enterprise toy. It's cute, and totally relable. How among us doesn't have a photo like that?
Mantz is giving props to the production team behind Star Trek Picard. He loves how well they recreated the Enterprise bridge.
Star Trek Discovery season 5 (the final season) will begin in "early 2024"
Pausing for 5 minutes while we watch....
"I'd rather not die out here, I have a saxaphone lesson to get to." - my favorite line from the clip. The clip focuses on Captain Burnham trying to disable an enemy ship's engines ....AS SHES ON THE HULL. It's an action packed sequence. Lots of clapping from the audience. What a way to kick off the season.
Good news! The clip will be online after the panel ends. Look for it on the various Star Trek social channels. Now we're switching gears to Star Trek Lower Decks. Crowd is chanting "LOWER DECKS" We love the show :)
"What makes Lower Decks so special is that we just LOVE those characters," Mantz
Preview clip for Lower Decks is being screened...standby...
Lots of humor...lots of raised stakes... Star Trek Lower Decks returns on September 7
The premiere will be 2 episodes, then one episode each Thursday. Ten episodes in total.
"Season 4 is a love ltter to Star Trek IV: The Voyage Home"
The poster for the season was just shown, and it's a clear homaghe to Star Trek IV. It should be online sometime after the panel.
Now it's time for Strange New Worlds
Addressing the previously announced crossover between Strange New Worlds and Lower Decks. Mantz tells us he's seen it. "You are going to love it!"
The episode "Those Old Scientists." Mantz emphasizes this....there is signifigance he doesn't want us to miss.
Episode 9 will be the first Star Trek MUSICAL!!! WHAY!!!!?!?!?!? The crowd in Hall H is going wild. OH MY GOODNESS!! A STAR TREK MUSICAL!
We are getting a clip! It's called Subspace Rhapsody. I wish you were all here Popverse fam...this clip is going to slap.
I hppe this clip drops online soon, because you all need to see it. The singing...the dancing...this is a dream. Paramount you are madmen and I'm here for it.
Streaming August 3rd. Can we do a watch party?
Mantz promises us that Spock will sing. This is the treat we all need. Mantz tells us to go to the Star Trek booth for a Subspace Rhapsody poster...while supplies last.
Crossover episode (Strange New Worlds and Lower Decks) will be directed by Jonathan Frakes.
If you want to see the new episode...GOOD NEWS....it drops on Paramount Plus at 4pm PST today! If you're in Hall H, you'll get to watch it first though.
Mantz is putting on the crossover episode now.... Taking a break...see you after the credits roll Popverse gang.
Episode just wrapped. Don't forget, it will be on Paramount+ at 4pm. It's HILARIOUS and heartwarming. Blends both shows in a creative way. Fun with time travel with a Star Trek twist. You will love it.
If you have only seen LOWER DECKS, or if you have only seen STRANGE NEW WORLDS, you won't be lost. it's new viewer friendly. Lots of laughs from the Hall H crowd throughout the episode.
If you have only seen LOWER DECKS, or if you have only seen STRANGE NEW WORLDS, you won't be lost. it's new viewer friendly. Lots of laughs from the Hall H crowd throughout the episode.
Mantz is back to wrap up the panel.
"Live long and prosper, and keep going boldly," Mantz says signing off the panel. That's a wrap for us too! I STRONGLY encourage you all to check out the episode when it drops on Paramount+. Enjoy the rest of comic-con!